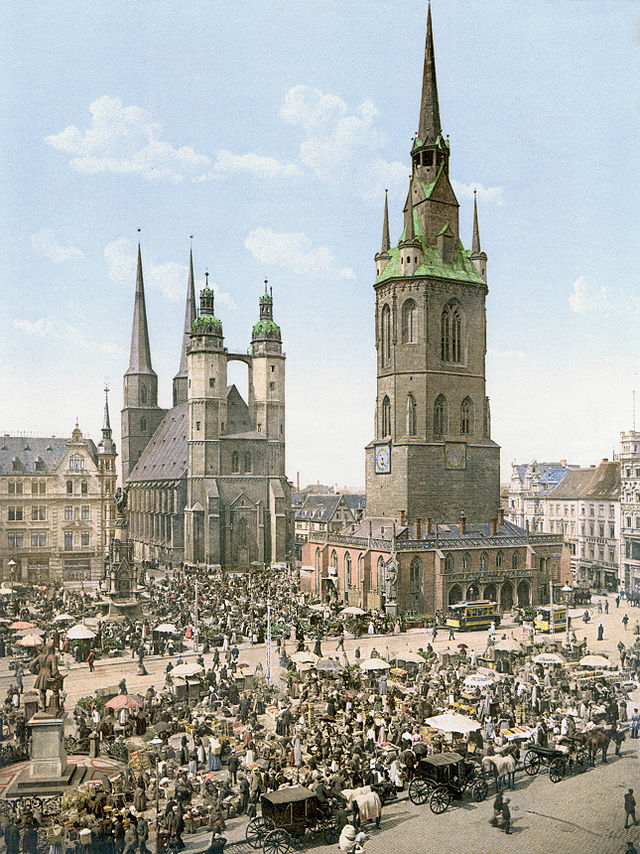 Erna Scharff was born in Landau Germany on September 9, 1895 as Erna Kuhn and later married to Alfred Scharff. She is credited with several Van Gogh-inspired landscape works and her masterpiece titled "The Tallit Maker" from the late 1920s - on display at the Emsland Museum in Lingen, Germany. Also known to exist is a large painting of Venice plus a few other larger works such as the one shown here. Following the events of "Reichskristallnacht" that saw her apartment and many other Jewish places of worship and businesses destroyed on November 9th, 1938 she fled Nazi Germany and came to the United States with her husband Alfred and her son Richard. She resumed painting in New York and created some of her best landscape paintings after the war in her studio on Ocean Avenue in Brooklyn.

Erna Scharff died in Brooklyn, NY on March 1st 1982 at the age of 86. In the year 2013 her hometown Landau dedicated several of Gunter Demnig's 'Stolpersteine' art project (stumbling stones or blocks installed in memory of holocaust victims) for Erna and her family at her former home on Südring 1.

Erna Scharff's'The Tallit Maker' on display at the Emsland-Museum

Source: Emslandmuseum Lingen, Germany

German-American, 1895-1982
24 x 30in

Multi-skilled Max Ludwig was born in 1873 in Dresden, Germany and became a well-known author, painter and graphic designer. He attended the Academy of Arts in Dresden. In 1903 he went to Frankfurt and then, after another two years in Munich, he ended up in the small town of Oberalting/Seefeld in Bavaria. Like so many artists he had to work in order to make a living. However, his position as a community clerk allowed him to continue his writing and even caught the attention of one of Germany's largest publishers, Albert Langen. Over the following years Ludwig wrote for theater and many novels - but never lost his passion for painting.
His known oil paintings start around 1900 with landscapes near the Elbe River and over the next four decades he became nearly obsessed with light and contrast. This created an impressionist mood in his landscapes and portraits. In 1939 Ludwig became ill and stopped working. He passed away in January 1940 in Seefeld.

The Red Tower was also painted by romanticist Caspar David Friedrich in 1818, by Ernst Ludwig Kirchner in 1915 and - likely the most famous version - by Lyonel Feininger in 1930.
Max Ludwig

German, 1873-1940
'Market Plaza and Red Tower
in Halle (Saale)'
,
1923
Oil on Canvas
Halle's Market Plaza around 1900 and in 1994
Source: Wikimedia Commons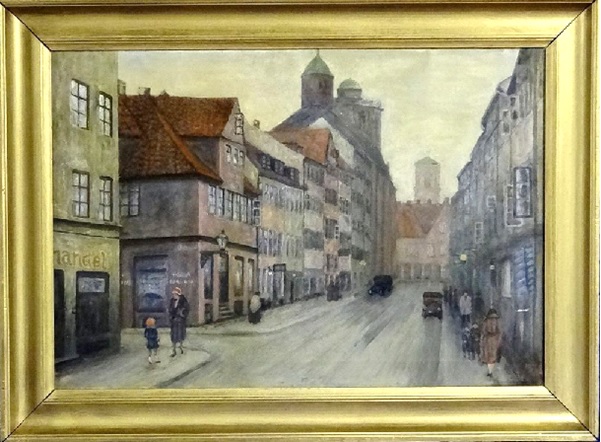 This impressionist painting shows the city streets of a town in the German speaking part of Europe. TGC research into the source of the painting and its artist are ongoing.
Unknown Artist

German, 20th century
'City Streets'
, ca 1930
Oil on Canvas
21 x 26in
TGC# 052-003
Heran Chaban was an Armenian artist who studied and worked in Paris in the early 20th century. He is known for his landscape and marine life paintings and was part of an artist movement called 'Les Artistes Modernes'.
In this painting Chaban shows the Kinderdijk windmills in the Netherlands - undoubtedly part of the unique collection of 18th century windmills, which are considered a Dutch icon and now part of UNESCO's World Heritage.
Several earlier copies and prints are known - though the TGC version appears to be the only known original oil painting still in existence.
Héran Chaban

(attrib.)


Armenian, 1887-1939


Signed: "Les Artistes Modernes"


'Sunset Glow', 1929
Oil on Canvas
24 x 27in
TGC# 052-004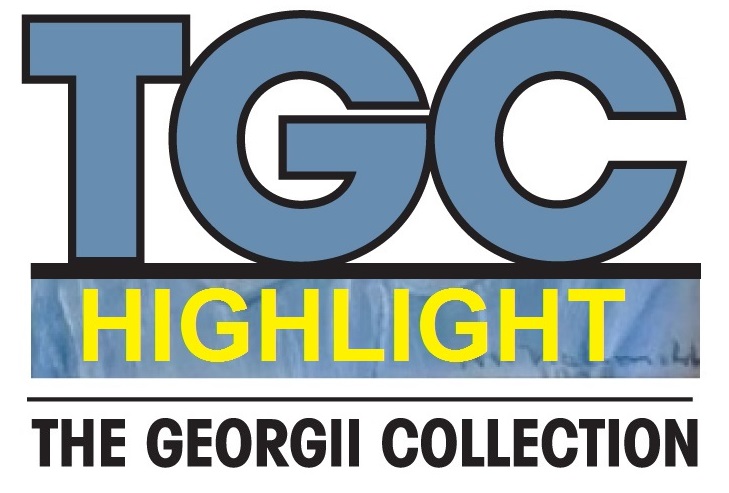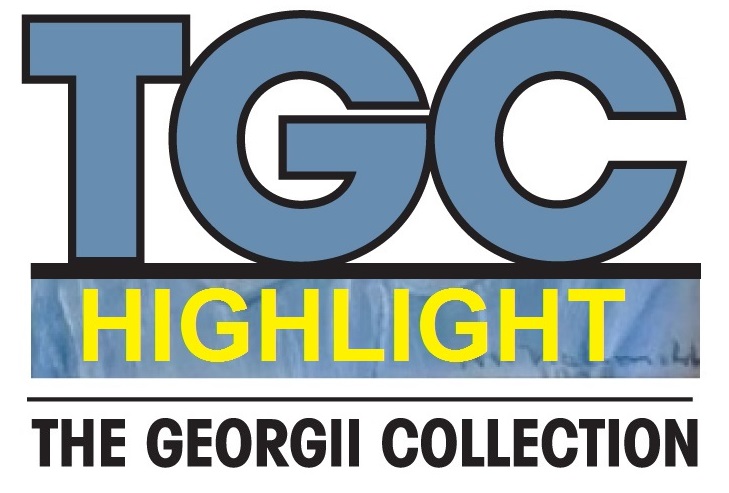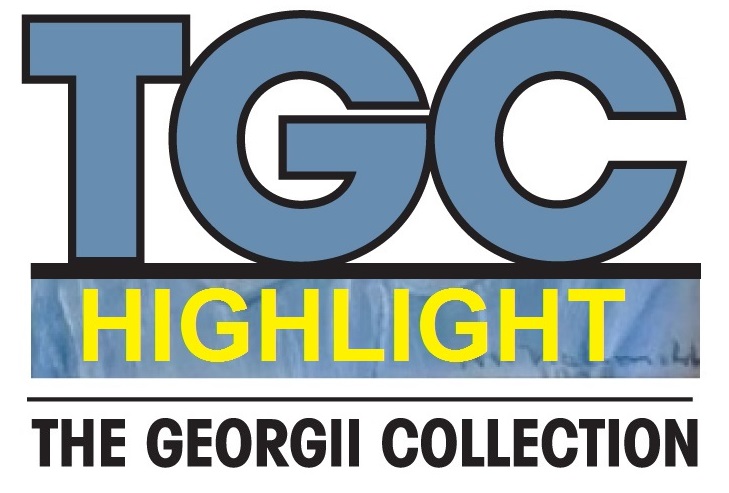 In his childhood Karl Leipold wanted to become either a sailor or a painter. His parents decided on painting as they deemed a career as a sailor as too dangerous. A smart decision in retrospect: The painter Karl Leipold (1864 - 1943) has left a treasure of work that was exhibited in commemoration of his 150th birthday in 2014 at the Detlefsen Museum in Glückstadt, Germany.
Leipold was born in Duisburg and studied in Düsseldorf, München and Paris. He actually did work as a sailor for a short time on container ships - and then, in 1898 moved to a small coastal town near Hamburg that was exposed to strong storms and flooding. Water and extreme weather made its way into many of his paintings. Trips to Venice (many works exist of the city he called a 'Prelude to Paradise') furthered his career and he broke free of the traditional painting later developing an almost surrealist style.
Karl Leipold
German, 1864-1943
'Trees by the River', 1930
Oil on Board
12 x 15in
TGC# 052-005


William Henry Jackson was an American painter, Civil War veteran, geological survey photographer and an explorer famous for his images of the American West. He was a great-great nephew of Samuel Wilson, the progenitor of America's national symbol Uncle Sam. The present painting depicts a scene in New York City's Washington Heights neighborhood with Grant's Tomb in the background.

William Henry Jackson
American, 1843-1942
'Fort Washington Point, New York', 1911
Oil on Canvas
18 x 24in
TGC# 052-033

Jackson was a prodigy as a painter in his youth, and during his lifetime produced many paintings of the American west. Jackon's mother was also an accomplished painter of water colours and to her he gave credit for her encouragement with his success as a painter. His first job as an artist was in 1858. He was hired as a retoucher for a photography studio in Troy, New York, where he worked for two years. He served in the American Civil War for nine months including one major battle, the Battle of Gettysburg. Jackson spent most of his tour on garrison duty and helped guard a supply train during the engagement.
Jackson moved to Washington, D.C. in 1924, and produced murals of the Old West for the new U.S. Department of the Interior building. He also acted as a technical advisor for the filming of Gone with the Wind. William Henry Jackson also attended the 75th anniversary commemoration and the 1938 Gettysburg reunion, in July 1938.
In 1942, Jackson died at the age of 99 in New York City. He was honored by the Explorer's Club for his 80,000 photographs of the American West. He was also memorialized by the Adventurers' Club of New York, of which he was an active member. The SS William H Jackson steamship was in active service in 1945. Recognized as one of the last surviving Civil War veterans, he was buried at Arlington National Cemetery. Mount Jackson in Yellowstone National Park is named in honor of Jackson.
Scotts Bluff National Monument in Nebraska houses the largest collection of William Henry Jackson paintings in the world today.
Source: Wikipedia

View from Fort Washington Point in New York City's
Washington Heights neighborhood today


Victor Holm shows in an astonishing manner what is called the breakaway from traditional Danish painting which, for centuries, depicted mostly rural scenes without frill. The modern revolution started in Denmark in the 1890s and saw the art movement embrace new ideas that came out of France - first from the Barbizon plein air painters and then especially from Paul Cézanne and the Impressionists.
As to the nice Copenhagen scene here: in the early 17th century Christian IV of Denmark - impressed by the city of Amsterdam - employed Dutch architects to create canals within its ramparts which are still well preserved today. The canals are branching off the central Christianshavn Canal and are lined with house boats and pleasure craft - one of Copenhagen's attractions. Christiansborg Palace or Christiansborg Castle , on the islet of Slotsholmen in central Copenhagen, is the seat of the Danish Parliament (Folketinget), the Prime Minister's Office and the Supreme Court. Also, several parts of the palace are used by the monarchy, including the Royal Reception Rooms, the Palace Chapel and the Royal Stables.
Source: Wikipedia
Victor Holm
Danish, 1876-1935
'Copenhagen', ca. 1933
Oil on Canvas
28 x 32in
TGC# 052-008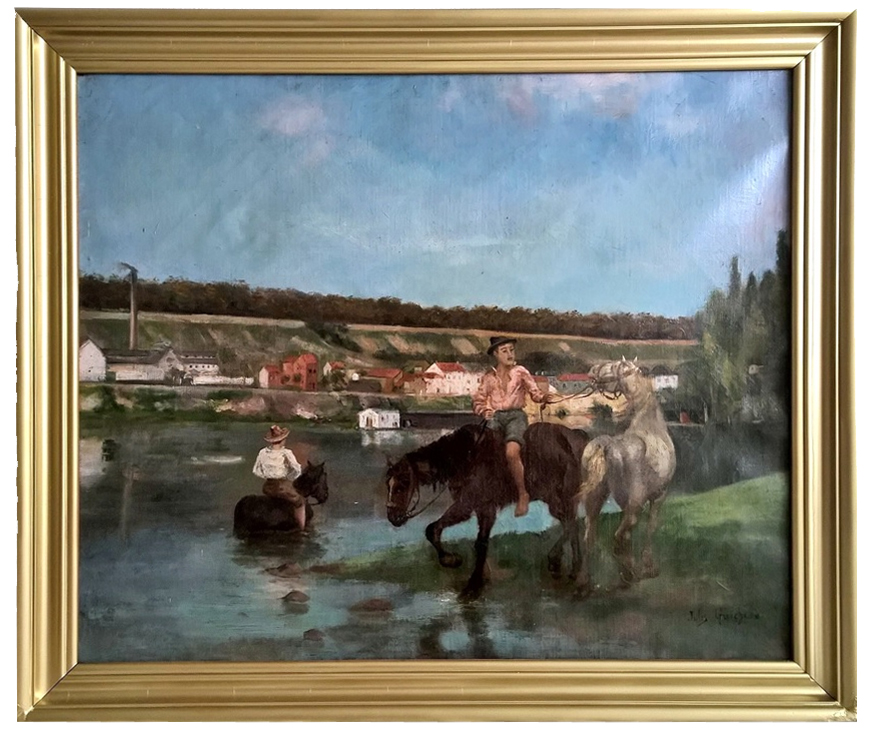 Roland Arribas
French, 1922-1986
'Fishermen at the French Riviera', 1954
Oil on Canvas
18 x 22in
TGC# 052-010
Jules Guichard
French, 1874-1954
'Men on Horseback Fording a River', ca. 1930
Oil on Canvas
22 x 25in
TGC# 052-009
Roland Arribas was born in Paris in 1922. He studied painting at the "Beaux-Arts" in Limoges.
When he was 14 years old, he started painting miniatures on porcelains in the famous porcelain manufacturing plants in Limoges. He displayed regularly in the most famous exhibitions in Paris, and he obtained an award at the "Salon des Arts, Sciences et Lettres" in 1954.
His studio was located in Barbizon near Paris from 1957-1970. Together with Daniel Rouvière he founded the "Art et Nature" school in the tradition of the Barbizon artists that started the revolution a century earlier.
Arribas died in 1986 and his grave is located at the famous Barbizon cemetery near Paris.
Jules Guichard was a Barbizon follower fascinated by the modern structures that dotted the landscape in the late 19th and early 20th century around Pontoise and Argenteuil near Paris.
Similar to Camille Pissaro's The River Oise near Pontoise (1873) and Gustave Caillebotte's Factories at Argenteuil (1888) Guichard captures the old and the new: two horseback riders crossing a seemingly shallow portion of one of the side arms of the Oise river. He chose sites that were familiar to the Barbizon artists, often avoiding conventionally picturesque subjects. We see the modern factory – likely the Chalon et Brenot alcohol distillery and its smokestack - in the background towering over the small town as a symbol of progress and the final 'adieu' to the old ways.
Paul Friede was a German landscape artist in the early to mid 20th century who made his living as an artist and photographer in his Magdeburg-Wilhelmstadt studio. The present naïve style painting was a gift to his friend.

Paul Friede
German, 20th century
'Oberstdorf', 1949
Oil on Board
8 x 10in
TGC# 052-011

Karl Schmidt
American, 1890-1962
'Village in Tyrol', 1945
15" x 20"
TGC# 052-013
De Rosa
Italian, 20th century
'Gruppo dell' Ortles-Cevedale', ca. 1960
Oil on Canvas
19 x 24in
TGC# 052-044
Lago di Resia and the Ortler Group today

Julius Grodner was born in 1900 in Munich, Germany. There he attended the Academy of Fine Arts and upon completion of study traveled extensively to Austria, Upper Italy and Switzerland, from where he used the various landscapes and terrain as subjects which his canvases depict. This particular painting is oversized in order to capture the scale of the Alps.

Julius Grodner
German, 1900-ca.1980
'Autumn in the Alps', ca. 1950
Oil on Canvas
34 x 50in
TGC# 052-015
Julius Grodner
German, 1900-ca.1980
'Mountain Landscape with Cabin', ca. 1950
Oil on Board
20 x 24in
TGC# 052-040

Although the High Alps made a great impression on him he turned later to the Lower Alps of Southern Germany and especially the "Allgäu" as a favorite subject of his plein air paintings.
A signature detail of his work is his masterful execution of reflecting water.
Wilhelm Nagel was born in 1866 and became a student of Ferdinand Keller at the Karlsruhe Academy of Arts from 1886 to 1898. In 1904 he became a professor at the Academy and later taught at the Karlsruhe School of Painting from 1910 to 1922. Nagel was an early supporter of the French Impressionists and successfully 'translated' their revolutionary message on canvas in his home state of Baden. This style should remain dominant throughout his painting career. During the Berlin Art Shows of 1905 and 1911 he displayed many of his paintings.
He is well known for his winter landscapes of which many are shown in museums and galleries today, amongst them the Kunsthallen in Karlsruhe and Mannheim and a special permanent exhibit at City Hall in Odenheim.

Wilhelm Nagel
German, 1866-1945
'Village and Pond', ca. 1920
Oil on Board 11 x 13in
TGC# 052-014
Wilhelm Nagel (self portrait)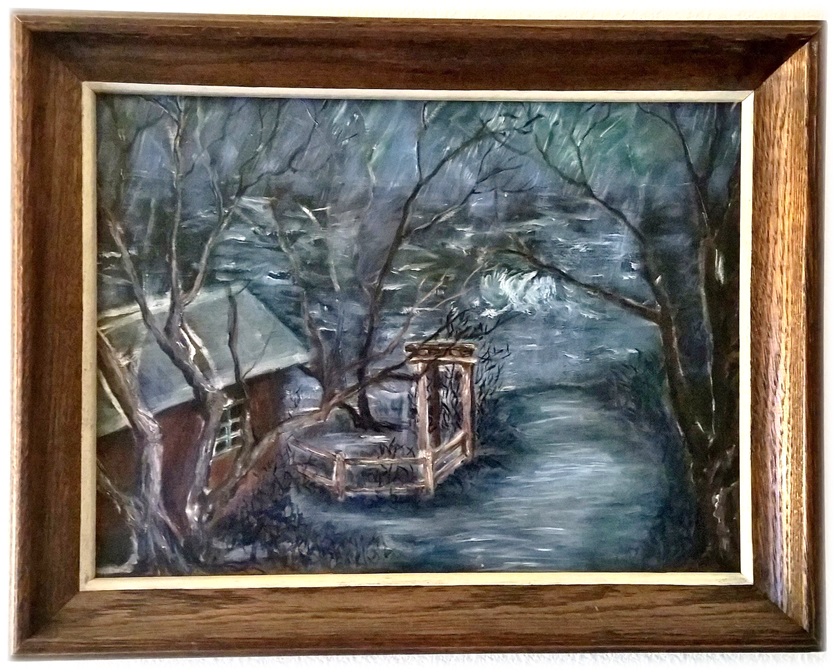 Little is known about the artist Walter Hill Bailey other than that he was a member of the very active group of Post-Impressionist artists called 'The Brushians'. This group started in Portland, Maine and was made up of artists that went on weekend outings. The Brushians gave themselves nicknames based loosely on their occupations...such as The Paperhanger, The Deacon, The Trust Magnate and many more. The group was active between 1862 and 1930.
Walter Bailey successfully captures the atmosphere of Delano Park Woods near his home at Cape Elizabeth in Maine during a fierce storm at nighttime.

Walter Hill Bailey
American, 1860-1915
'Delano Park Woods', 1906
Oil on Canvas 12 x 16in
TGC# 052-018


Hans Josef Zimmer
German-American 1910-1996
'Christmas Tree Sale /
Market Plaza Trier, Germany', ca. 1932
Oil on Board 18" x 21"
TGC# 052-019
Hans Josef Zimmer was born in Germany on Feb. 4, 1910. He started painting from an early age on. His brushstroke is rather characteristic with thick application. This work depicting a winter scene in snowy Trier, Germany, represents a very compelling example of his work.

Zimmer emigrated to Los Angeles in 1940 where he worked for over 40 years as an artist for the aircraft industry. Hans Josef Zimmer is most famous for his painting of the 'Steam Engine at a Factory', auctioned at John Moran Auctioneers' California and American Fine Art Auction in October 2010. He died in Covina near Los Angeles on Oct. 1, 1996.


Jean Möhren
German, 1876-1958
'Ehrenfels / Rhein', ca. 1919
Oil on Board 15 x 22in
TGC# 052-051

E. Kleinmann
Californian 20th century
'Before the Storm', 1955
Oil on Canvas 18 x 24in
TGC# 052-020


Unknown Artist
German, 20th century
'Fishing Pond, ca 1950
Oil on Canvas 20" x 24"
TGC# 052-021

TGC research shows Jean Möhren was born in 1876 in Elberfeld (today: Wuppertal) and that he went to school in Munich - his teacher was Anton Janke. In 1954 Möhren exhibited at the Art Salon Dorschel in Duisburg showing many of his paintings of old towns and structures at the Rhine, Mosel and Neckar rivers. Möhren lived in Munich until his death in 1958.
Ehrenfels Castle is a ruined castle above the Rhine Gorge near the town of Rüdesheim am Rhein in Hesse, Germany. It is located on the steep eastern bank of the river amid extended vineyards. The grape variety Ehrenfelser is named after the castle. It was (re-)built about 1212 at the behest of the Archbishop of Mainz as a defensive work against the constant attacks by Elector Palatine Henry V, who, as Imperial vicar of Franconia, strived to cut down the archbishop's reach. Mainz staffed the castle with Burgmannen and erected a customs post controlling the shipping on the Rhine, supplemented by the Mouse Tower below at the river. Heavily damaged in the course of the Thirty Years' War, the castle was finally devastated by French troops under the command of Lieutenant General Nicolas Chalon du Blé during the 1689 Siege of Mainz.
Source: Wikipedia
E. Kleinmann was active in California in the mid-1950s and, according to TGC research, had her own studio in California's Big Sur. Little else is known about this reclusive artist.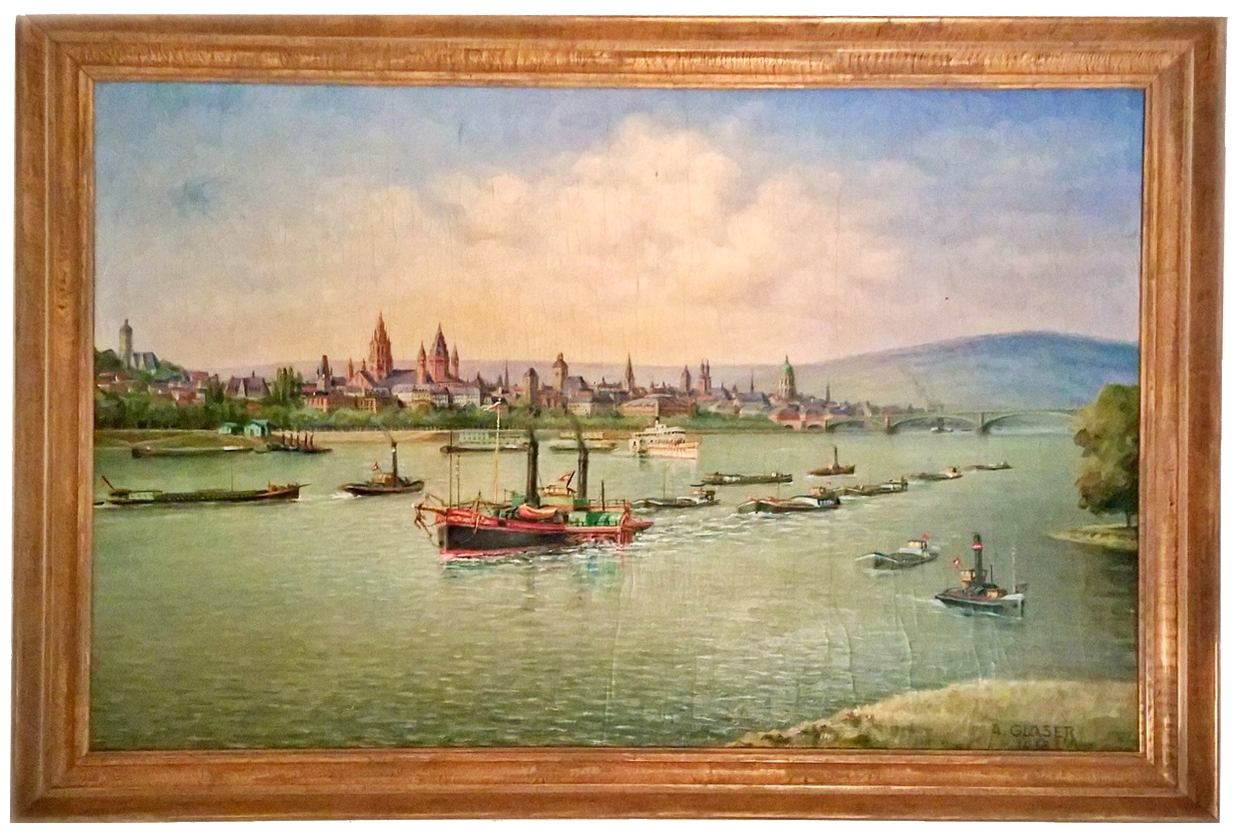 Anton Glaser
German, 1872-1953
'Red Soil', 1928
Oil on Canvas
26 x 32in
TGC# 052-022

Anton Glaser
German, 1872-1953
'Mentz and the River Rhine', 1938
Oil on Canvas
27 x 43in
TGC# 052-023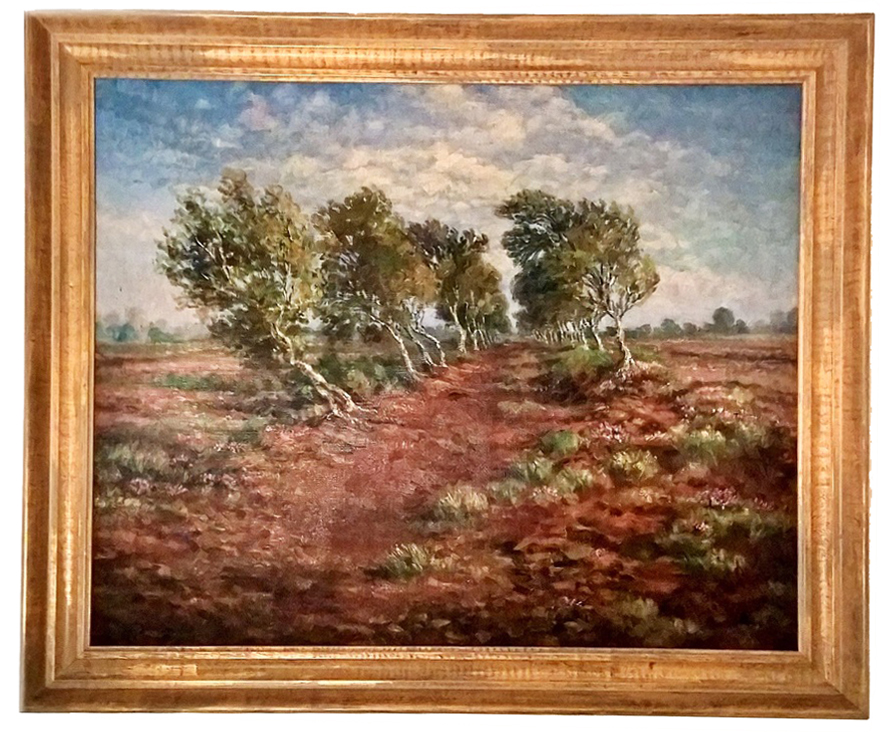 Anton Glaser was born in 1872 in Alzey, Germany and became a rather famous landscape painter in the 1920s and 1930s.
Nackenheim und Nierstein in Germany are two wine growing areas that are known to produce excellent white wines. Source of this quality is the 300 million year old soil that is very noticably red.
At the time this area was still located in subtropical climate around the equator. In the tradition of the French Impressionists Anton Glaser captures some of the vines bowing to the wind in the hillsides above the Rhine River.
Anton Glaser lived in Mainz (in English also 'Mentz') until the city was destroyed in a series of bombing raids during World War II. When he lost his home he moved to the small town of Schotten where he made a living selling his paintings - often taking food as payment in the tough times immediately following the war. Sometimes his work was known in a slight derogatory sense as 'sausage paintings'. He stayed in Schotten until his death in 1953. A large exhibit displaying his work was held in Schotten in his memory in 2013. This large painting of Mainz and the Rhine River is one of the last showing the entire city skyline prior to its destruction.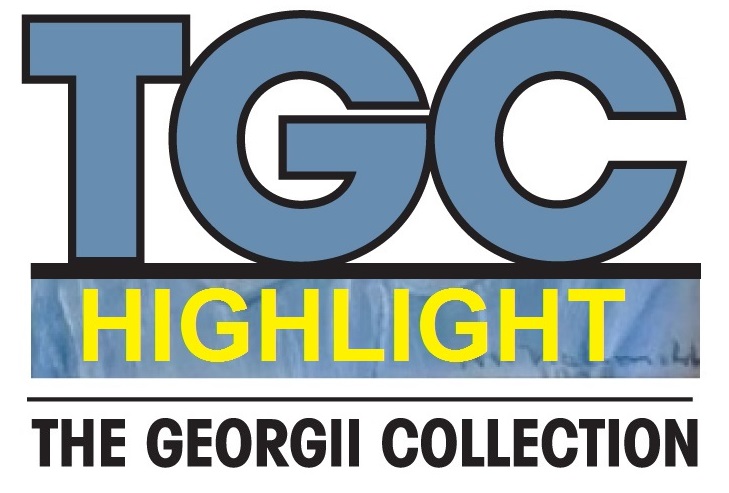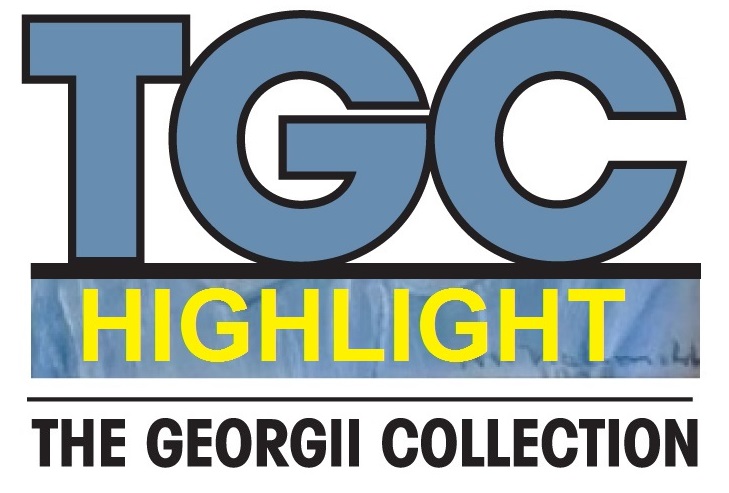 2013 exhibit in Schotten (Vogelsberg), Germany

Erna Scharff
German-American 1895-1982
'Bachlandschaft', 1949
Oil on Canvas
24 x 36in
TGC# 052-024
The present set of colorful Erna Scharff paintings was restored by TGC in 2015.
More information on the artist can be found at the top of this webpage.
Erna Scharff
German-American 1895-1982
'Haus am See', 1949
Oil on Board
9 x 12in
TGC# 052-025
Erna Scharff
German-American 1895-1982
'Herbstweg', 1949
Oil on Board
9 x 12in
TGC# 052-026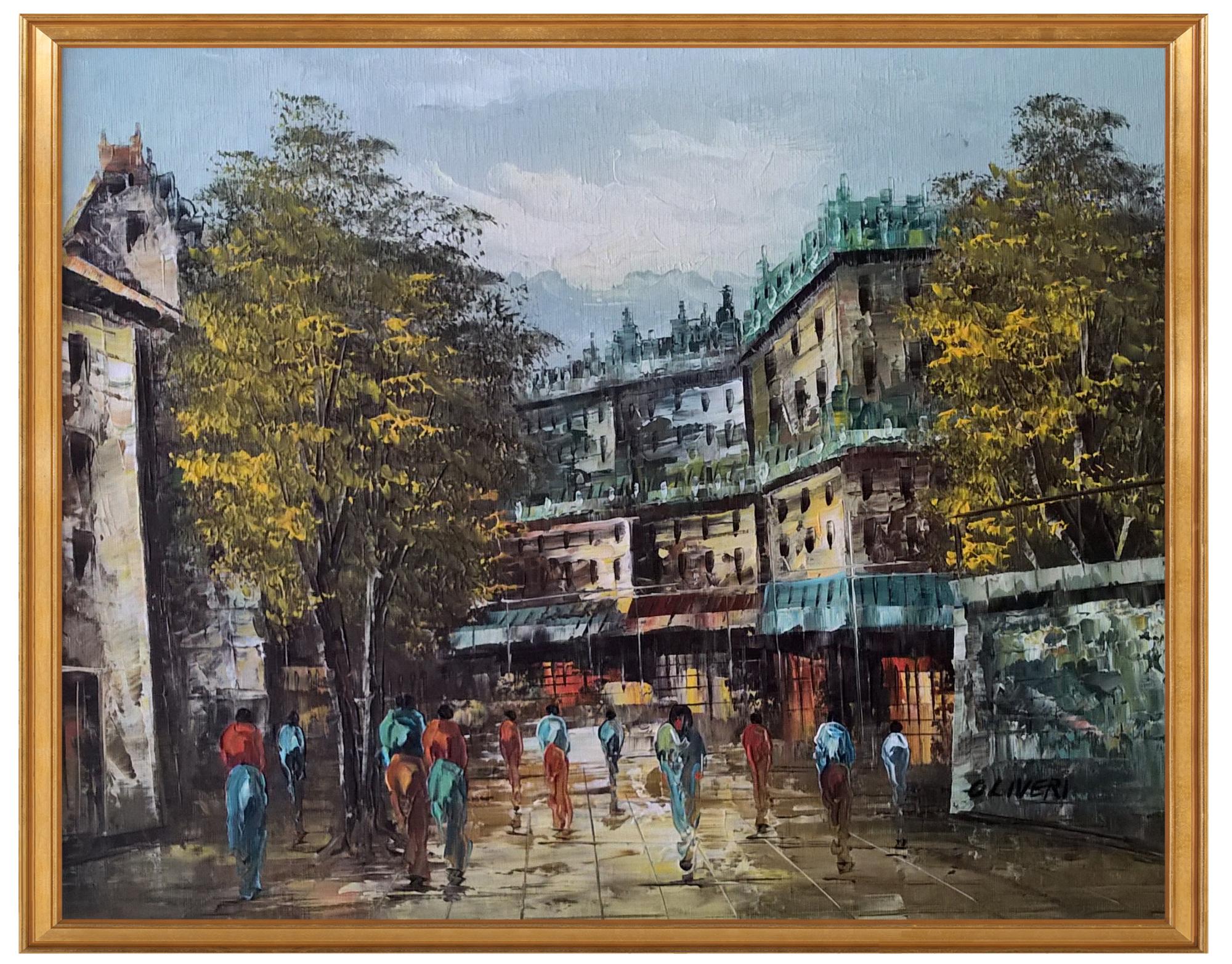 Joseph Oliveri, a native of Palermo, Italy, was born in 1940 in the small town of Carini, Sicily.
Oliveri began his life-long love affair with classical art as a young boy. A self-taught, visionary folk artist, his paintings possess an innocence and freshness as well as characteristics of classic euro-Italian art.
In addition to the display of his work in Italy, Oliveri's paintings have been shown all over California, including the Sandl Gallery of the Oakdale Museum; the Bade Hall of the Pacific School of Religion in Berkeley; and the Museo Italo-Americano art gallery at Ft. Mason in San Francisco.
Source: Gallery label
Marvin
French, 20th Century
'Paris Street Scene', ca 1980
Oil on Canvas
16 x 20in
TGC# 052-027
Joseph Oilveri
Italian, born 1940
'Paris Street Scene', ca 1980
Oil on Canvas 20" x 16"
TGC# 052-028
"Paris is a moveable feast", Ernest Hemingway once proclaimed. The city of lights, or the city of love, Paris is indeed a feast for the senses. Paris's rich history has been justly captured by the many artists sheltered by its garrets and supported by its patrons for centuries from the days as a medieval city on the Ile de la Cité, in the middle of the Seine River, through the tumultuous days of the French Revolution, to the "Haussmannization" of Paris, when much of the city was razed to make way for broad boulevards emanating from the Arc de Triomphe.

Gabriel
Spanish, 20th Century
'Andorra', ca 1937
Oil on Canvas
20 x 30in
TGC# 052-038

Edward Dreis
American, 1908-1975
'Sierra Foothills', ca 1970
Oil on Board
20 x 24in
TGC# 052-030
Born in Chicago, IL on Oct. 26, 1908, Edward Dreis moved to California with his family in 1914. He studied at the CSFA and with Diego Rivera. During the 1920s he was a resident of San Francisco and by the early 1930s had moved down the peninsula to Santa Cruz. During the late 1930s he lived in Woodstock, NY as an employee of the Federal Art Project. About 1946 he returned to Santa Cruz and abandoned art to assist in the family tool and die business. After retiring in the early 1960s, he built a sail boat and sailed around the world, mostly alone. Dreis died in Santa Cruz, CA on July 13, 1975. A pacifist, his estate of more than a million dollars was left to the American Civil Liberties.
(Source: Edan Hughes, author of the book "Artists in California, 1786-1940")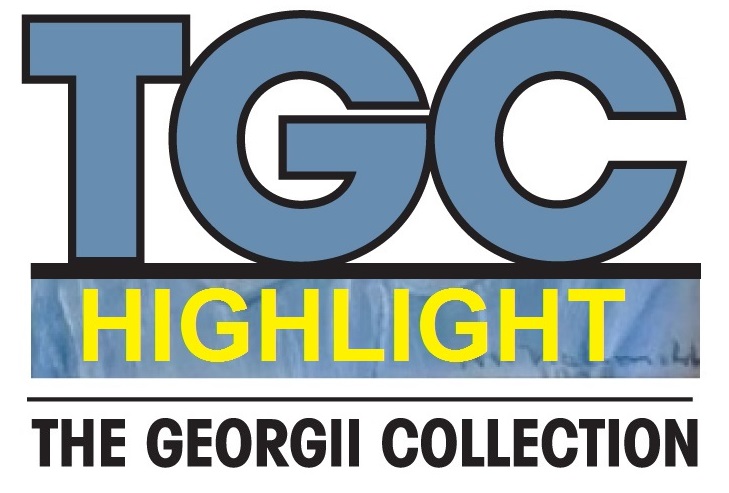 Given its relative isolation, Andorra has existed outside the mainstream of European history, with few ties to countries other than France, Spain and Portugal. In recent times, however, its thriving tourist industry along with developments in transport and communications have removed the country from its isolation. Due to its location in the eastern Pyrenees mountain range, Andorra consists predominantly of rugged mountains, the highest being the Coma Pedrosa at 2,942 metres (9,652 ft). Andorran artist Gabriel captures dark clouds surrounding Coma Pedrosa around the time of the Spanish Civil War.
TGC was able to restore the torn and soiled painting on its very thin canvas. It is now also protected behind glass.
Lindsay Walko
American, 20th century
'Winter in the Sierras', ca 1965
Oil on Canvas
24 x 30in
TGC# 052-031
Zhili
American, 20th century
'Waterfall in the Sierras', 1991
Oil on Canvas
24 x 24in
TGC# 052-037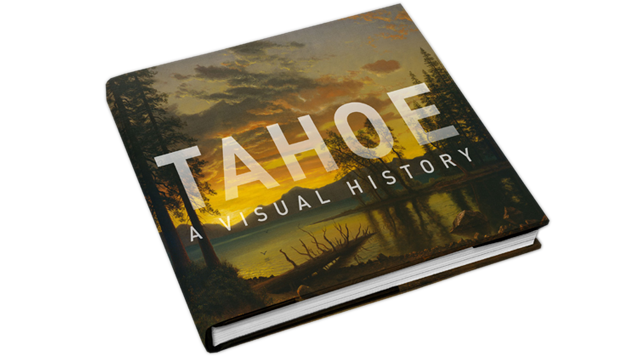 Exhibit info: Tahoe - A Visual History Nevada Museum of Art
In 2015 the Nevada Museum of Art organized a major art historical survey exhibition of painting, Native baskets, photography, architecture, and contemporary art dedicated to Lake Tahoe, Donner Pass, and the surrounding Sierra Nevada region.

The Tegernsee Mountains (German: Tegernseer Berge) form a mountain region between the River Isar in the west and the lake of Tegernsee as well as the Rottach, Weißen Valepp and Grundache south of the Tegernsee, in the east, and so form a part of the Bavarian Prealps. Area artist Alf Bauder shows incredible skill with his beautifully executed traditional painting of a cabin near the lake and (in the background to the left) Leonhardstein Peak (elev. 4,754 ft).
TGC was able to restore the originally larger and sadly heavily damaged painting to its current format.
Alfons Bauder
German, 20th century
'Tegernseer Berge', 1967
Oil on Canvas
22 x 28in
TGC# 052-032

Unknown Artist
German, 20th century
'Zugspitze and Eibsee', 1969
Oil on Board
18 x 24in
TGC# 052-007
Impasto is a technique used in painting, where paint is laid on an area of the surface very thickly, usually thickly enough that the brush or painting-knife strokes are visible. Paint can also be mixed right on the canvas. When dry, impasto provides texture, the paint appears to be coming out of the canvas.
This painting of Germany's tallest peak, the 'Zugspitze' follows the impasto tradition - creating an almost three dimensional effect.

Swiss landscape paintings became popular in the eighteenth and nineteenth centuries, and numerous 'minor masters' earned their living by it. In the second half of the eighteenth century Caspar Wolf discovered the Alps as a subject, and later Alexandre Calame and Barthelemy Menn founded the well-known Geneva school for landscape paintings. Ferdinand Hodler's (1853-1918) monumental figures and mountain landscape paintings are among the most beautiful and inimitable examples of Swiss fine art.
George Druba
American, 1894-1973
'Eiger, Mönch and Jungfrau', 1962
Oil on Canvas
20 x 27in
TGC# 052-006

Following the tradition of Eduard Schleich and Franz Defregger's folk art it was Walter Gach's remarkable skill that put these amazing mountainscapes on canvas. Gach was trained in Munich and his work is displayed in many museums such as the Heimatmuseum Vilsbiburg near Landshut in Bavaria.
Walter Gach
German, 1880-1962
'Alpine Cottage', 1947
Oil on Board
13 x 16in
TGC# 052-042
Walter Gach
German, 1880-1962
'Alpine Chalet', 1947
Oil on Board
13 x 16in
TGC# 052-043
Bavarian, Austrian and Swiss Folk Art encompasses art produced from the indigenous culture of the Alps region, by peasants of the area or other laboring tradespeople. In contrast to fine art, folk art is primarily utilitarian and decorative rather than purely aesthetic. As shown in the examples folk art is characterized by its naïve style, in which traditional rules of proportion and perspective are not employed.
Richard Kaemnauer
Austrian, 20th century
'Stubai Valley (Austria) with
Habicht Mountain', ca 1965
Oil on Board
15 x 20in
TGC# 052-041
Hallstatt is Austria's oldest village with a population of 800. It is located in the Salzkammergut Lake Region and a popular tourist attraction. Villagers have traded with a precious commodity for centuries: salt. Austrian artist Gragar shows Hallstatt's 19th century Neo-Gothic church as seen from Hallstatt Lake - with the Dachstein mountains as a backdrop. The artist Gregor is known for landscape paintings of Austria's Wachau valley.
Unknown Artist
German, 20th century
'Mountain Chalet', 1965
Oil on Canvas
9 x 12in
TGC# 052-035
Gregor
Austrian 20th century
'Hallstatt / Austria', ca 1930
Oil on Board
11 x 11in
TGC# 052-039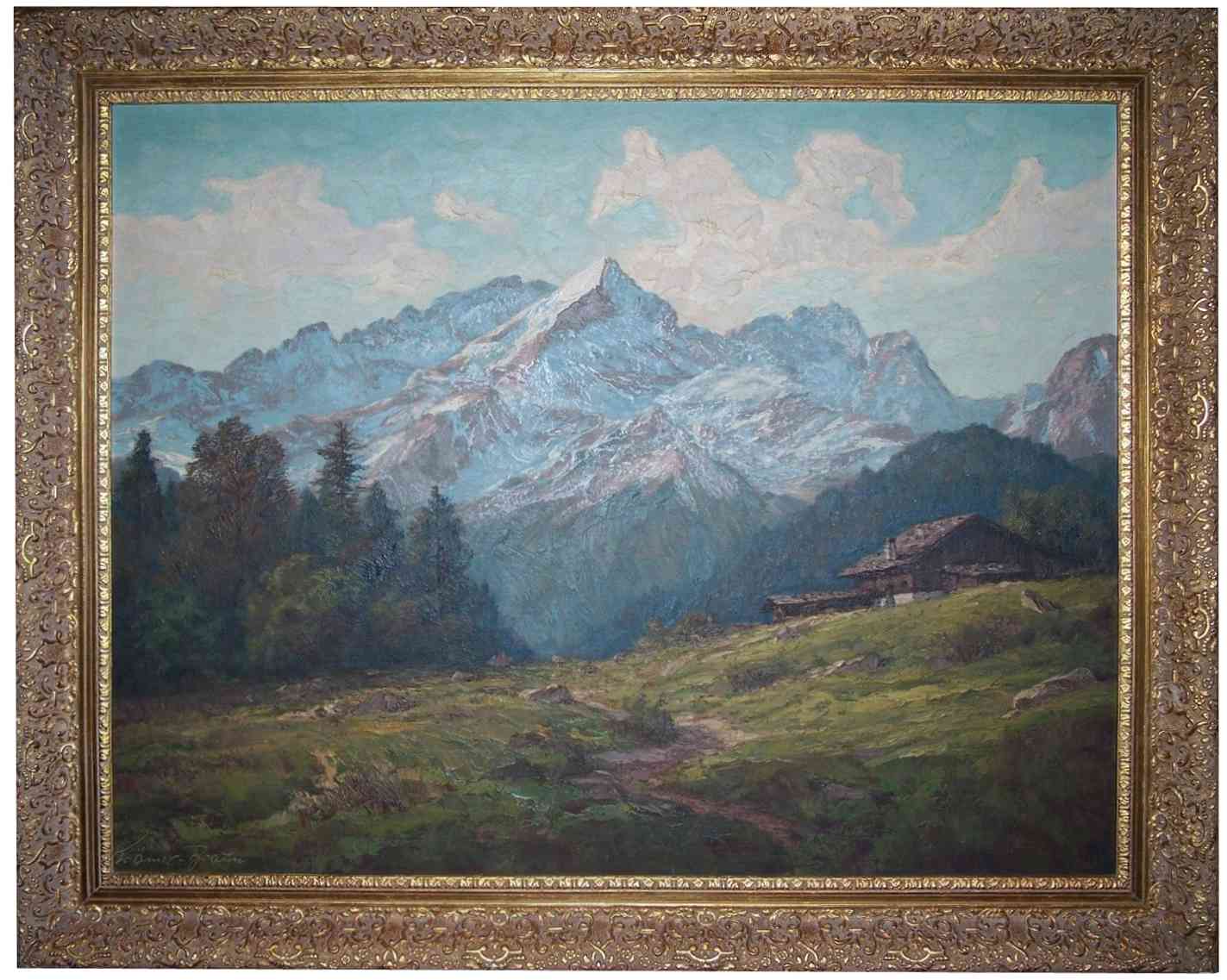 Joe Krämer-Braun was a mid 20th century German artist who is known for his landscapes, seascapes and portraits. According to Thieme-Becker he was a member of the 'Münchener Malerschule' (Munich School of Art). His work is frequently shown and auctioned - most recently at Zeller in Lindau and at the Dorotheum in Vienna. The present work of an alpine landscape shows his incredible skill in the tradition of the great 19th century landscape artists - comparable also, perhaps, to the well-known landscape painter Edgar Freyberg.
Theodor Erwin Grammel
German, 1892-1966
'Zugspitze und Eibsee', 1945
Oil on Board
20 x 24in
TGC# 052-046
Joe Krämer-Braun
German, 1910-1983
'Alpine Landscape', ca. 1955
Oil on Board
24 x 36in
TGC# 052-053

Theodor Grammel was born in Rottweil, Germany in 1892 and he was raised in Freudenstadt in Germany's Black Forest. He studied at the Academy of Arts in Stuttgart and he had his own workshop at the 'Bärenschlössle' in Christophtal near Freudenstadt. Grammel became an art teacher and published two textbooks for adults and children. Grammel was influenced by the great Expressionists and especially Picasso - he also wrote an important Picasso biography. In 2012 Thomas Rapp of Freudenstadt's Art Society put together the most comprehensive exhibit of Grammel's work in the town's City Hall. TGC partially restored Grammel's 1945 work of Germany's tallest peak, the Zugspitze.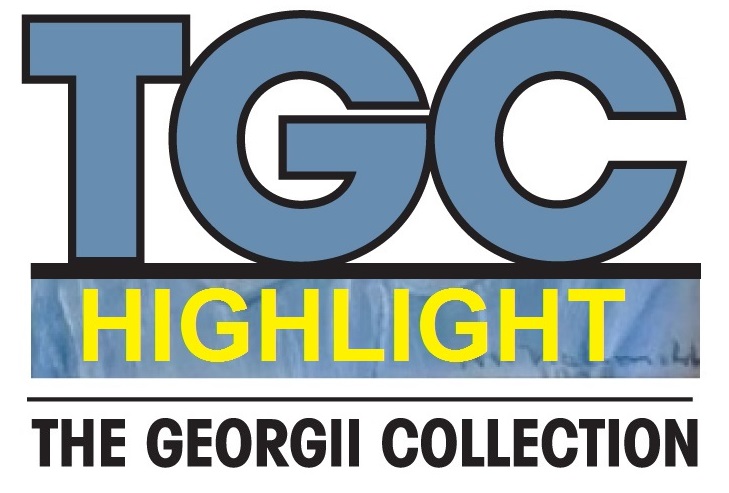 Albert Richter was a skilled artist and engineer from Frankfurt. In 1955 Frankfurt's address directory showed Richter's residence & studio listed as 'Im Sachsenlager 14' which is located in the arts & theater district - nearby Frankfurt's landmark 'Alte Oper'. His charcoal paintings on paper are his trademark - though he is also known to have painted using oil and canvas. He was especially drawn to the mountains in the German and Austrian Alps - as shown here. Though there are also several works depicting his home city as well as scenes in Germany's northern city of Hamburg and its harbor. Sadly, according to multiple sources, Richter became addicted to alcohol later in life - and often sold his paintings for little money on the street in order to pay for his addiction.

Albert Richter
German, 20th century
Alpine drawings, ca. 1955
Charcoal on Paper
(various sizes)
TGC# 052-045 - 052-050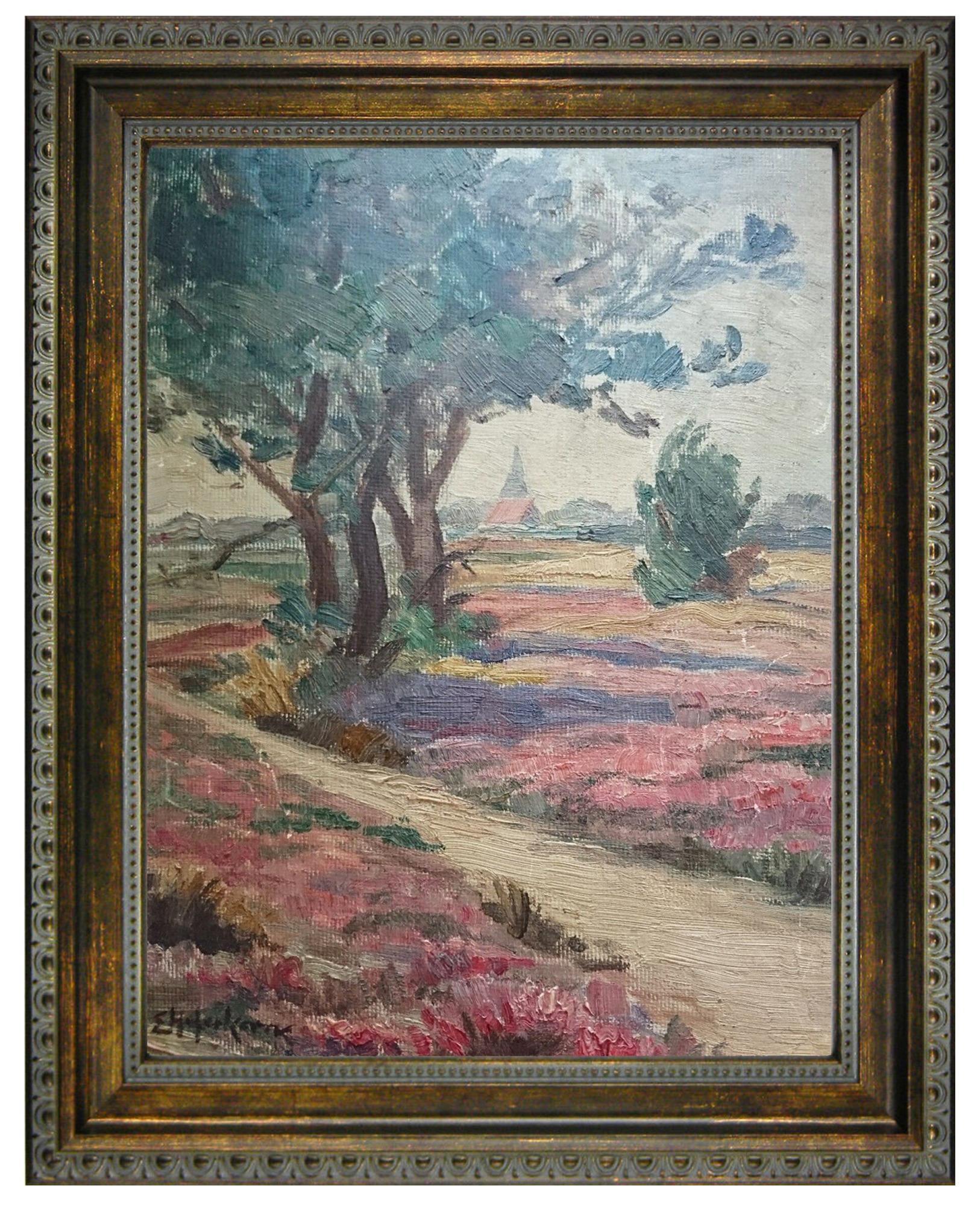 Elisabeth Haferkorn was a recognized artist from Leipzig, Germany in the first half of the 20th century. She is known for floral still lifes and landscapes in both watercolor and oil - such as the present work shown here. She was a student of Gustav Piegler at the Leipzig Academy of Art and became quickly influenced by the French Barbizon movement and the Impressionists. Elisabeth remained in Leipzig after World War II , according to TGC research, lived in the Mecklenburgstrasse until her passing at the age of 83.
Berlin's auction house Jeschke / Van Vliet recently sold some of her impressive work in June 2015.
Elisabeth Haferkorn
German, 1886-1969
'Landscape in Saxonia', 1927
Oil on Board
9 1/2 x 12 1/2in
TGC# 052-054

Portland, OR based artist Denise Holzman created this exquisite painting of an abandoned farm & feed store in the Western United States in 1978. The decaying roof, the lettering falling off the vendor sign, cloudy skies - all points to a glimpse of America's reality of the late 1970s (stagflation) and what was a common viewpoint of many Americans of what they saw as their future. Many artists made this sense of a nation in decay the center of their work.

"The threat is nearly invisible in ordinary ways. It is a crisis of confidence. It is a crisis that strikes at the very heart and soul and spirit of our national will. We can see this crisis in the growing doubt about the meaning of our own lives and in the loss of a unity of purpose for our nation."
(Jimmy Carter's malaise speech of 1979)
Denise Holzman
American, 1947-2010
'Sunrise Feed & Seed', 1978
Oil on Canvas
16 x 20in
TGC# 052-036

Unknown Artist
American, 20th century
'Crater Lake and Wizard Island', ca 1960
Oil on Board
16 x 20in
TGC# 052-029
Crater Lake in Oregon is nestled in the remains of an extinct volcano which exploded 7700 years ago, leaving a 20 sq mile hole which filled with water by rain and snow. Crater Lake is Oregon's only National Park and shown on the 2005 released state quarter.

Crater Lake has inspired artists for many years.
No place else on earth combines a deep, pure lake,
so blue in color; sheer surrounding cliffs, almost two
thousand feet high; two picturesque islands; and a
violent volcanic past. It is a place of immeasurable
beauty, and an outstanding outdoor laboratory and
classroom.

Gladys Betz
American, 1922-1993
'The Harvest', 1973
Oil on Canvas
18 x 24in
TGC# 052-034
Nazareth, PA based Gladys Betz was a very talented 20th century artist that was known for her post-impressionist inspired landscapes and still lifes. 'The Harvest' was created for the local Nazareth Club in 1973 as a submission in their annual art show. Later she became Chairman of the Arts for the Northampton County Federation of Women's Northeast District and was responsible for the annual Festival of Arts in Richmond, PA in the early 90s.
Betz frequently won awards for her oil paintings in her home county in the heart of Pennsylvania Dutch country.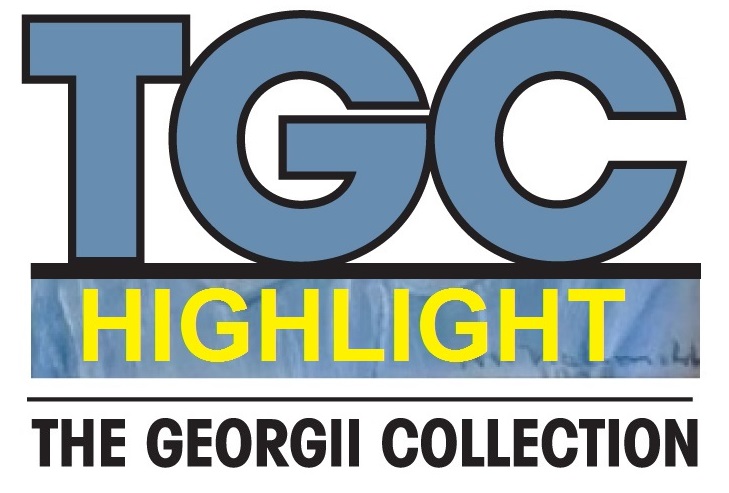 Karl Schmidt
American, 1890-1962
'Alpine Village', 1945
Oil on Board
15" x 20"
TGC# 052-012
Multi talented Karl Schmidt was born in Worcester, MA on Jan. 11, 1890. Schmidt began drawing and painting when quite young. After graduating from Polytechnic Institute in his native city, he traveled to England where he studied art and painted land and seascapes of Cornwall and coast of Brittany. In England he probably came under the influence of the arts and crafts painter Frank Brangwyn and, in turn, Japanese art.
Schmidt returned to the US and was a resident of Boston and Worcester until 1915 when he moved to Santa Barbara, California where he was associated with the group of painters who worked in California artist Alexander Harmer's mission-style studio. In California, Schmidt expanded a decorative painting style in which he abstracted landscape forms, rendering them as flat planes of color thoughtfully arranged within his compositions.

Schmidt's approach suggests the influence of the art of Arthur Wesley Dow, whose method was disseminated by the many Dow students who settled in the Los Angeles area in the early twentieth century. In 1918 he joined the Navy and served in the Bureau of Aeronautics. He later pioneered construction of lighter-than-air craft and rose to the rank of commander. This set of alpine paintings was created shortly after World War II in Austria. He exhibited extensively in Southern California and throughout the United States.
Karl Schmidt died in Los Gatos, California on Sept. 26, 1962.

Ortler is, at 3,905 m (12,812 ft) above sea level, the highest mountain in the Eastern Alps outside the Bernina Range. It is the main peak of the Ortler Range. It is the highest point of the Southern Limestone Alps, of the Italian province of South Tyrol, of Tyrol overall, and, until 1919, of the Austrian-Hungarian empire. In German the mountain is commonly referred to as "König Ortler" (King Ortler), like in the unofficial hymn of South Tyrol, the Bozner Bergsteigerlied.


Naïve art is often seen as outsider art that is by someone without formal (or little) training or degree. While this was true before the twentieth century, there are now academies for naïve art. Naïve art is now a fully recognized art genre, represented in art galleries worldwide. The characteristics of naïve art are an awkward relationship to the formal qualities of painting, especially not respecting the three rules of the perspective:
1. Decrease of the size of objects proportionally with distance
2. Muting of colors with distance
3. Decrease of the precision of details with distance
Effects of perspective geometrically erroneous (awkward aspect of the works, children's drawings look, or medieval painting look, s
trong use of pattern, unrefined color on all the plans of the composition, without enfeeblement in the background and a
n equal accuracy brought to details, including those of the background which should be shaded off.
Roland Arribas
French, 1922-1986
'Recreational Boating in the
ponds of Gylieu', ca. 1965
Oil on Canvas
9 x 12in
TGC# 052-055

Sean Wu currently lives in Potomac, Maryland. Since his childhood, painting has always been a lifelong passion. His painting portfolio includes portraits, landscapes, animals, and still-life. Originally starting as a painter focused around realism, he is now delving into the impressionistic styles. His painting manifests his passion of life, nature and inspiration.
Source: Artist's web presence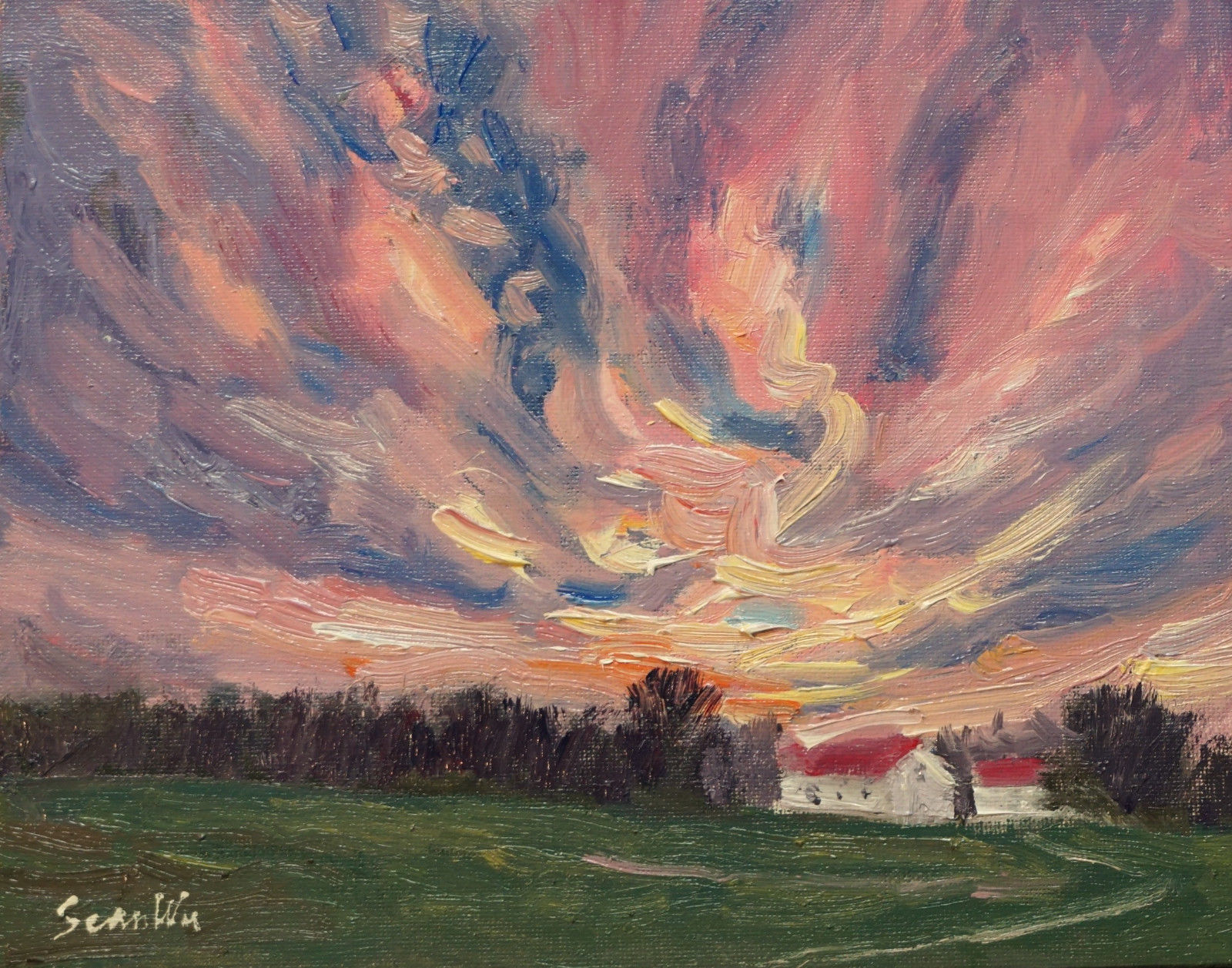 Sean Wu
American, contemporary
Various Landscapes, 2015-2018
Oil on Board
8 x 10in and 9 x 12in
TGC# 052-057 - 052-083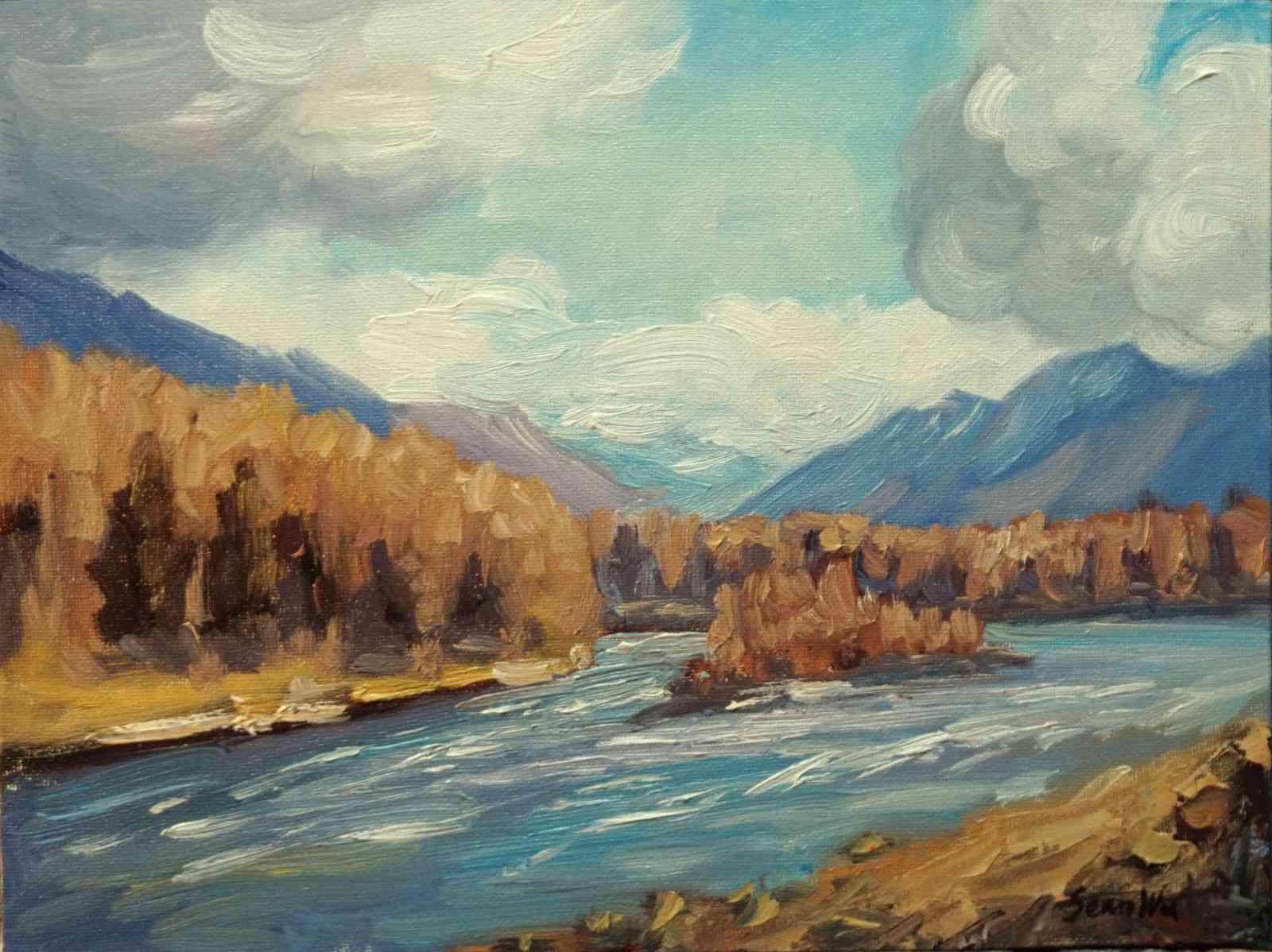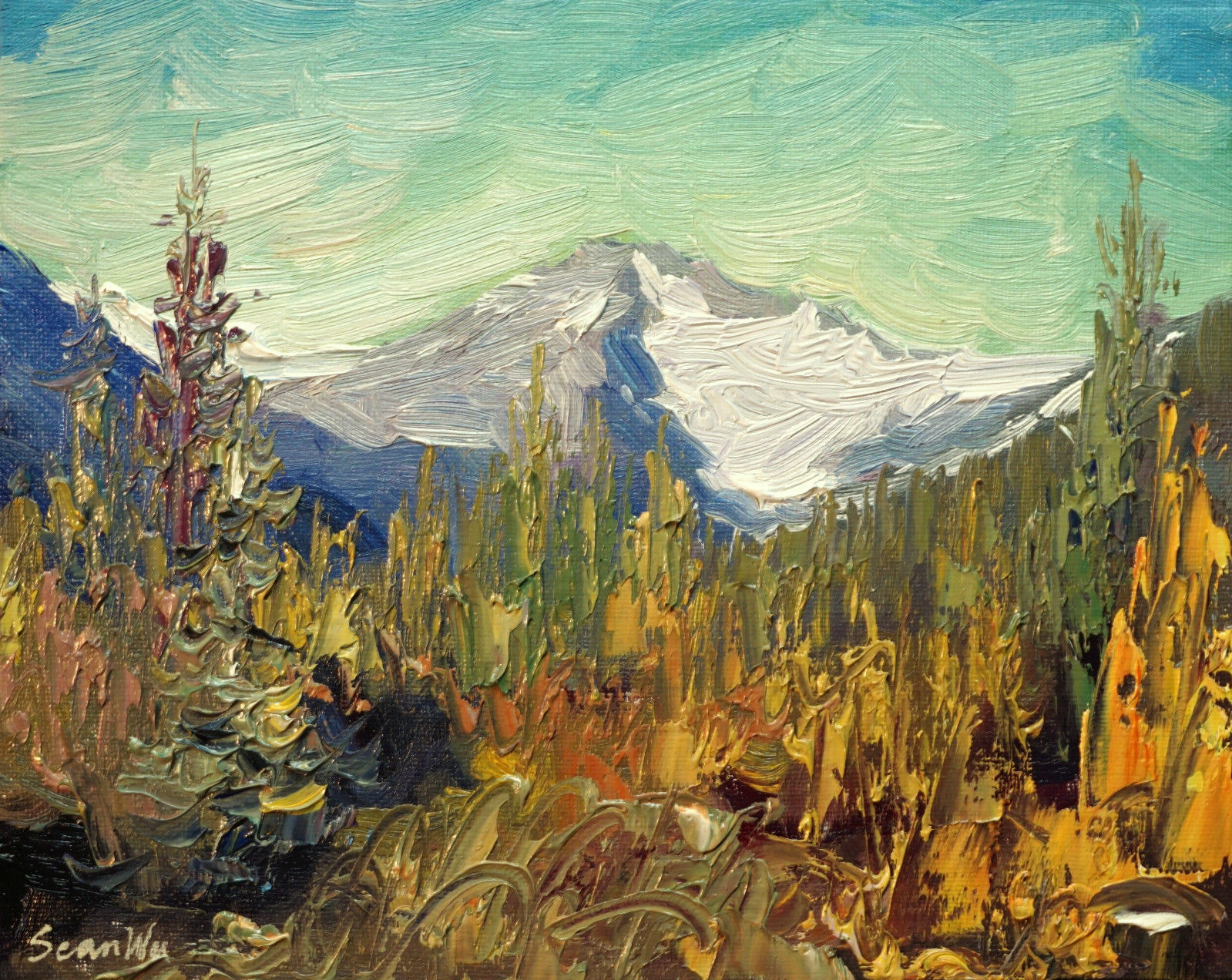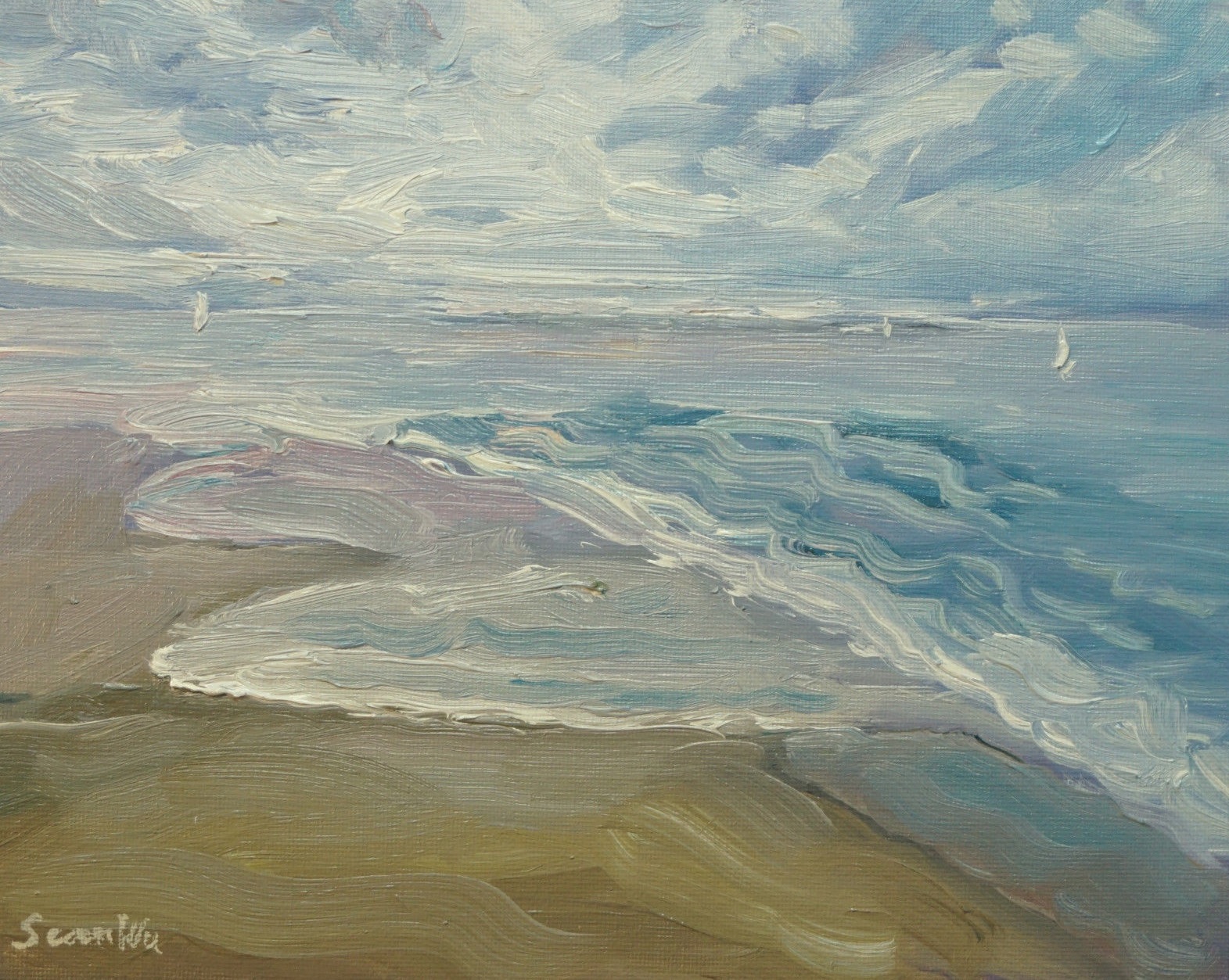 Sean Wu
American, contemporary
'Field of Flowers', 2017
Oil on Board
14 x 18in
TGC# 052-84

Ottmar Freiherr v. Fürer
German, 20th century
'Schönau im Odenwald', ca. 1925
Oil on Board
16 x 20in
TGC# 052-90
Schönau is a town in the district of Rhein-Neckar-Kreis, in Baden-Württemberg, Germany. It is situated in the Odenwald hills, 10 km northeast of Heidelberg. Schönau Abbey is located here - shown in this painting's background.

Timber framing and "post-and-beam" construction are traditional methods of building with heavy timbers, creating structures using squared-off and carefully fitted and joined timbers with joints secured by large wooden pegs. It is commonplace in wooden buildings from the 19th century and earlier. If the structural frame of load-bearing timber is left exposed on the exterior of the building it may be referred to as half-timbered, and in many cases the infill between timbers will be used for decorative effect - as shown here in Schönau's old post office building.


Oscar J. W. Parr
American, 1927-1996
'Winter in the Sierra Nevada', 1970
Oil on Canvas
18 x 24in
TGC# 052-91
The depiction of winter landscapes in Western art begins in the 15th century. Wintry and snowy landscapes are not seen in early European painting since most of the subjects were religious. Painters avoided landscapes in general for the same reason. The first depictions of snow began to occur in the 15th and 16th centuries. Paintings that feature snow as a theme are mostly landscapes, even if some of these works involve religious or even fantasy landscapes. Most of these winter landscapes in art history are plein-air depictions of winter scenes, using the quality of gray winter light to create the special winter atmosphere. Depiction of snow in Europe is essentially a northern European theme. The Impressionists were the first artists who made plein-air painting a major genre. They painted outdoors and were interested in real-life subject matter. Their most evident preoccupation and interest was capturing the effect of light and weather at a particular moment – they often painted the same theme all over again in different light and different weather. It is possible that a series of severe winters in France also contributed to an increase in the number of winter landscapes produced by Impressionists. Impressionist painters like Claude Monet, Alfred Sisley and Camille Pissarro started painting large numbers of winter landscapes in which they experimented with the use of light and color to paint what they called the effets de neige (the effects of snow). In this tradition, Texas-born artist Oscar Parr captured a winter landscape in California's Sierra Nevada.

Source: Wikipedia

This is a copy of Edward Harrison Compton's 1914 painting "The beautiful country of Tyrol" and it was recently featured in the TV show 'Kunst und Krempel'. Compton was British-German and his work was exhibited at the Royal Academy in London.