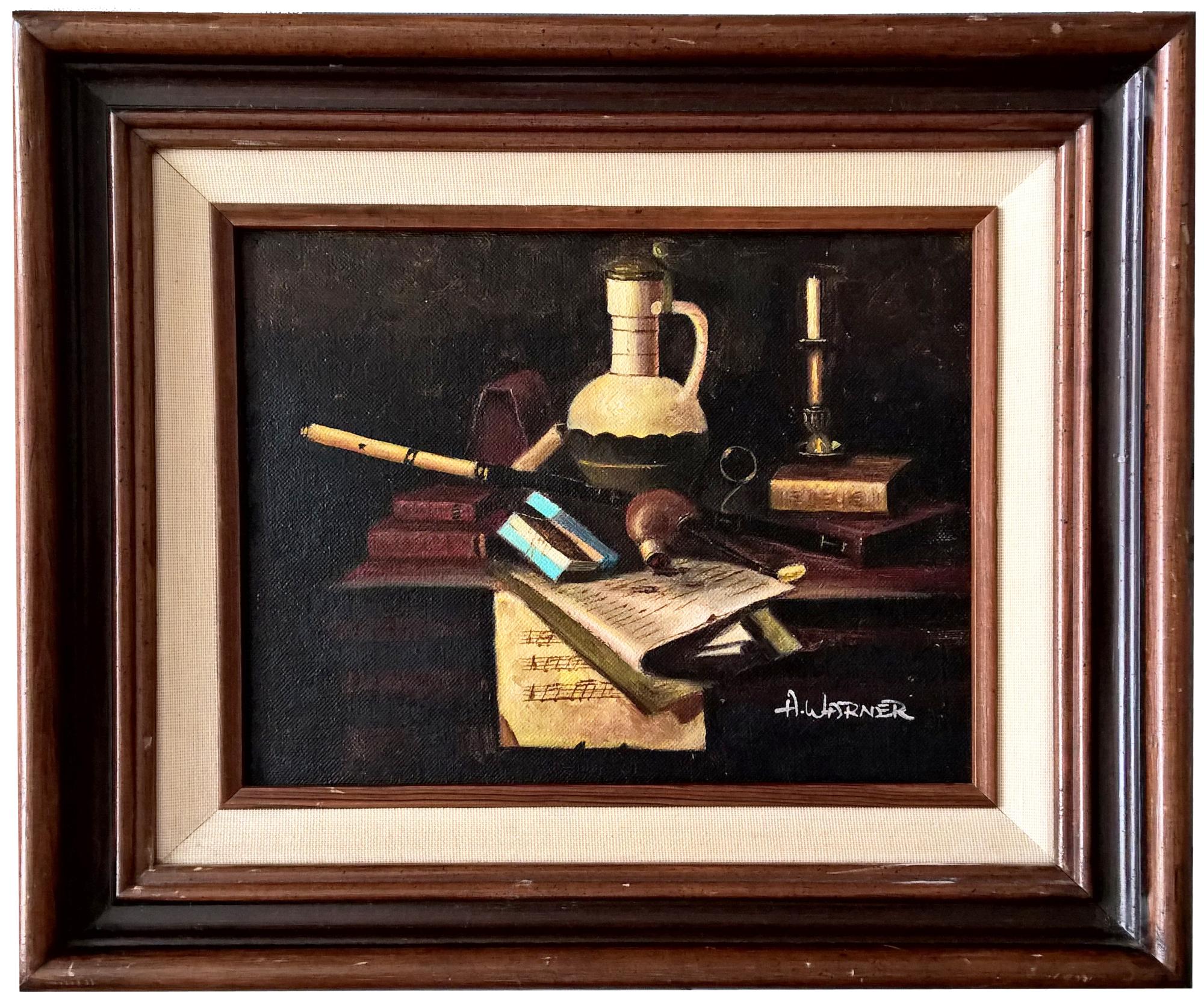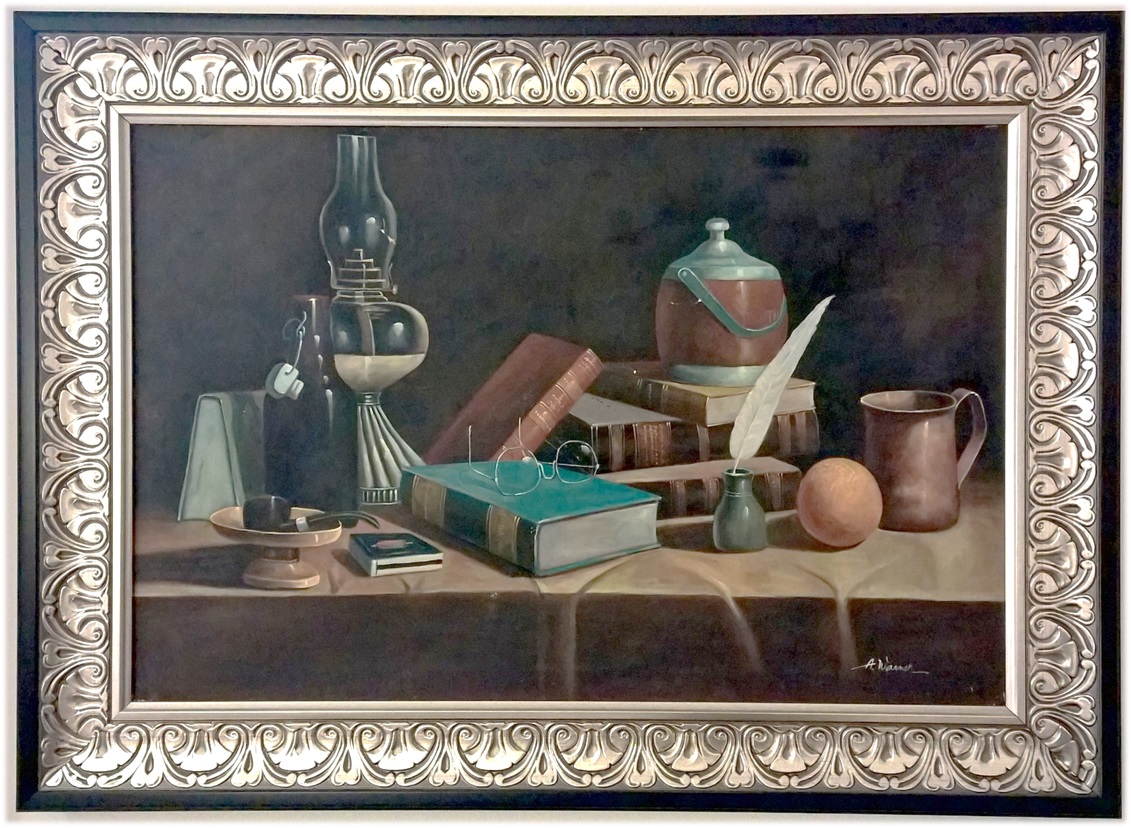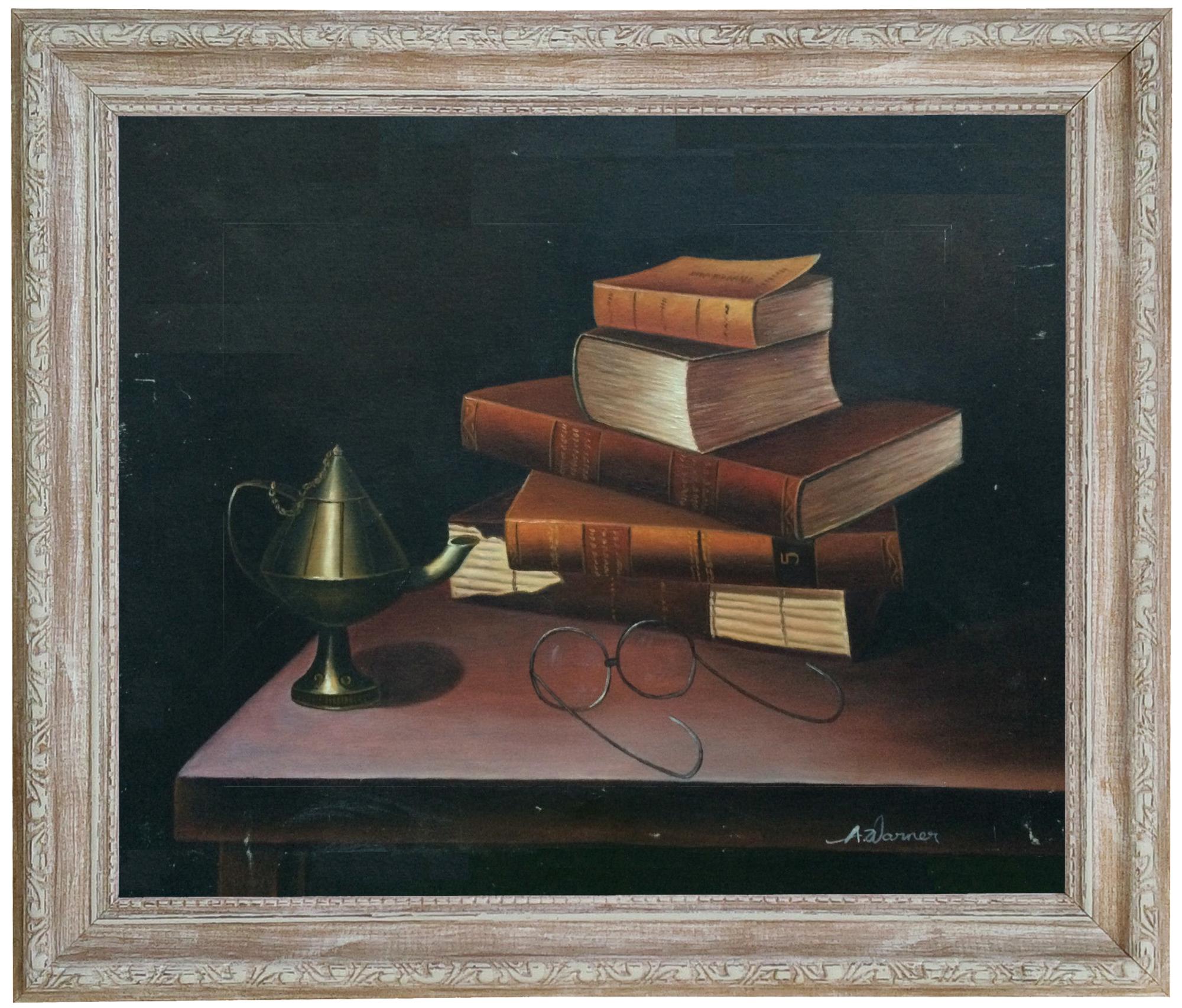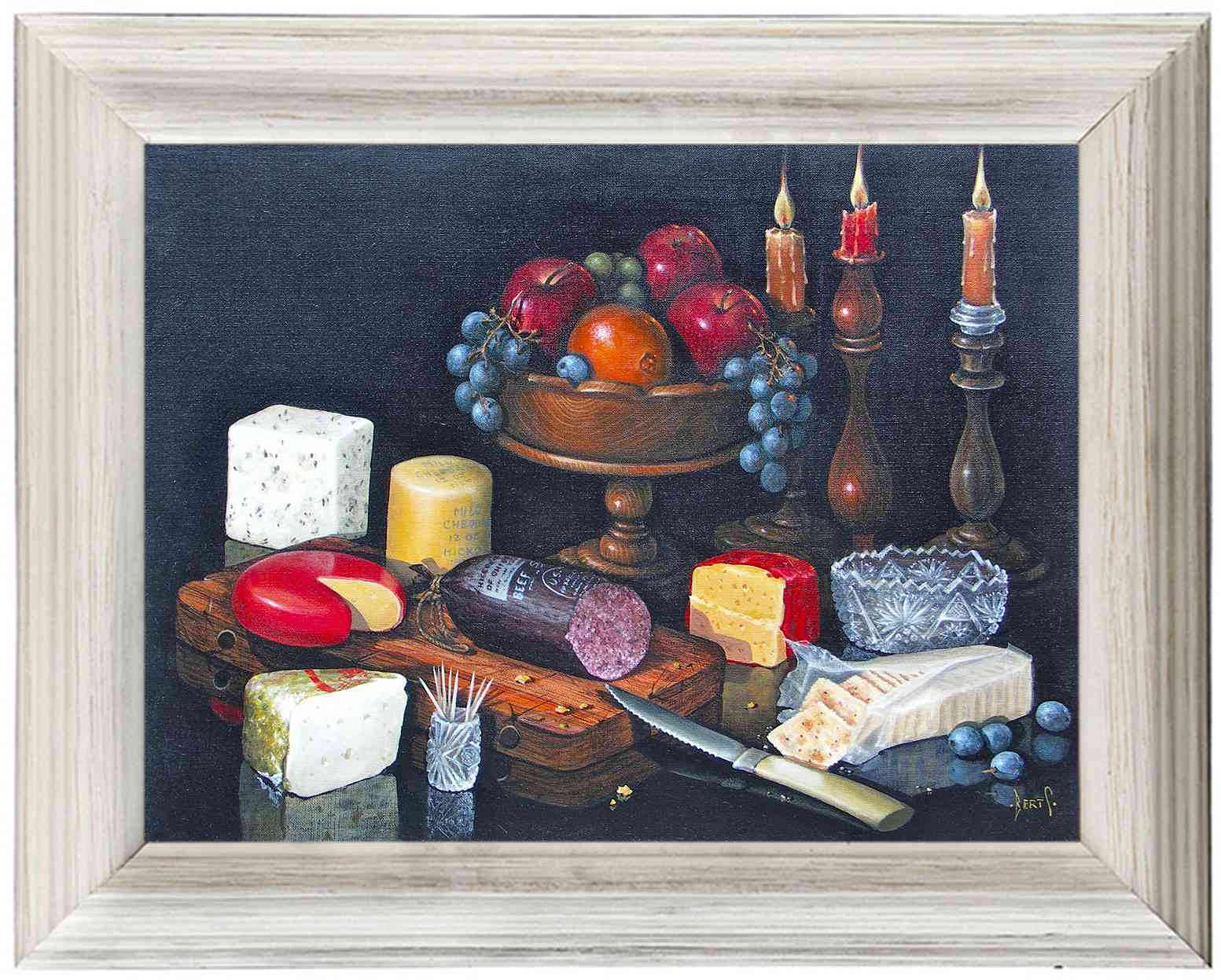 In fine art, the term Trompe-l'œil refers to the technique of visual illusion, whereby the eye of the viewer is deceived into thinking that a painting is actually a three-dimensional object, rather than merely a two-dimensional representation of it. This type of artistic optical illusion is commonly seen in easel, mural and architectural paintings, as well as in sculpture and architecture. Most trompe l'oeil devices are set in realistic true-to-life imagery and are based on confusion caused by the deceptive application of the rules of linear perspective. The term itself is a French expression, meaning "deceives the eye," and was first coined in the 17th century, during the era of Baroque art.
Source: Wikipedia
A. Warner
American, 20th century
'Emblems of Peace' (after William Harnett), 1975
Oil on Canvas 8 x 10in

TGC# 087-001
A. Warner
American, 20th century
'Emblems of Peace II' (after William Harnett), 1975
Oil on Canvas 8 x 10in

TGC# 087-010
William Michael Harnett
(1848-1892)
A. Warner (presumably Louisiana based still life artist Ann Warner) painted the present trompe l'oeils in the tradition of Irish-born William Harnett's masterpiece 'Emblems of Peace' - painted in 1890. Both versions are slightly different from the original displayed in the Museum of Fine Arts in Springfield, MA.

A. Warner
American, 20th century
'Trompe-l'œil with Violin'. 1975
Oil on Canvas 8 x 10in

TGC# 087-004 and -005

A. Warner
American, 20th century
'Trompe-l'œil'. 1975
Oil on Canvas 24 x 36in

TGC# 087-006

Pere Borrell del Caso was a 19th century Spanish illustrator best known for his painting 'Escapando de la crítica' (Escaping criticism), an example of trompe-l'œil where the boundary between real and fictitious space is blurred.
A. Warner picks up on the idea and shows the tablecloth escaping the boundaries of the painting itself.
Note: This painting underwent extensive restoration by TGC in 2015.
A. Warner
American, 20th century
'Trompe-l'œil'. 1975
Oil on Canvas 20 x 24in

TGC# 087-012 and -013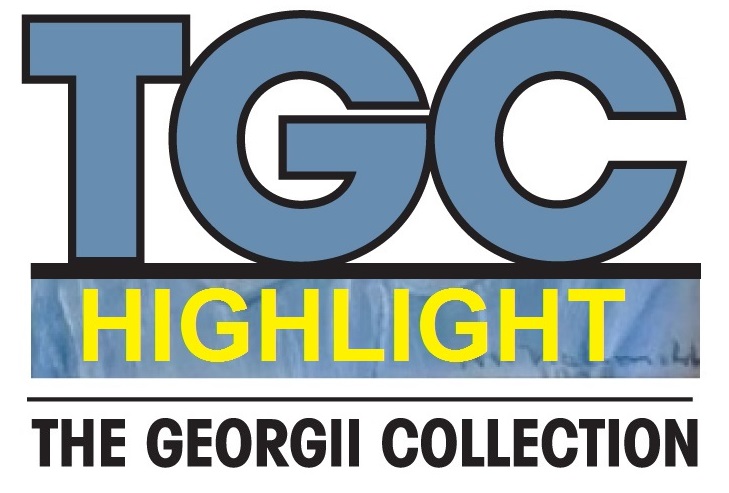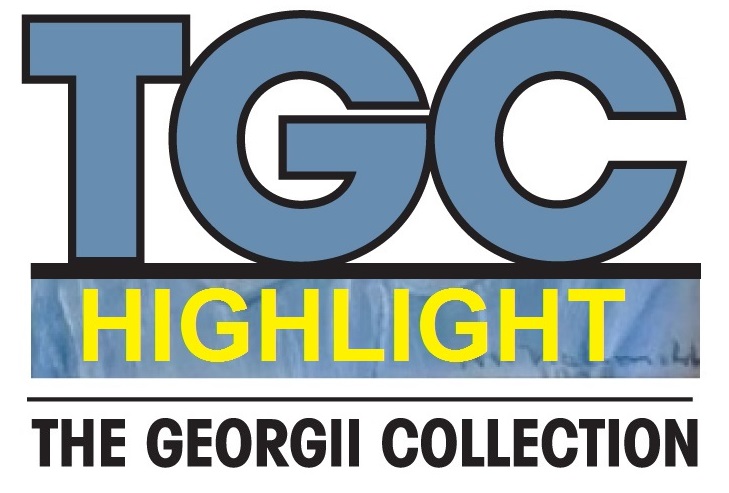 Ralph Anderson
American, 1929-
'Trompe-l'œil', ca 1950
Oil on Canvas 11 x 18in
TGC# 087-007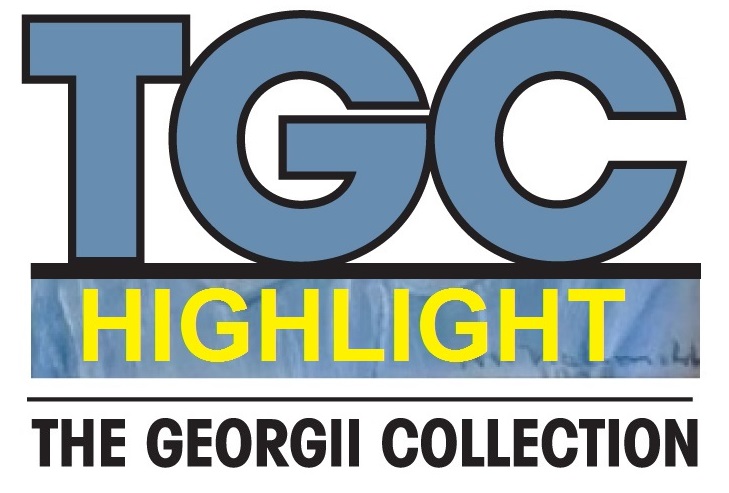 Ralph Anderson was born in Los Angeles, CA on December 16, 1929. He is known for a number of trompe-l'œil paintings such as 'Memorabilia', 'Card Game' and various Chinese themed still lifes. According to the Los Angeles Police Department several of his paintings ('Pinocchio', 'Barnum & Bailey', 'Humpty Dumpty' and 'Banjo and Hat' were stolen in 1997 and have not been recovered yet.

Edward Smalarz
American, contemporary
Trompe-l'œil, 2016
Oil on Canvas 30 x 40in
TGC# 087-009
Edward Smalarz is undoubtedly one of the most talented Californian artists specializing in Realism and trompe-l'œil oil paintings. His work was shown at the deYoung Museum as well as several art galleries in San Francisco.
"I have been painting in the traditional style for over 12 years. I have been showing consistently as well.
I love to share my work with the world. I have been teaching for some years and enjoy watching people learn to draw and paint. I work mostly from life direct observation and occasionally from photos or imagination. I make my own oil based mediums. Some are similar to the Maroger medium. As I have examined many Old Masters' paintings one can see how Marogers medium matches in all its forms italian wax. One is a nifty smooth buttery effect. All in moderation."
Source: Artist's blog


Dorothy Churchill Wyman
American, 1899-1993
'Barn Window', ca 1945
Oil on Canvas 22 x 28in
TGC# 087-003
Dorothy Churchill Wyman (1899-1993) was a painter who was professionally known as D. C. Wyman (or, after her marriage in 1945, as D. Wyman Martin). She studied at the School of the Museum of Fine Arts School in Boston and privately with George Elmer Browne, with whom she traveled and studied in Europe and Provincetown, MA. Her work first received national recognition in 1935 at the annual exhibition in New York of the Allied Artists of America. She kept a studio on Newbury Street in Boston. Her 'Barn Window' is embedded in a frame made of barnwood with a burlap matting.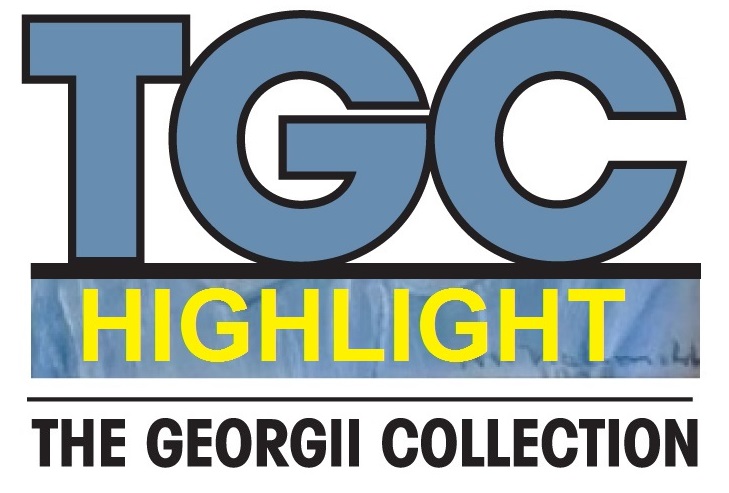 Margaret Simonini
American, 1899-1984
'Trompe-l'œil', 1968
Oil on Canvas 12 x 16in
TGC# 087-011
Margaret Simonini was active in Riverside, California in the 1960s. Her still lifes often reached the quality of a trompe l'oeil - such as this nice example of various fruit placed on a mirroring table surface.


Jenette Cribari
American, 1921-2003
'Trompe-l'œil', ca 1975
Oil on Board 9 x 12in

TGC# 087-002
Trompe-l'œil paintings became very popular in Flemish and later in Dutch painting in the 17th century arising from the development of still life painting. The Flemish painter Cornelis Norbertus Gysbrechts created a chantourné painting showing an easel holding a painting. Chantourné literally means 'cutout' and refers to a trompe l'œil representation designed to stand away from a wall. The Dutch painter Samuel Dirksz van Hoogstraten was a master of the trompe-l'œil and theorized on the role of art as the lifelike imitation of nature in his 1678 book, the Introduction to the Academy of Painting, or the Visible World.

Denver-based artist Jenette Cribari showed tremendous skill in the execution of a trompe-l'œil - displaying everyday items such as a candlestick, a book and spectacles.


Frank Lean
American, 20th century
'Still Life with Violin', 1982
Oil on Canvas 9 x 12in

TGC# 087-008
Bert S.
American, 20th century
'Trompe-l'œil', ca 1975
Oil on Canvas 18 x 24in

TGC# 087-014