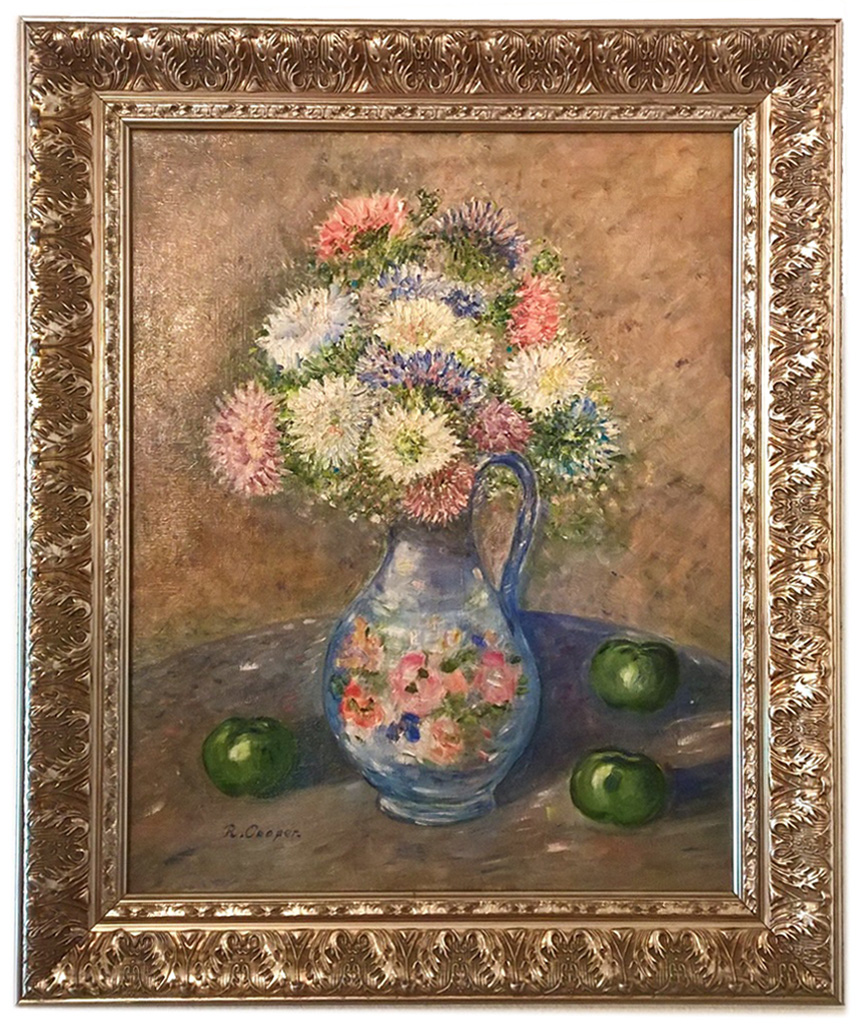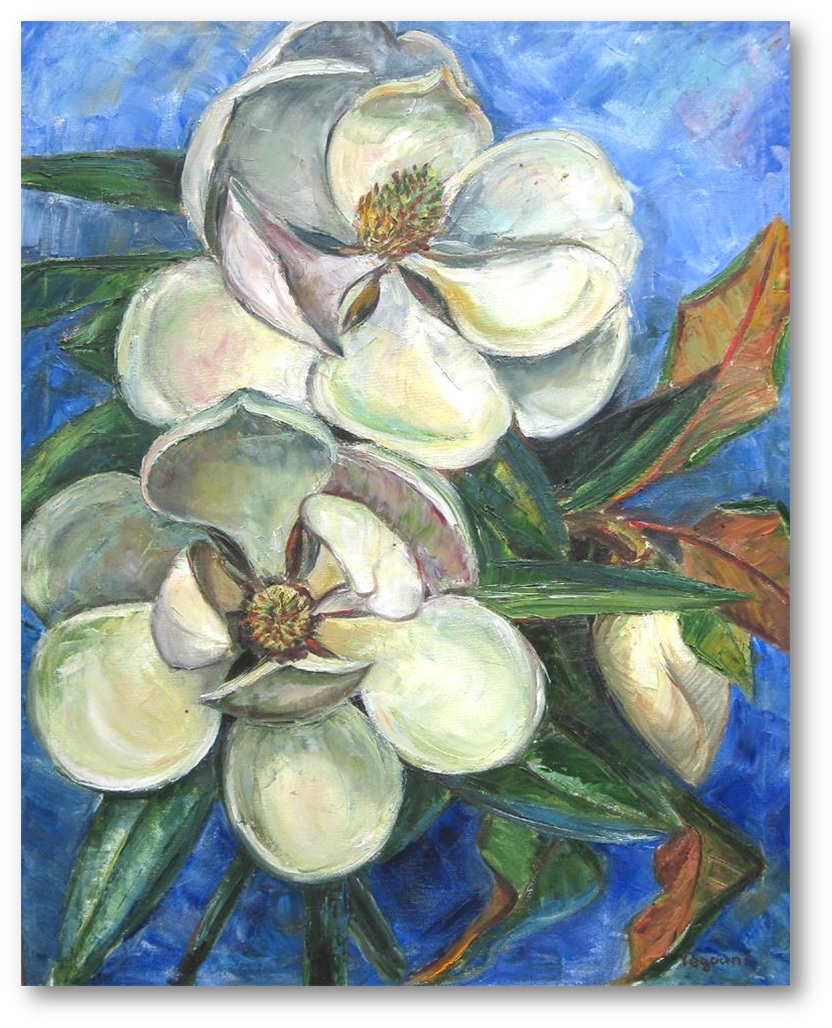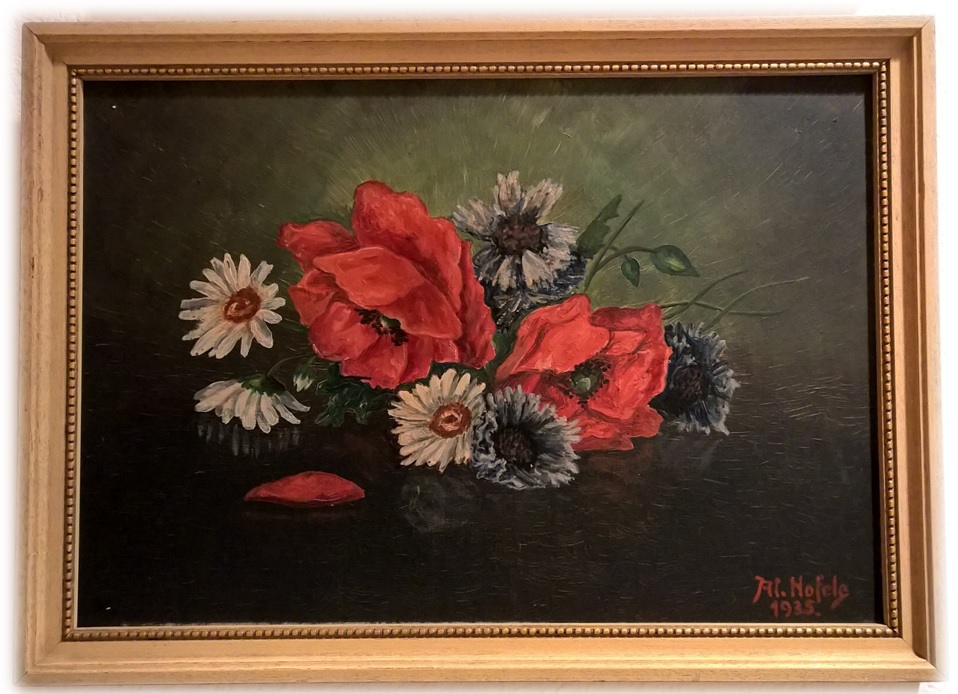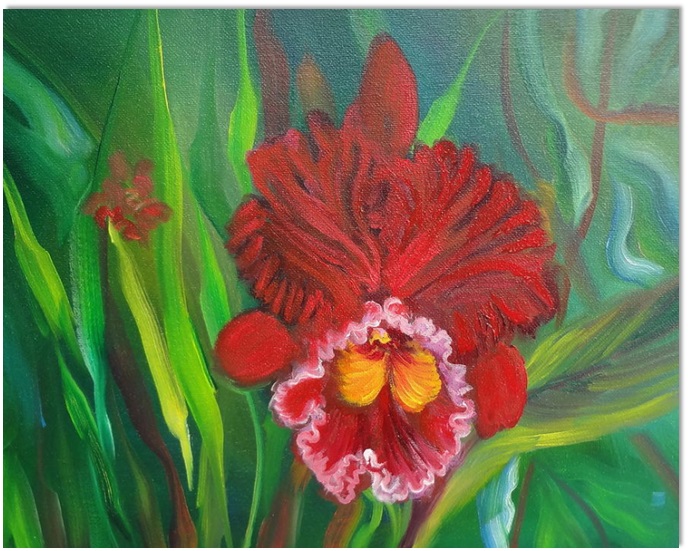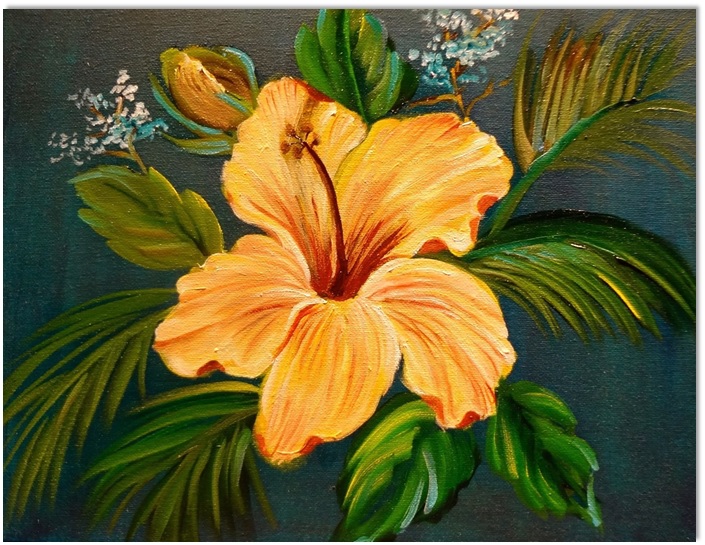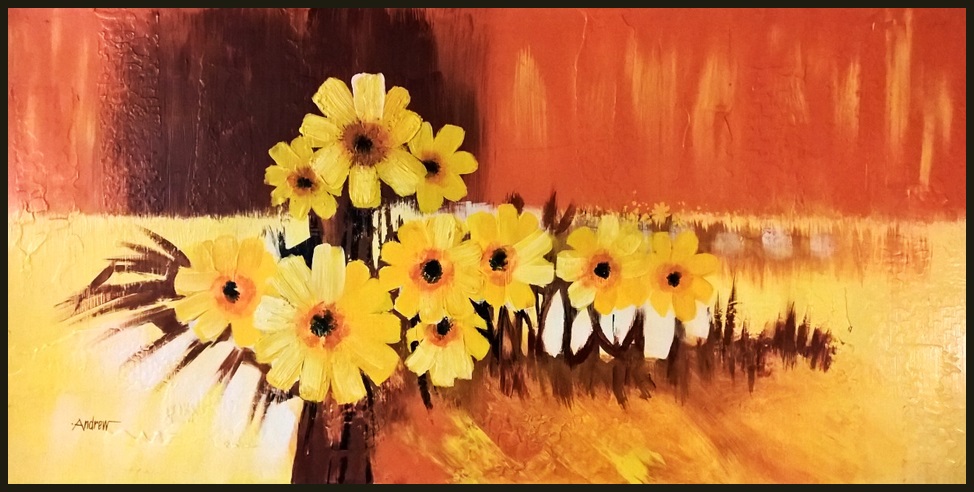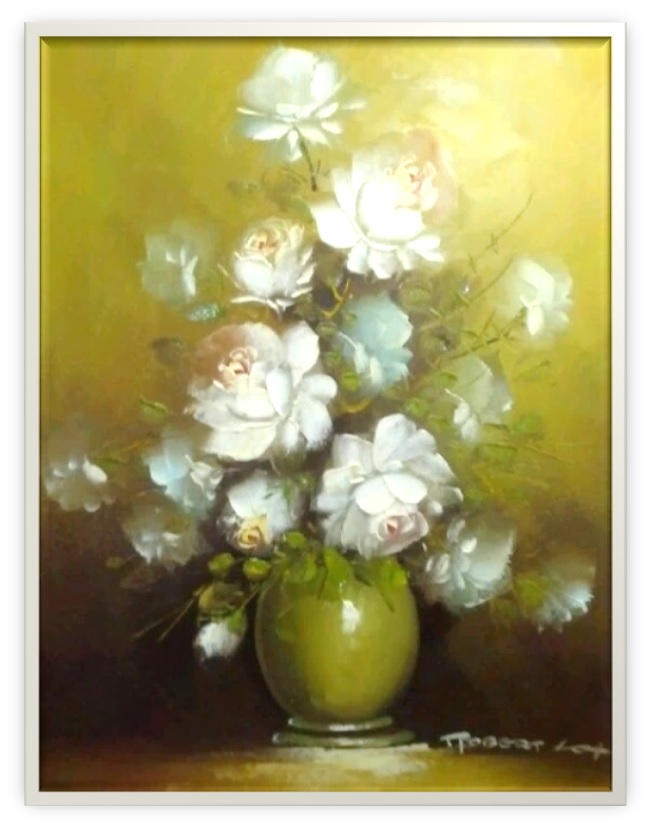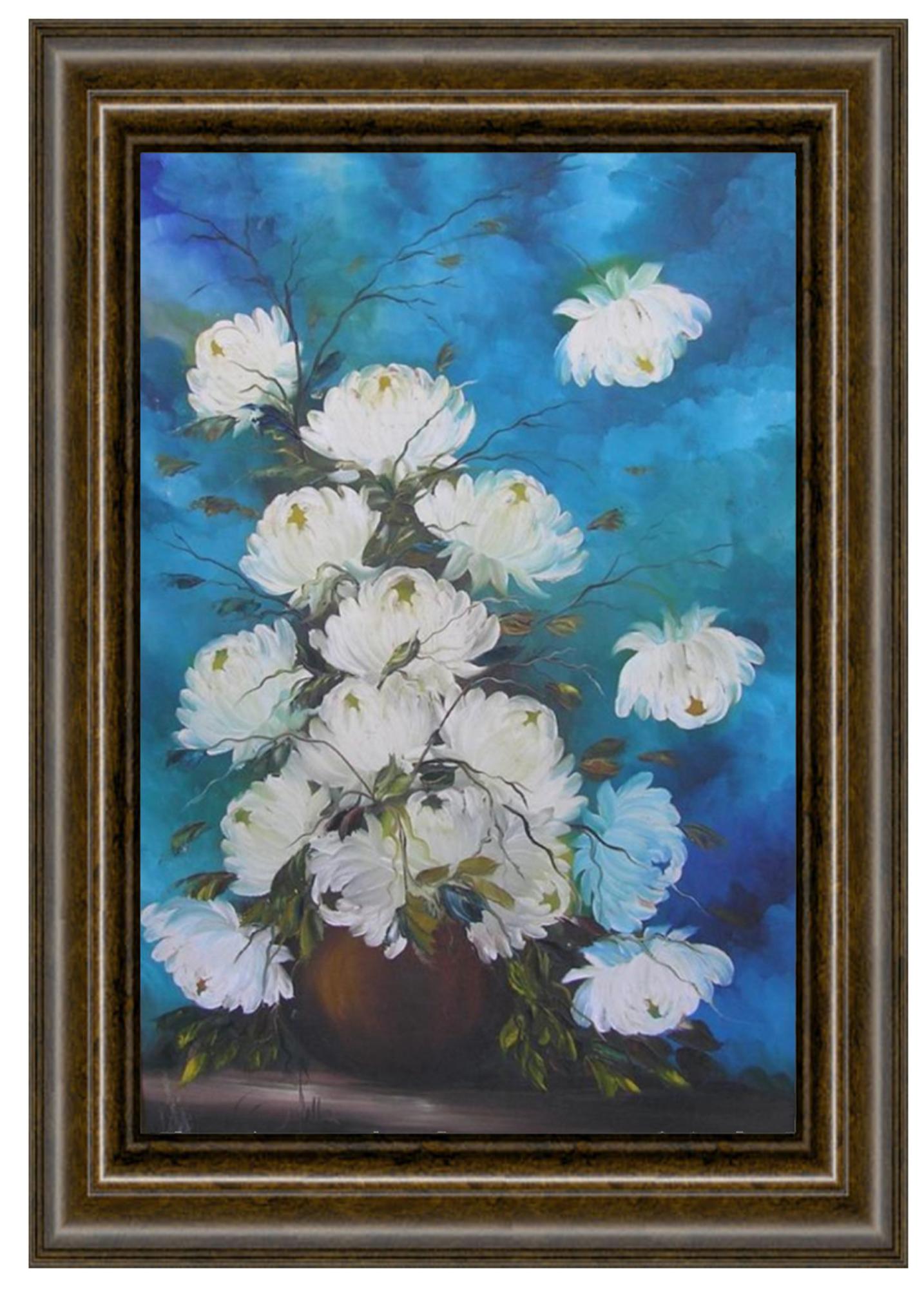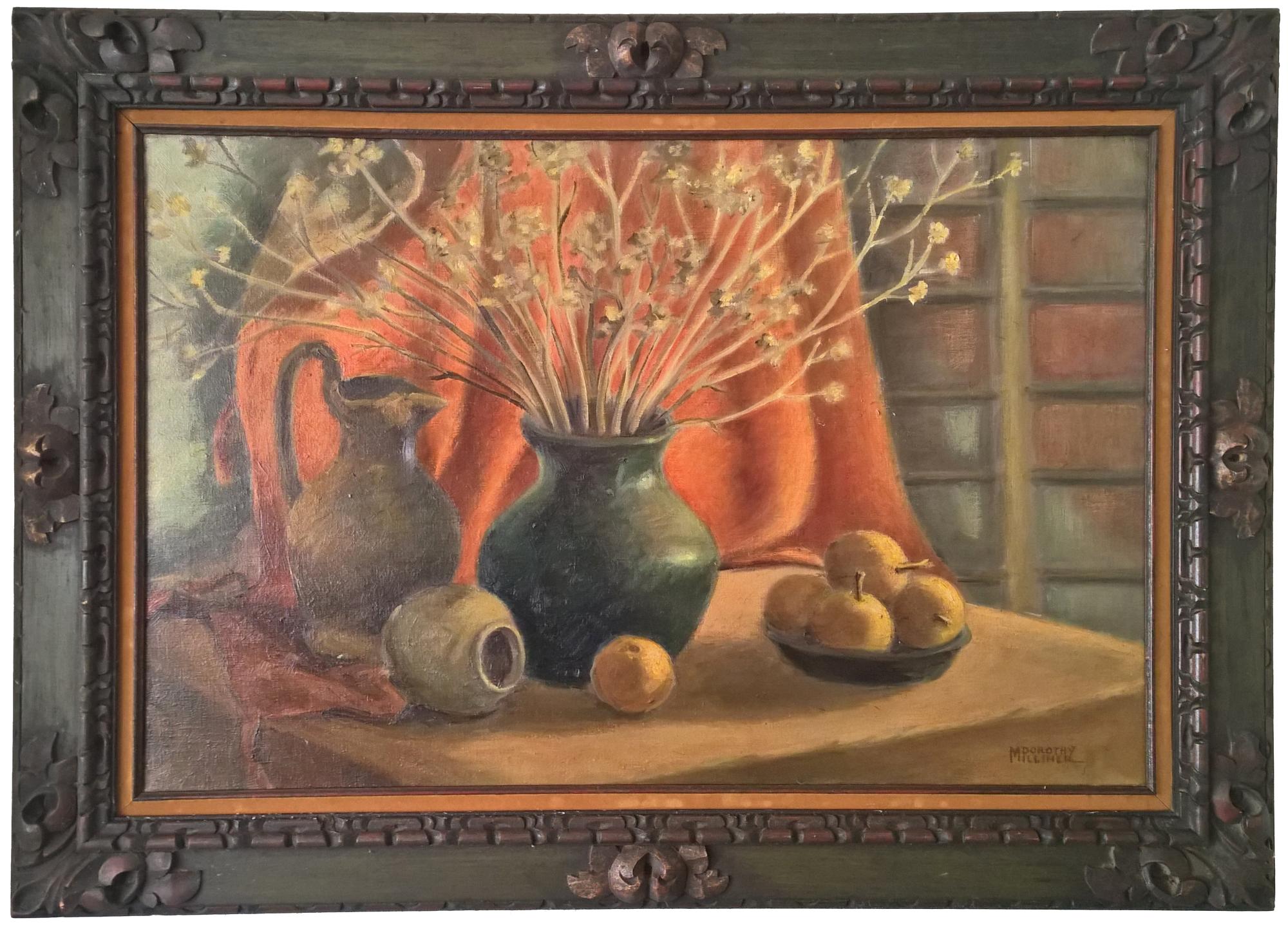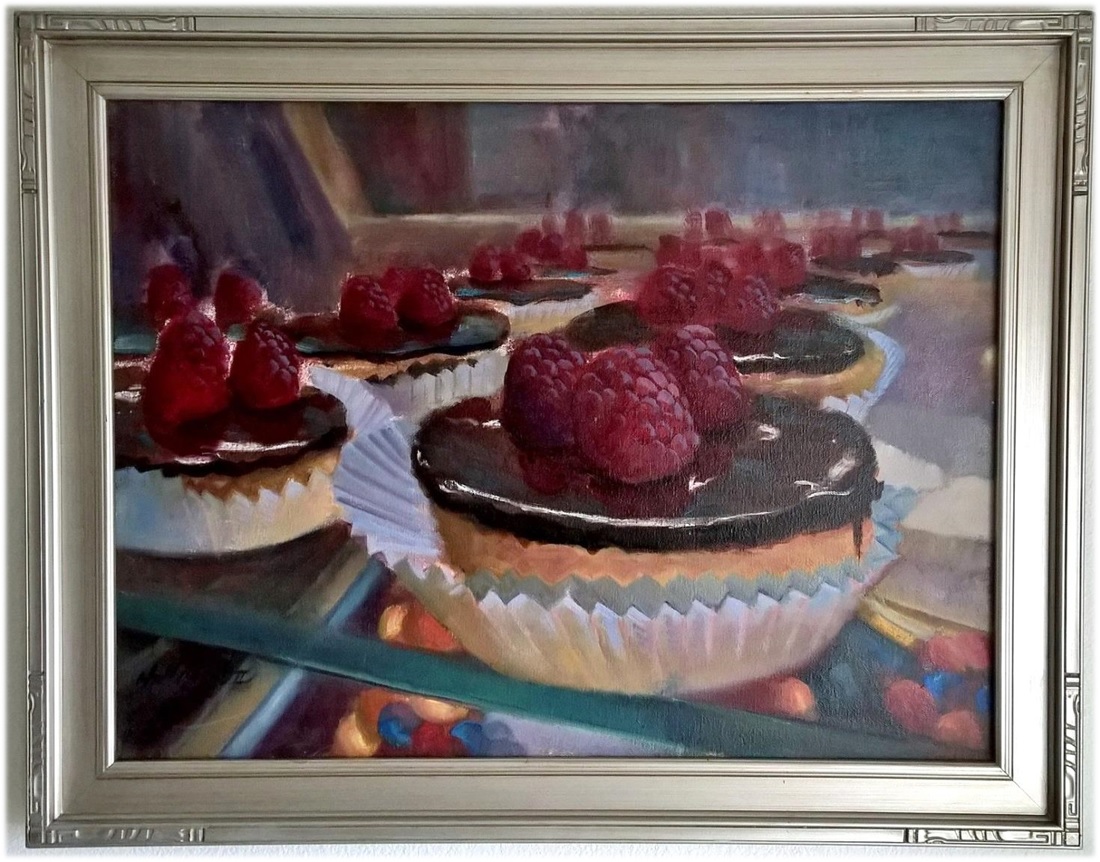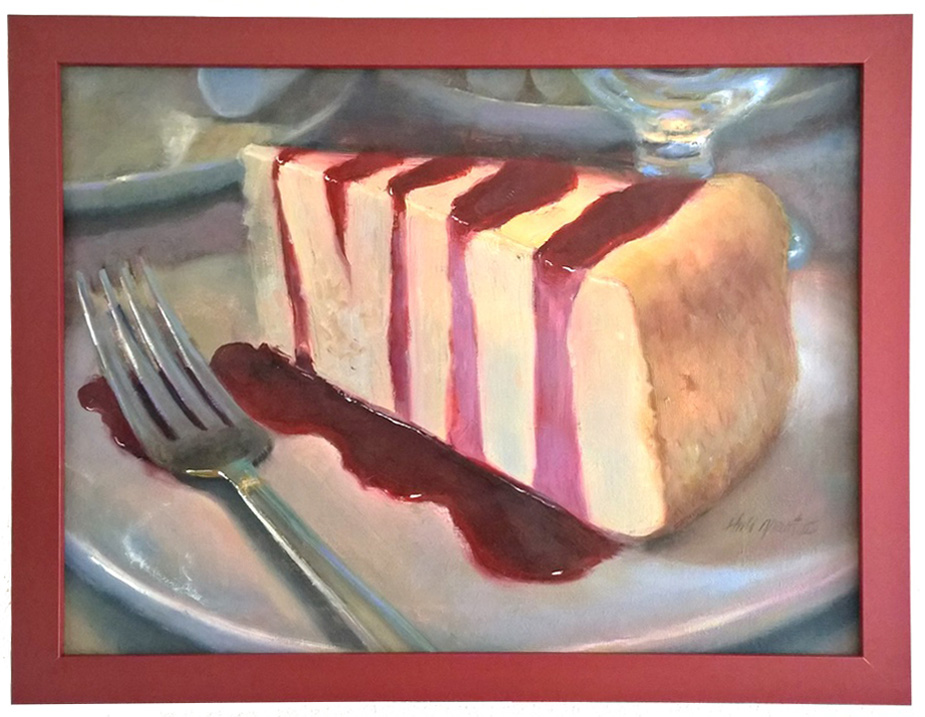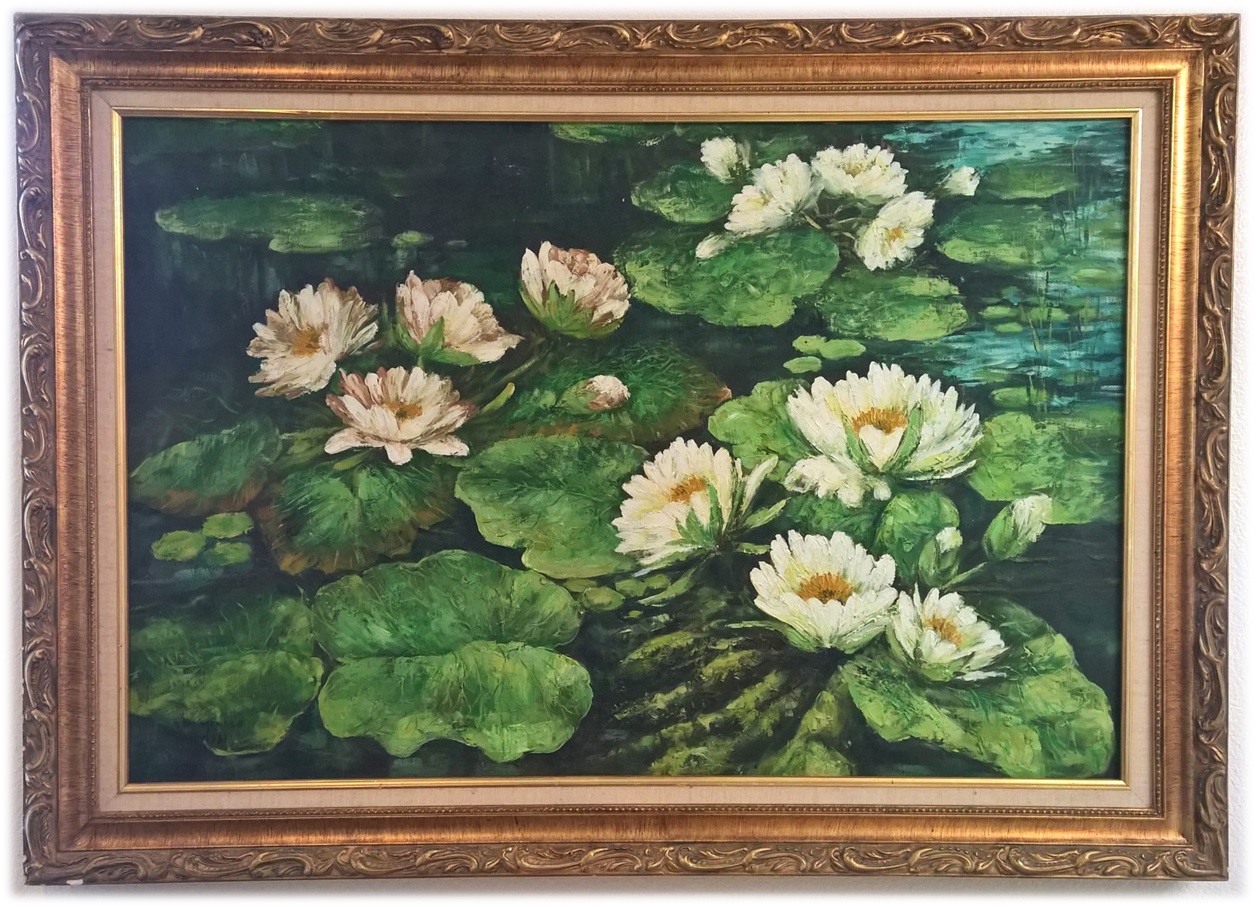 A still life (plural still lifes) is a work of art depicting mostly inanimate subject matter, typically commonplace objects which may be either natural (food, flowers, etc.) or man-made (drinking glasses, books, jewelry, coins, pipes, and so on). With origins in the Middle Ages and Ancient Graeco-Roman art, still-life painting emerged as a distinct genre and professional specialization in Western painting by the late 16th century, and has remained significant since then.
'Still Life with Flowers
16 x 20in


A. Hofele
Swiss, 20th century
'Still Life with Poppies
and Cornflowers', 1935
Oil on Board
10 x 14in
TGC# 078-002

Diana Vehuni
American, contemporary
'Magnolias', 2006
Oil on Canvas
22 x 28in
TGC# 078-003
"In 2004 I started my spiritual journey. The new knowledge I acquired changed all aspects of my life, including my Art. I studied extensively about chakras and body's energy system; numerous modalities of energy healing and the way frequencies of different colors affect us. Several years ago I decided to combine my life long desire to bring more love, positivity and higher frequencies into the world around me and my ever-present passion for art. The result is my new paintings. Our visual perception, being the most powerful for the majority, can be used in many ways to enhance our well-being. Any stimulus that reaches our brain through our eyes creates changes on many levels. I use color, design, subliminal messages and energy transmission in my canvases for optimal effect. Since every color corresponds to a chakra based on its frequency it is a powerful way to balance our energy body. Surrounding ourselves with a color to give a boost to a chakra can be an easy, beautiful and fun way to do it. The shapes also have an impact as they create associations in our minds. The best way to choose a design is to follow your intuition, if it feels good to you, go with it. Some of the paintings have subliminal messages which usually are not readily visible but can be seen if searched for. These are positive affirmations, words of wisdom or helpful reminders hidden in the whimsical design. All of my paintings come with energy of high vibration encoded in them. " - D. Vehuni
Source: artist's website

Jenny Lee
American, contemporary
'Red Orchid', 2014
Oil on Canvas
11 x 14in
TGC# 078-004

Jenny Lee
American, contemporary
'Hibiscus', 2014
Oil on Canvas
11 x 14in
TGC# 078-004

"Living in Hawaii is an ever present inspiration for my painting. I have been an avid collector and oil painter for over 30 years. After moving to Hawaii 27 years ago I now spend 100% of my time painting. Initially a self taught artist, I have now taken art lessons in Honolulu for over 4 years. I will continue my studies at the Honolulu Academy of Arts. I have been painting since 1974. At my most recent art show at the Honolulu Country Club, my 'Beauty with a Parasol' won an award. I also sold 'Gypsy Shadow' at that art show. At the following art show at the Honolulu Country Club 'Pink Hibiscus' took an award. " - J. Lee

Source: artist's website
My art work can be seen throughout the year where I have won two awards and my 'One Woman Art Show' will take place in September. In the January-February Art Show at the Honolulu Country Club, my 'Gala Rose' won an award. Recently juried into the 46th Annual Aloha Art Show 2016 is an honor. Two of my hula girl paintings were chosen for this event." - J. Lee

Source: artist's website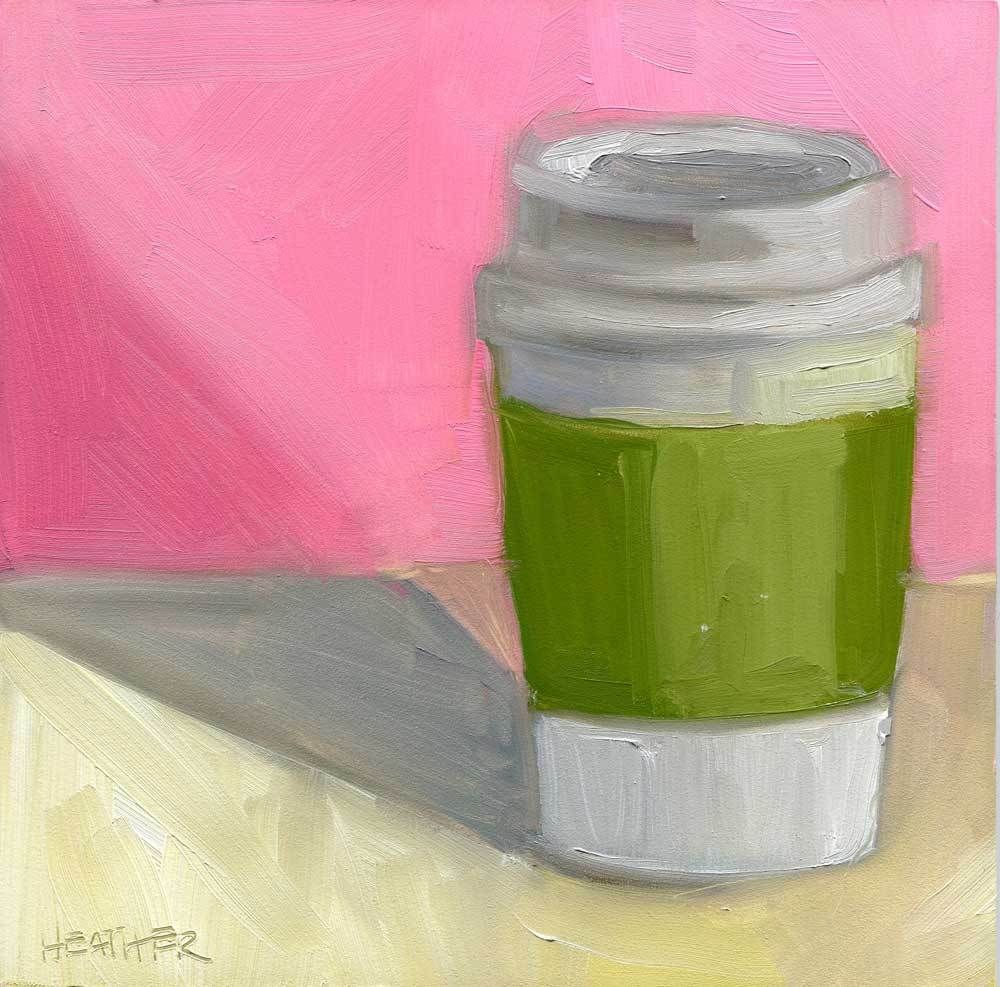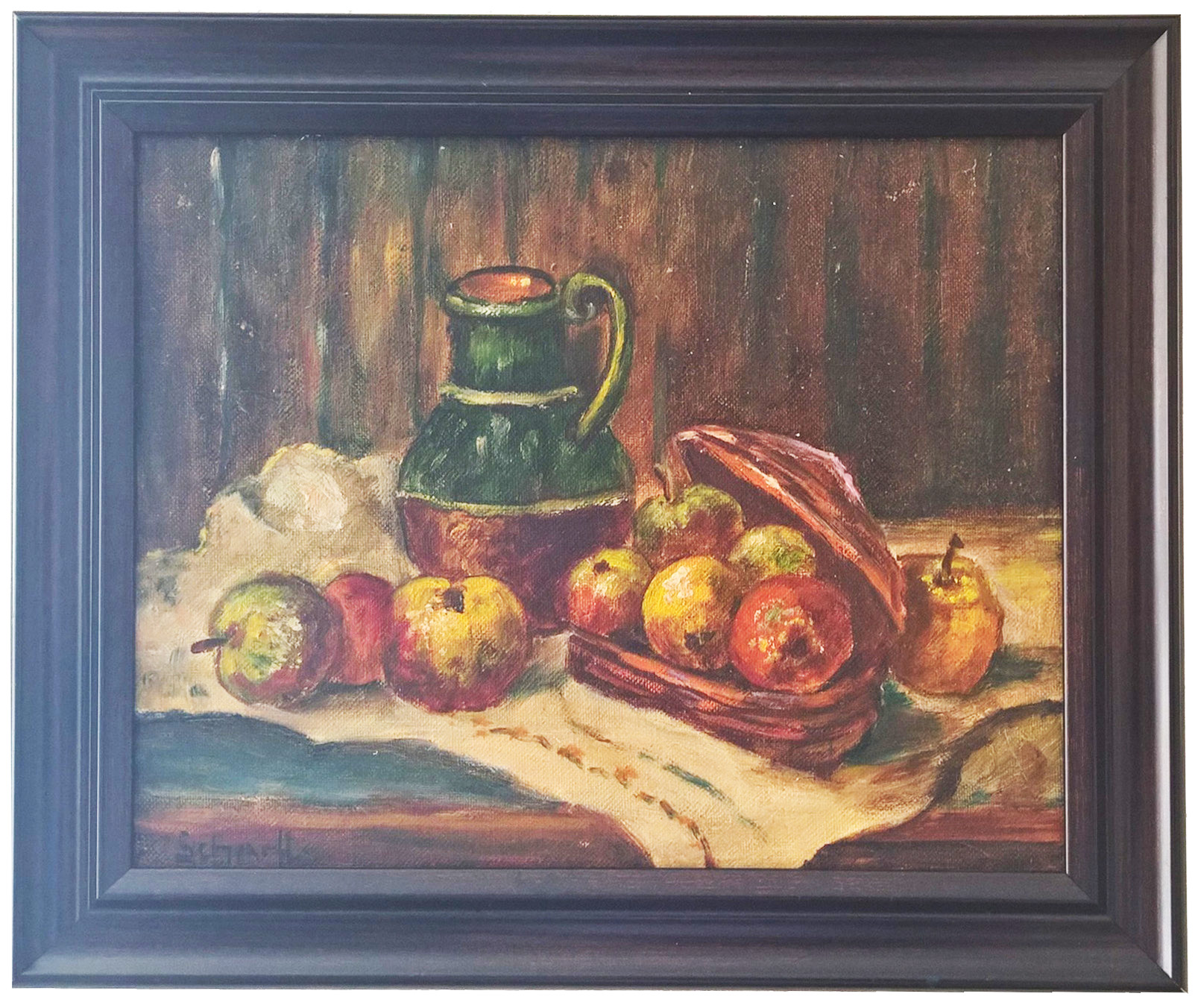 Andrew
American, 20th century
'Abstract Sunflowers', ca. 1980
Acrylic on Board
24 x 48in
TGC# 078-018

Robert Cox
American, 1934-2001
various Still Lifes, ca. 1970
Oil on Canvas
various sizes
TGC# 078-006-009
Born on July 14th, 1934 in Mt Holly, New Jersey, Robert Cox studied at the Katharine Gibbs School of Art from 1953 until 1956 before joining Mayhew Peakes Inc. as a graphic designer. He moved to California where he married in 1966. He was a founder member of the Art Workers Coalition and very active in promoting the rights of artists. He was awarded the Brown Hammerson Medal of Honour for services to art in 1986. Comparable to Morris Katz' instant art (it is estimated Katz created 280,000 paintings in his ifetime) Robert Cox became one of the most prolific painters of decorative art in the 1970s and 1980s. He died on June 18th, 2001 in Escondido, California after a long illness.

Florence Viscetto
American, 1914-1995
'Dahlias', 1955
Oil on Canvas
24 x 36in
TGC# 078-010
Florence Viscetto was born on February 8th, 1914 in Massachussetts. It is unknown when she moved to California - where she became an artist based in Anaheim, California. She was known for her decorative still lifes and seascapes.
The Dahlia flower has always been a popular subject in paintings, one variety the yellow 'Gallery Cezanne' is even named after the famous French post-impressionist.

Dorothy Milliner
American, 1921-2015
'Still Life with Vases and Fruit', 1990
Oil on Canvas
24 x 36in
TGC# 078-011
Dorothy Milliner was born in Spokane, WA on September 4, 1921. She moved to Los Angeles as a young girl and lived in Granada Hills, California since 1958. She attended Chouinard Art Institute (now California Institute of the Arts) in the 1940s and worked in the aerospace industry designing and drawing engines and other engineering parts and machines. She was an accomplished artist working in oils, watercolor, acrylic, pen and ink, and silk screen. She taught art classes in her home for 20 years before retiring in the 1980s.
Source: L.A. Times obituary June 10th, 2015

Erna Scharff
German-American, 1895-1982
'Still Life with Pitcher and Fruit', ca. 1950
Oil on Board
8 x 10in
TGC# 078-012
Upon her arrival in New York just before World War II, German painter Erna Scharff focused on the various styles of the French Post Impressionists in her paintings. Paul Cézanne, for instance, regarded color, line, and "form" as constituting one and the same thing, or inseparable aspects for describing how the human eye actually experiences nature. His 1895 work 'Table, Napkin and Fruit' (currently exhibited at The Barnes Foundation in Pennsylvania) must have been an inspiration for Erna Scharff's present work.



Hall Groat II
American, contemporary
'Cheesecake with Cherry Sauce', 2012
Oil on Canvas
18 x 24in
TGC# 078-014

Heather Hingst Bennett
American, contemporary
'Cafe Mocha', 2012
Oil on Board
6 x 6in
TGC# 078-015
Eric Mendes
American, 1914-1995
'Water Lilies', 1981
Oil on Canvas
24 x 36in
TGC# 078-016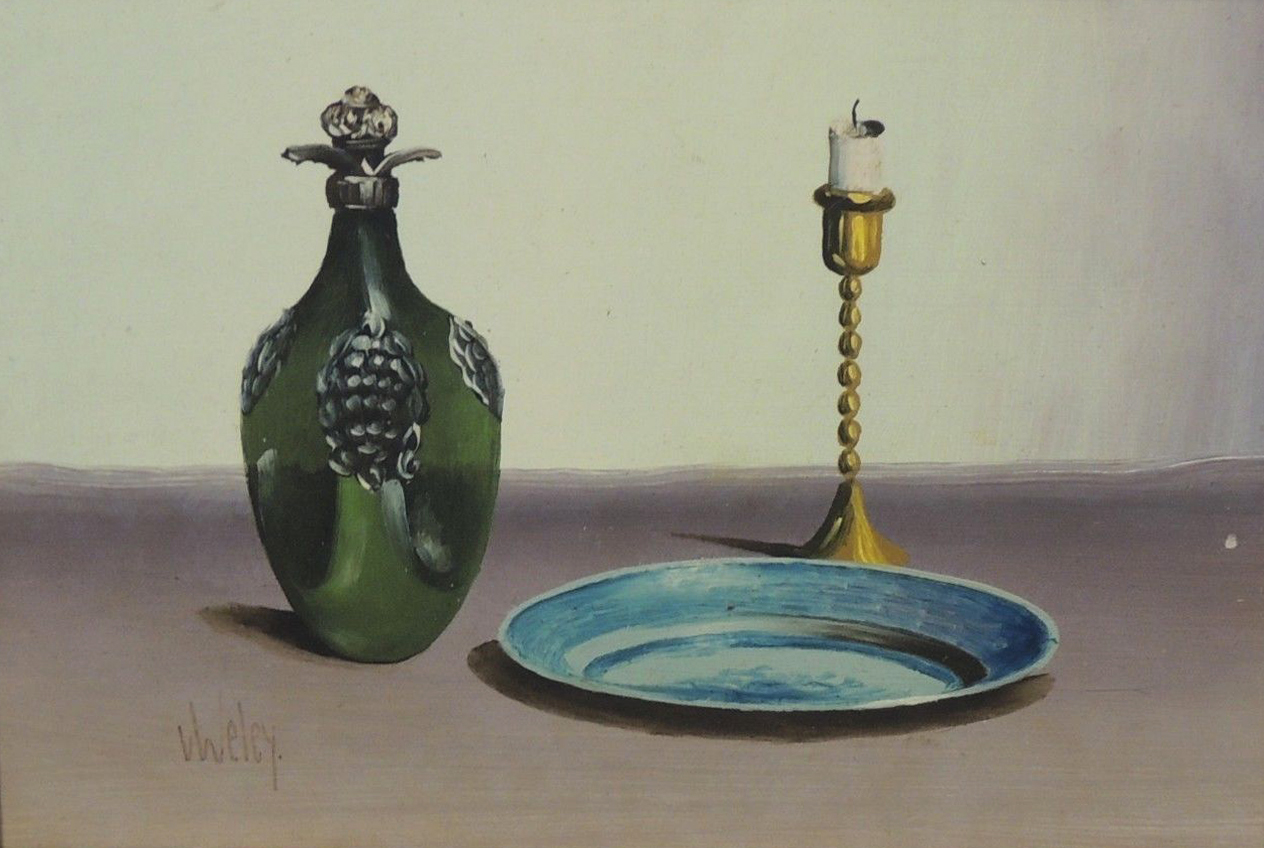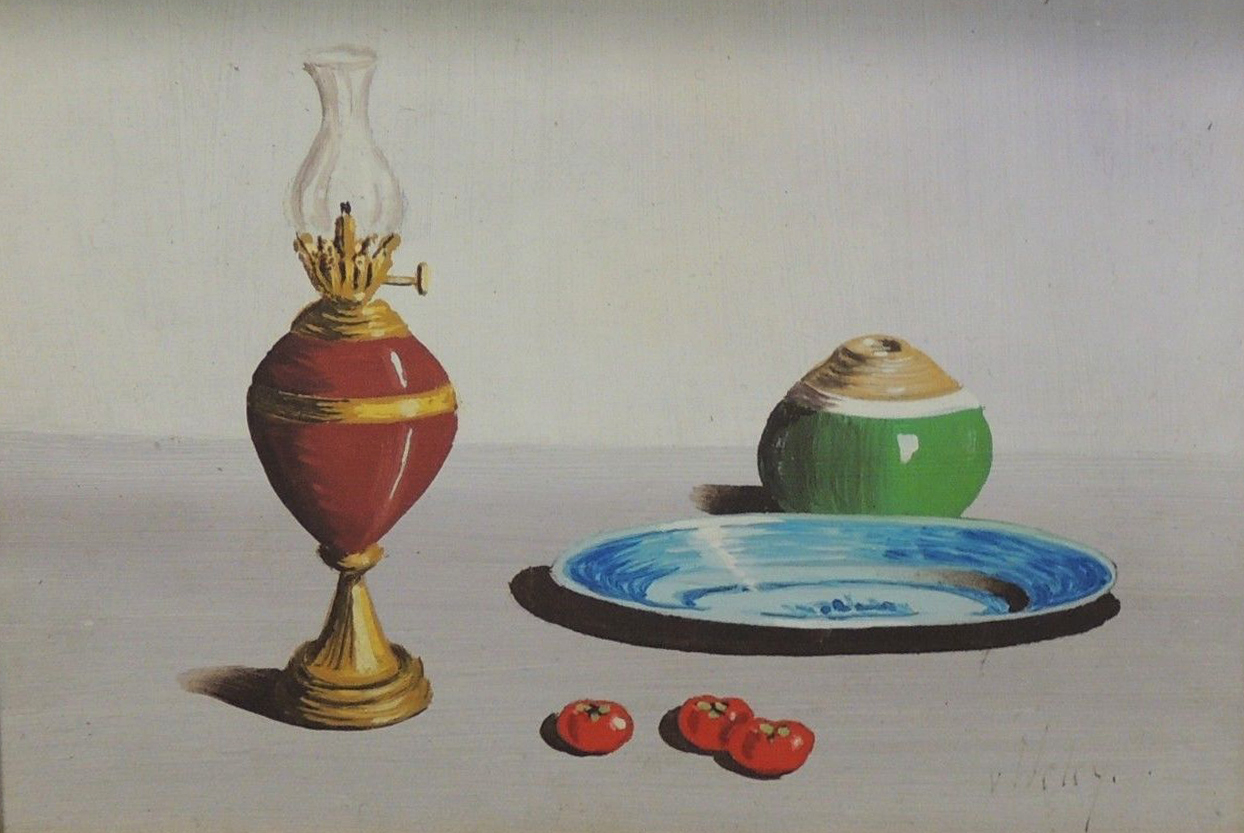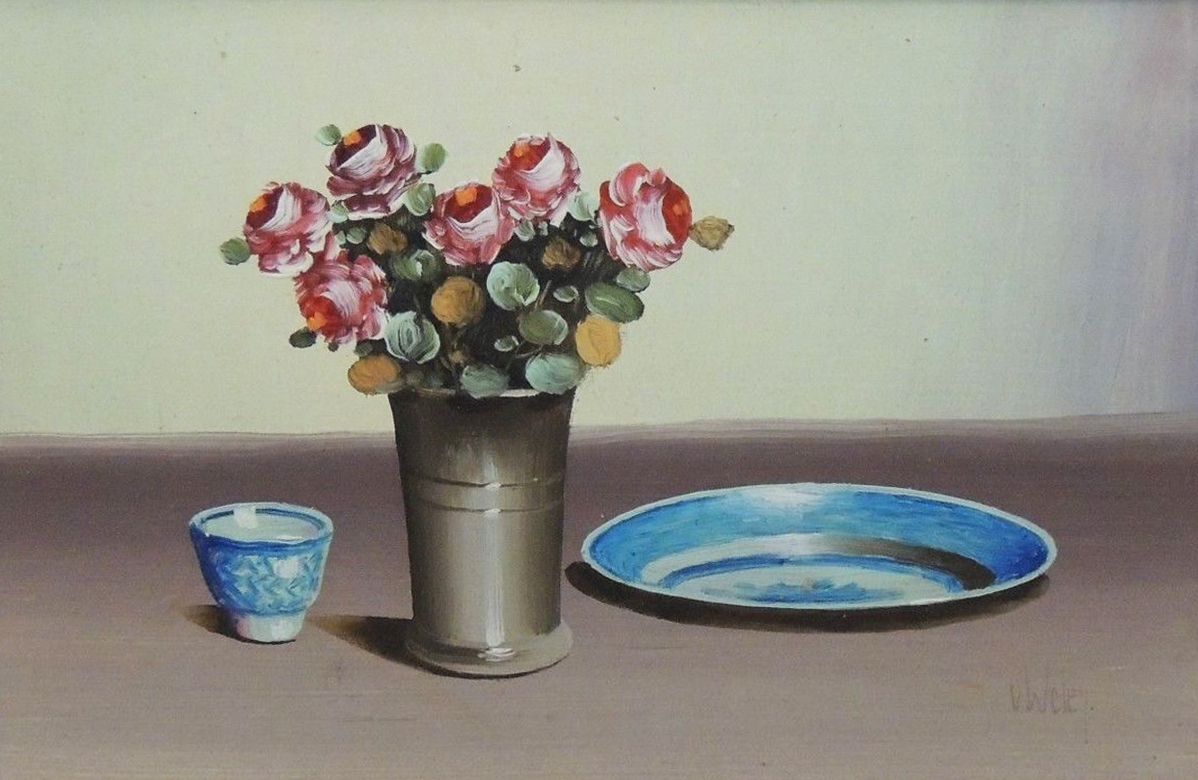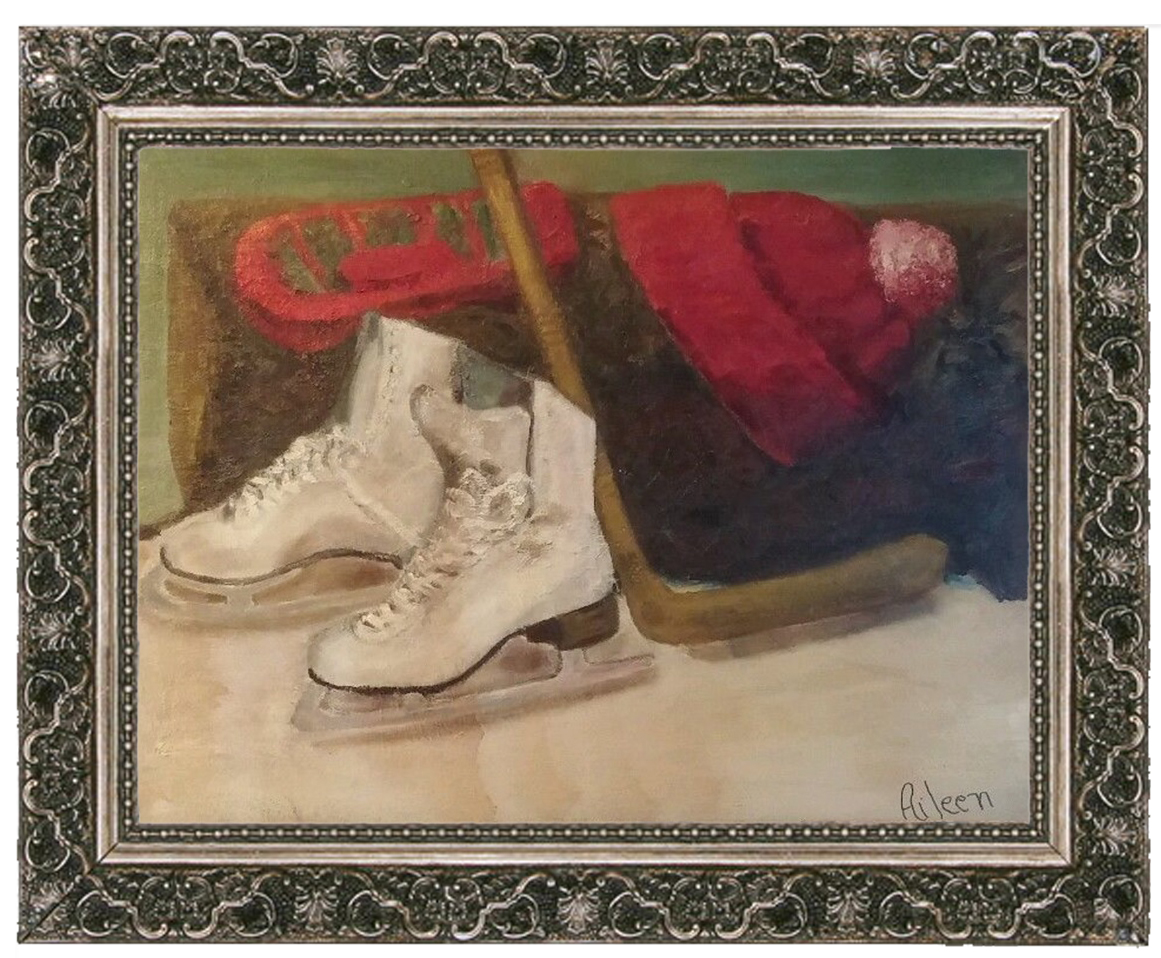 Aileen McGrade
American, 1917-2010
'Still Life with Ice Skates', ca. 1980
Oil on Canvas
18 x 24in
TGC# 078-017

V. Weley
Dutch, 20th century
'Miniature Still Lifes depicting early
American and other objects', ca. 1960
Oil on Board
5 x 7in
TGC# 078-019-021
New York-based Hall Groat II started his professional art career at the early age of twelve, influenced by his father Hall Groat Sr. - a known American Impressionist painter. This rather mouth-watering painting is of a grouping of Chocolate Raspberry Tarts seen through the glass display shelving at a Wegman's bakery. Groat is currently professor and chairman of Art and Design at SUNY Broome Community College in New York.
Source: Artist's website

"Through the use of metaphor, I often incorporate various social and political issues through diverse still life forms that are connected with both our consumer-driven culture and natural environment. Quirky associations, involving the machine, brand identity, food, monetary currency and nature, may serve as icons of consumerism, invoke hunger, or question the duality of nature and the machine. I'm drawn to the transformative qualities of these objects. A single object may speak of spiritual stillness and timelessness, or engage the viewer in a very different dialogue when combined with other elements. Painting that merges modern art discoveries with a classical aesthetic, often pushes me toward subjects that blur the boundaries between the familiar and the unconventional."
Source: Artist's website

Hall Groat II
American, contemporary
'Chocolate Raspberry Tart', 2012
Oil on Canvas
18 x 24in
TGC# 078-013

"I stopped by Starbucks the other day for a coffee and was feeling lazy, so I went through the drive-thru. The person who took my order started off by saying...Welcome to Starbucks! My favorite color is COBALT BLUE...what's yours? So, I said CHARTREUSE! Then he took my order, which was a cafe mocha (of course). When my order came out I noticed the sleeve was pea green. Another great color, so I thought I would paint it. I love the challenge of mixing color!" - Heather Hingst Bennett

Lincoln, Nebraska based artist Heather Hingst Bennett has been painting in oil and watercolor for the last few years.
Water Lilies (or 'Nymphéas') is a series of approximately 250 oil paintings by French Impressionist Claude Monet (1840–1926). The paintings depict Monet's flower garden at Giverny and were the main focus of Monet's artistic production during the last thirty years of his life. Many of the works were painted while Monet suffered from cataracts.
New York City based artist Eric Mendes was surely inspired by Monet when he painted his beautiful version of 'Water Lilies' in the 'The Secret Garden Water Lily Pool' in Central Park.
Aileen McGrade was born in New York City on August 22, 1917 and was "a product of Irish grit, wit and humor". She graduated from St. Joseph's College in Emmitsburg, Maryland and became a school teacher, homemaker and real estate agent. She served as President of the Los Angeles County Medical Auxiliary and multiple Parent-Teacher Associations. An avid artist she enjoyed oil painting throughout her life and competed in regional art shows.
(Source: San Gabriel Valley Tribune obituary on Nov. 28, 2010)

In 2016 TGC acquired one of McGrade's still lifes with ice skates and hockey gear that was completed in the tradition of American folk.
One of the more interesting sets of still lifes in this collection was created by V. Weley, a Dutch artist who was active in Europe and on the East Coast of the United States. Little is known about the artist though his/her skill is quite extraordinary in this one category: miniature still lifes.
Art from this artist frequently comes up at auction. TGC knows of recent events at Grogan's in 2010, at Chicago's Susanin's in September 2009, at a Litchfield County, CT collection auction, and most recently at the Fifth Annual Spring Fine Estates Auction by Woodbury's.
V. Weley is listed in Davenport's Art Reference Guide.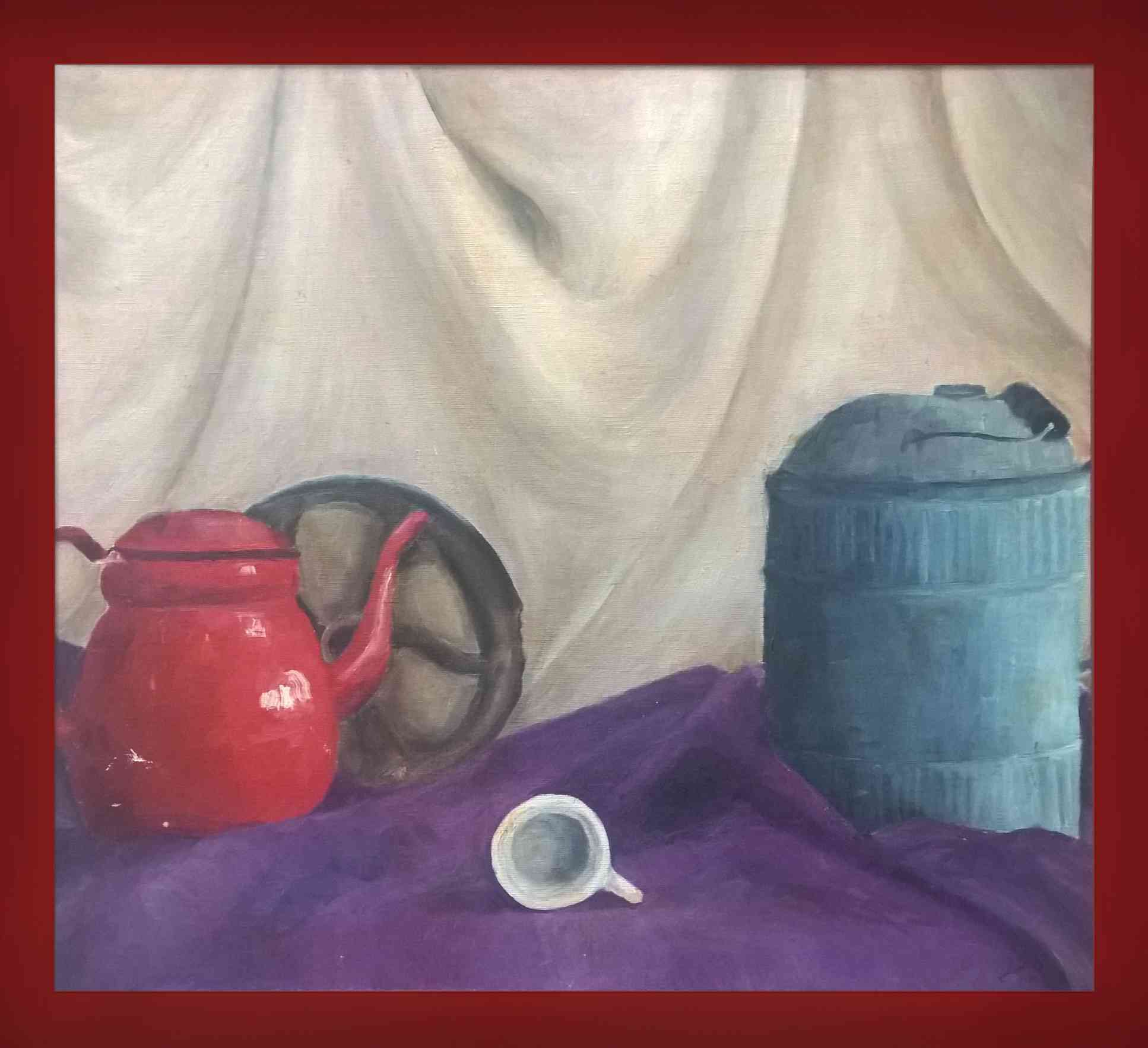 Luis
American, 20th century
'Still Life with Red Tea Pot', ca. 1970
Oil on Canvas
18 x 18in
TGC# 078-022