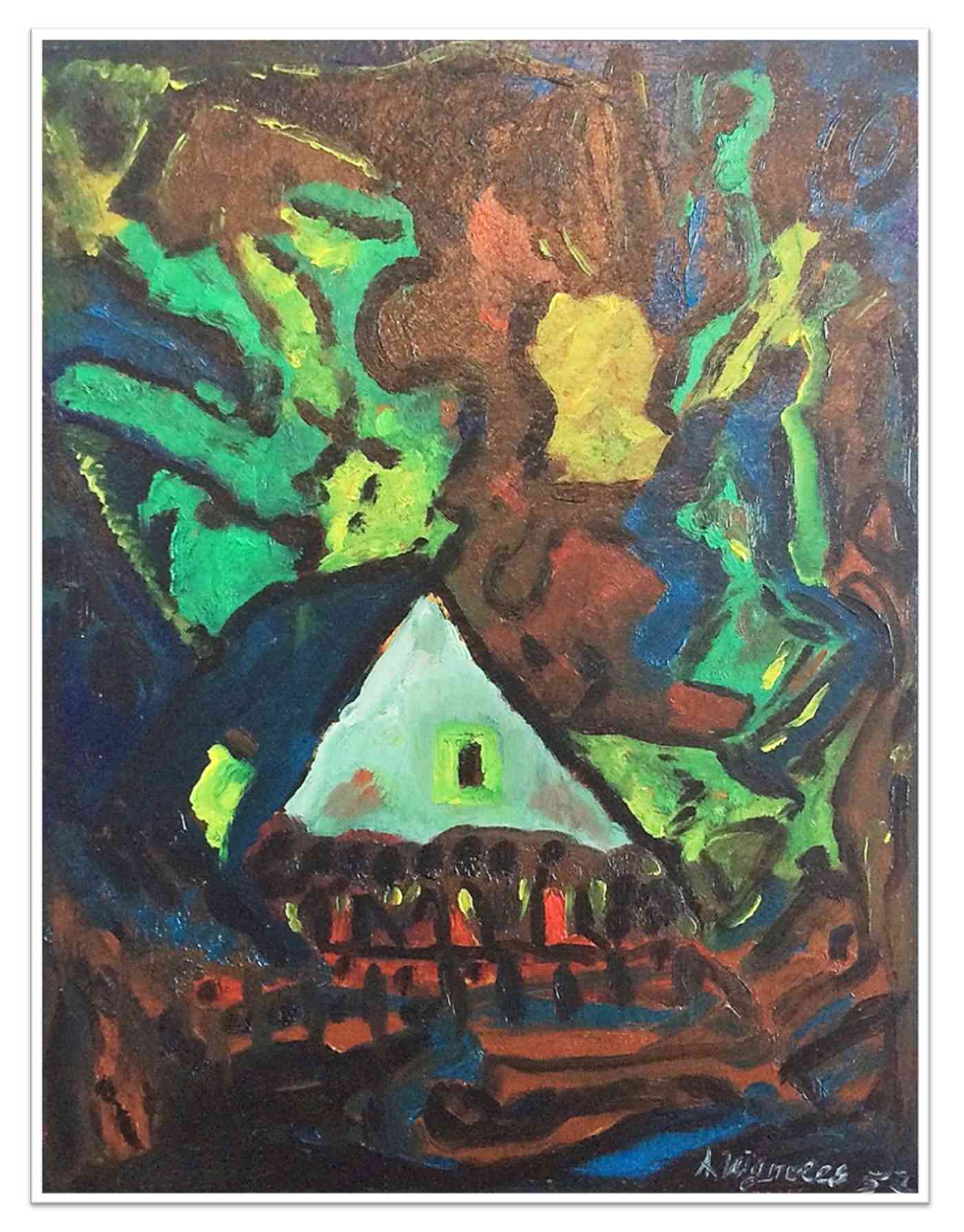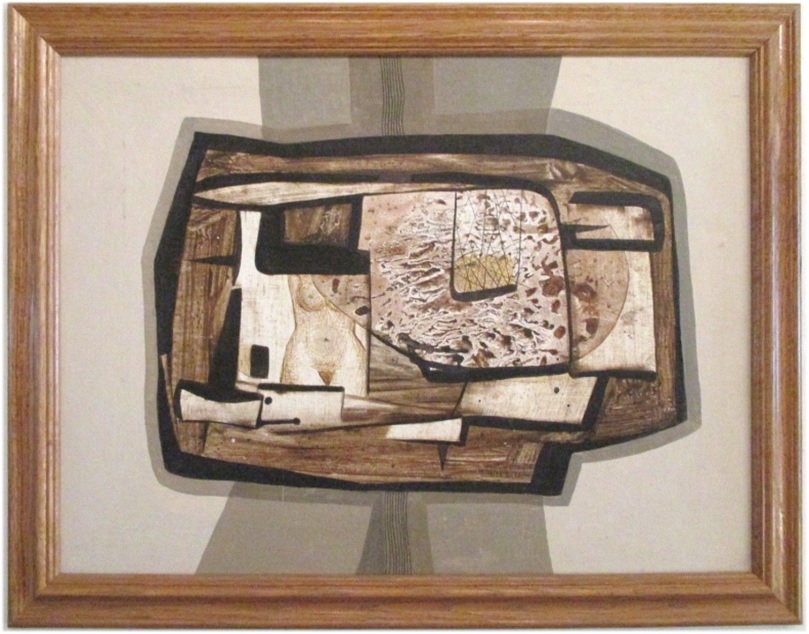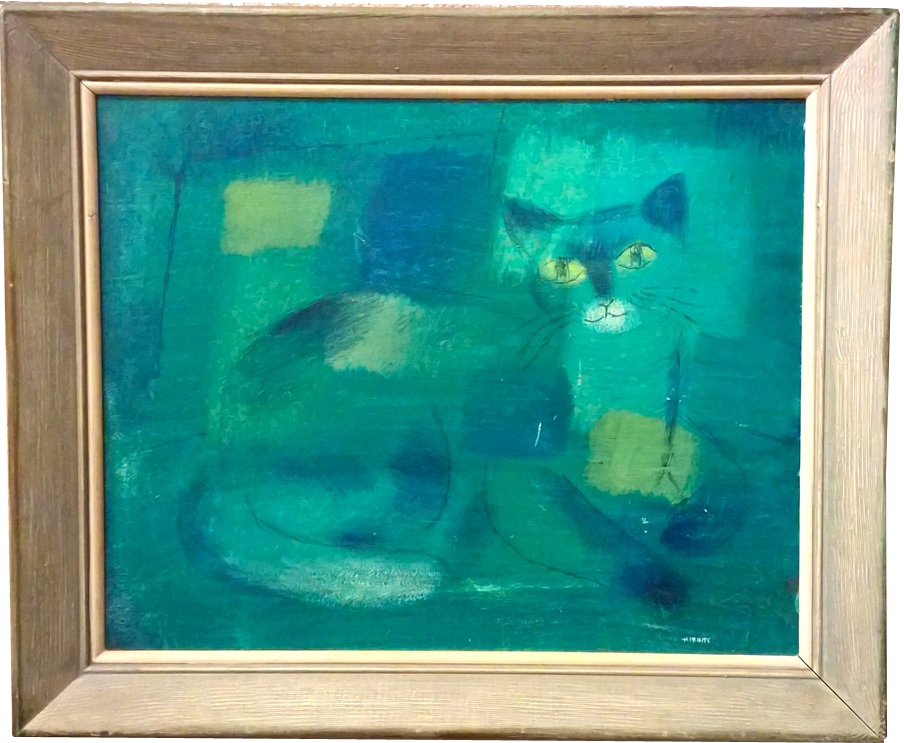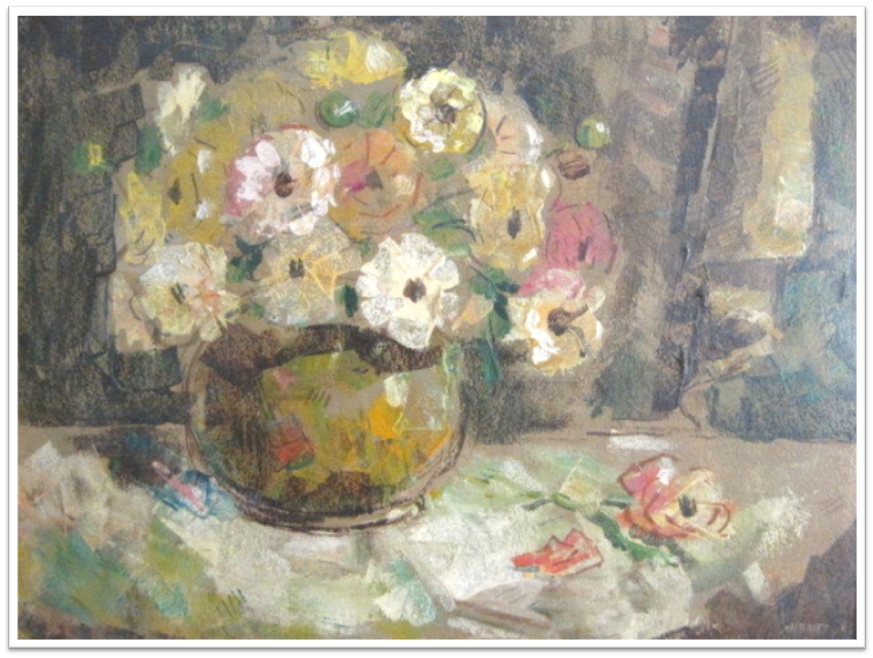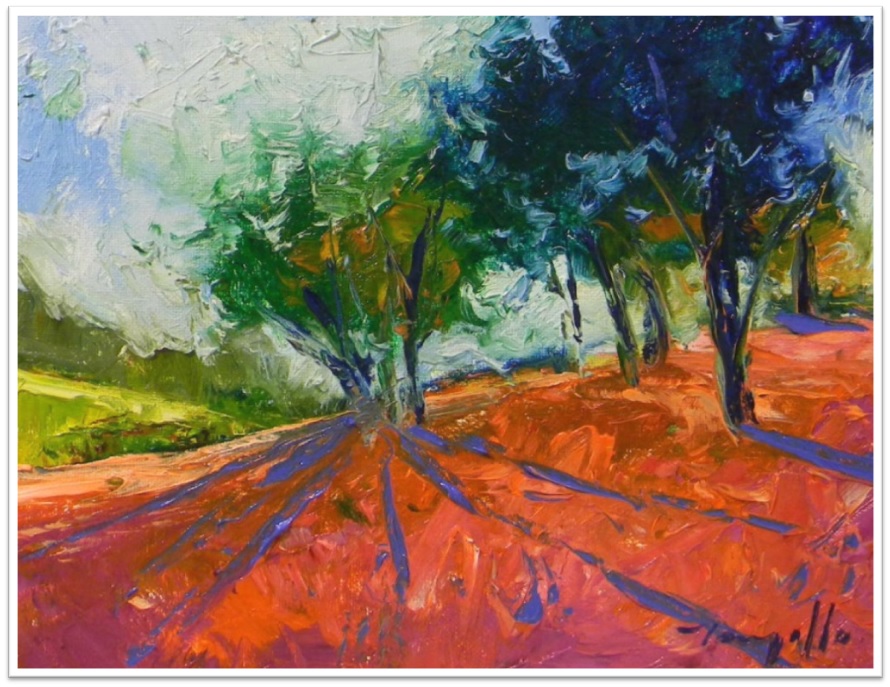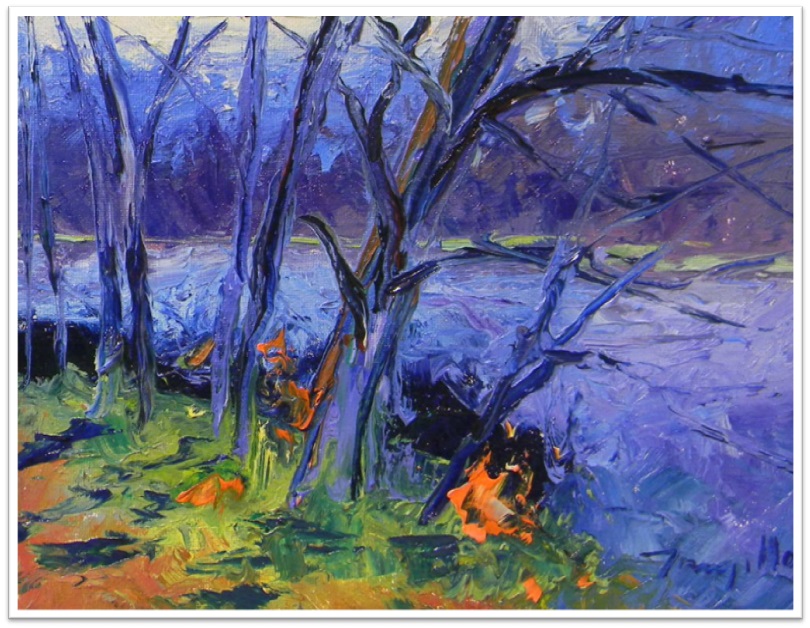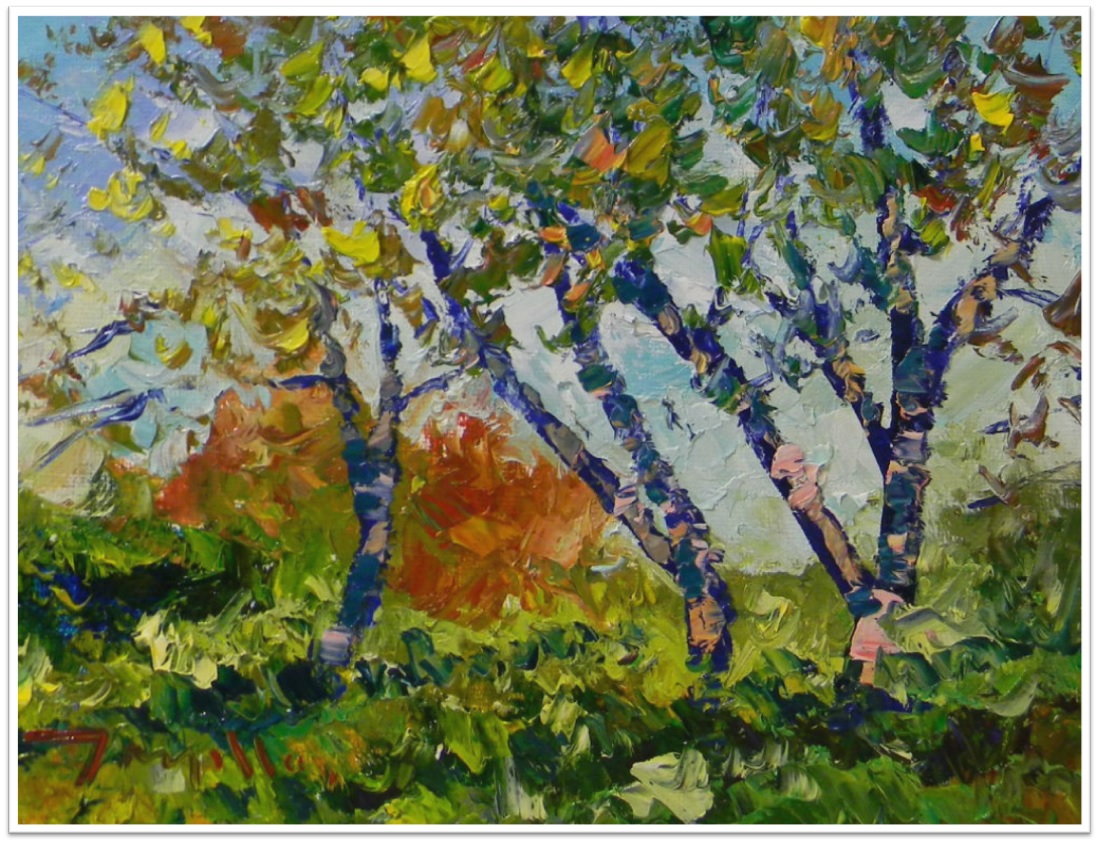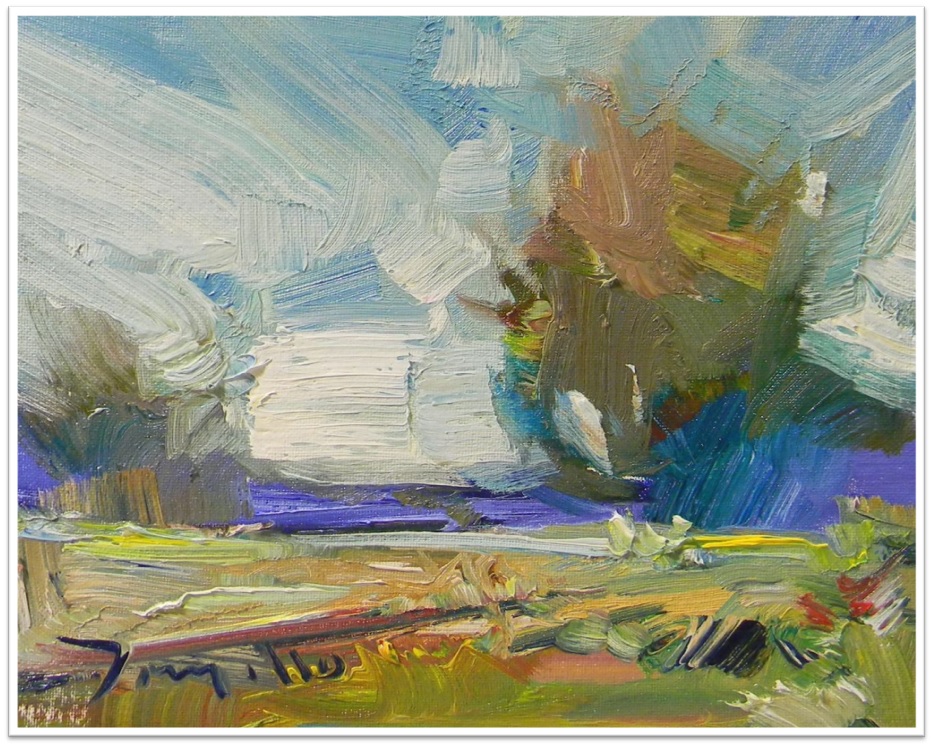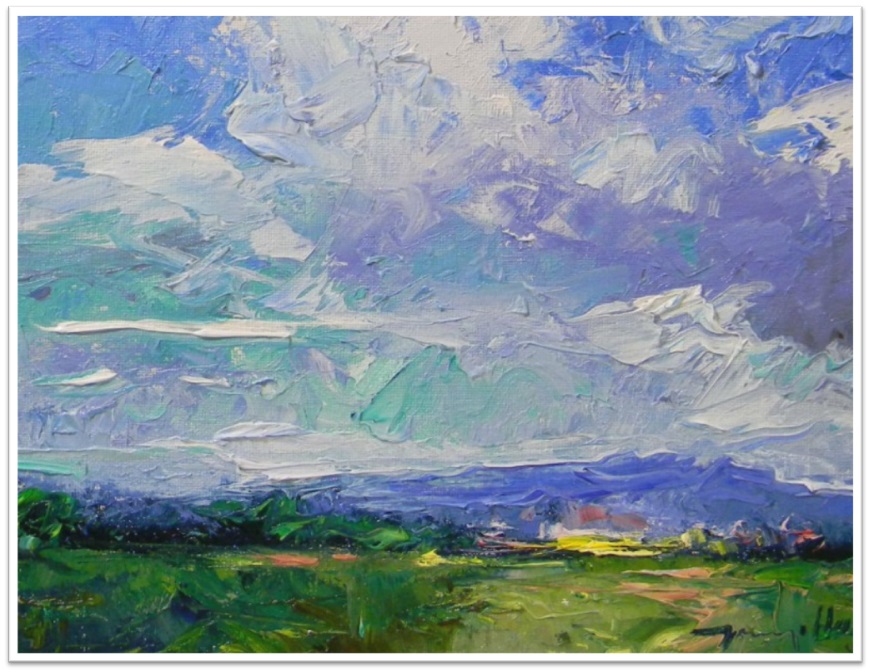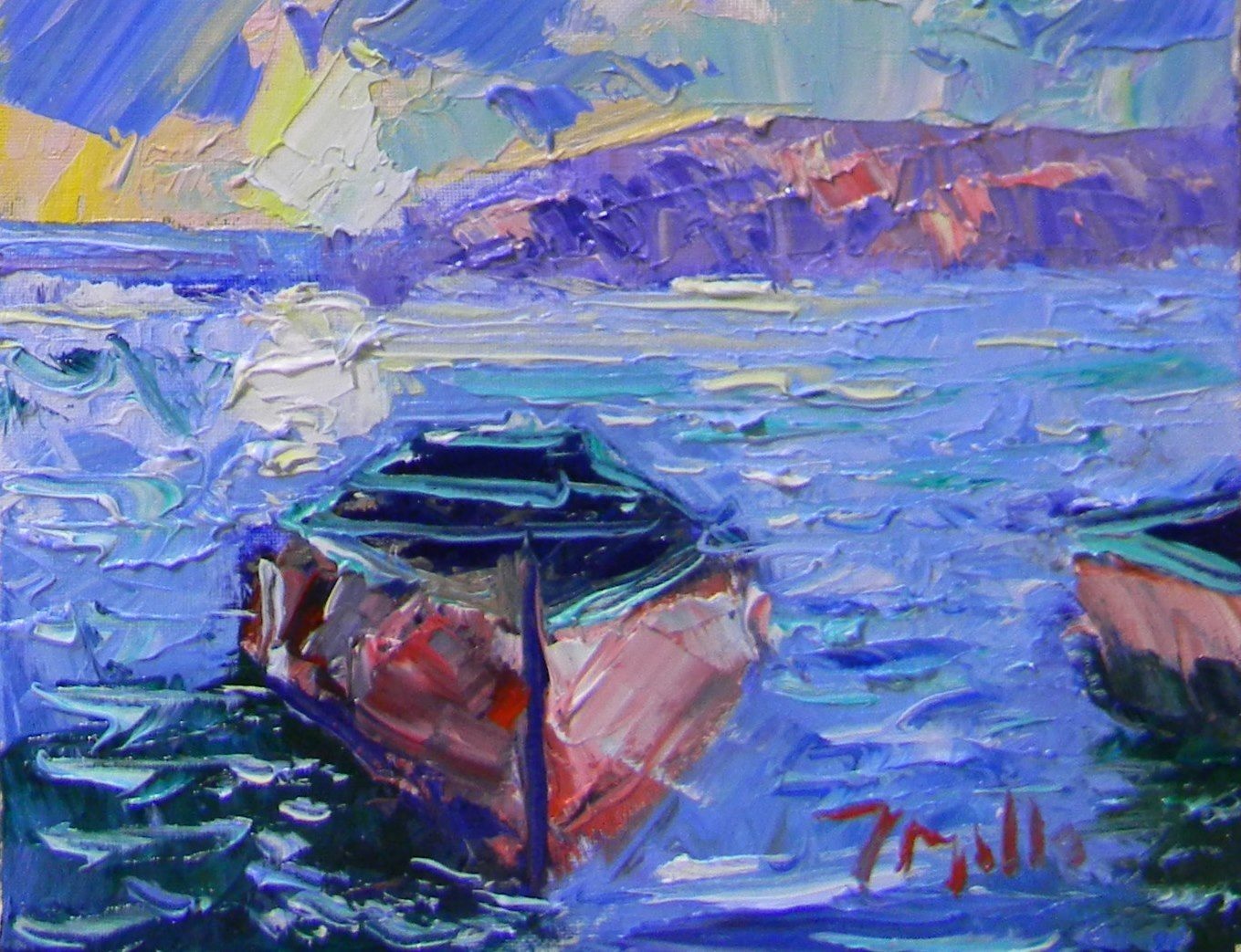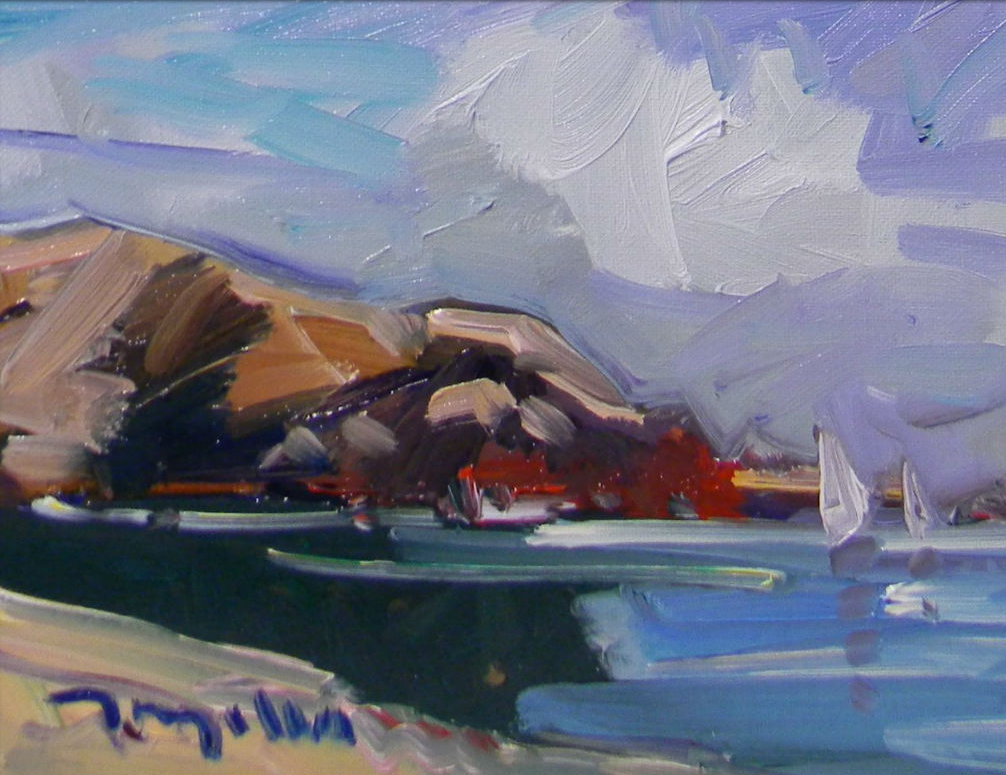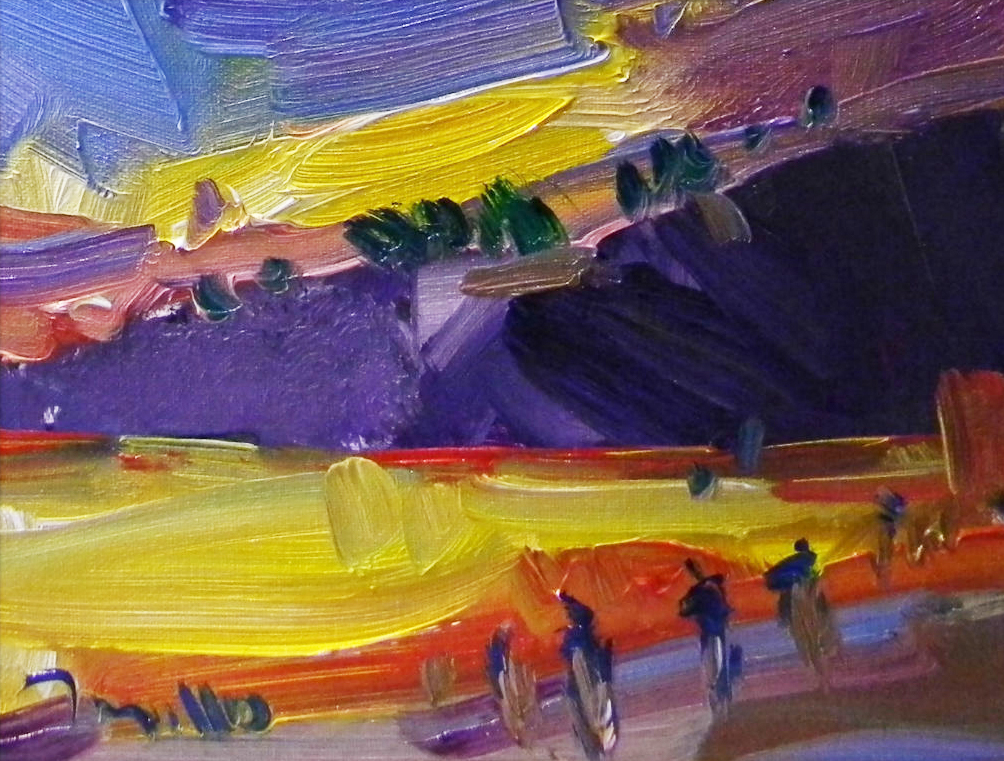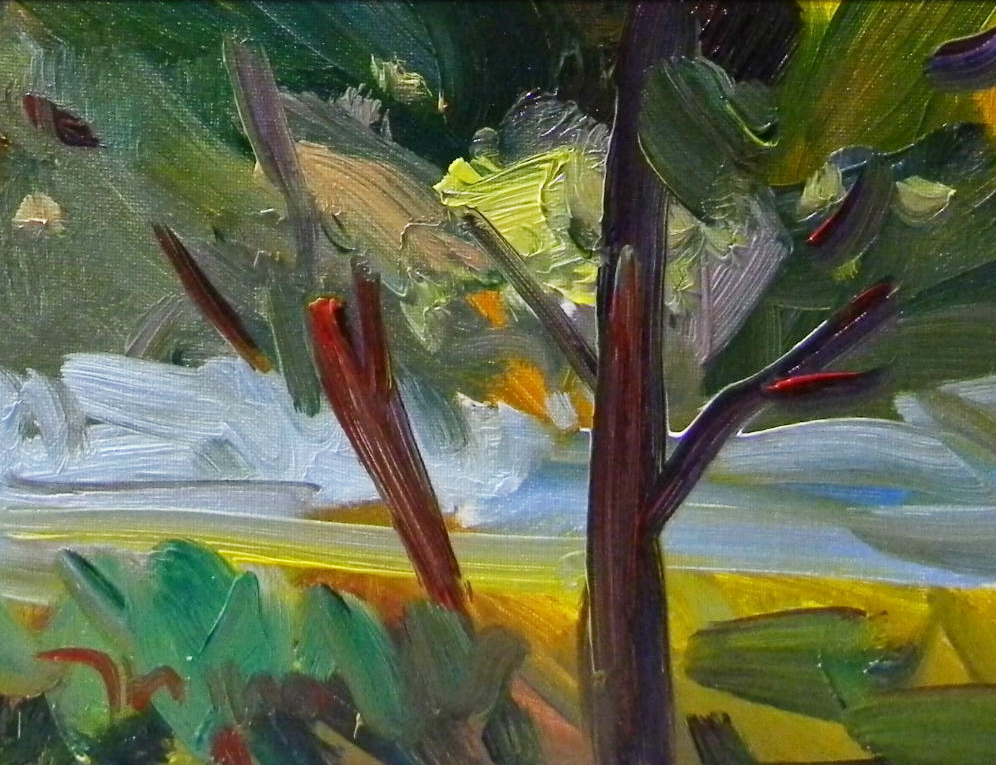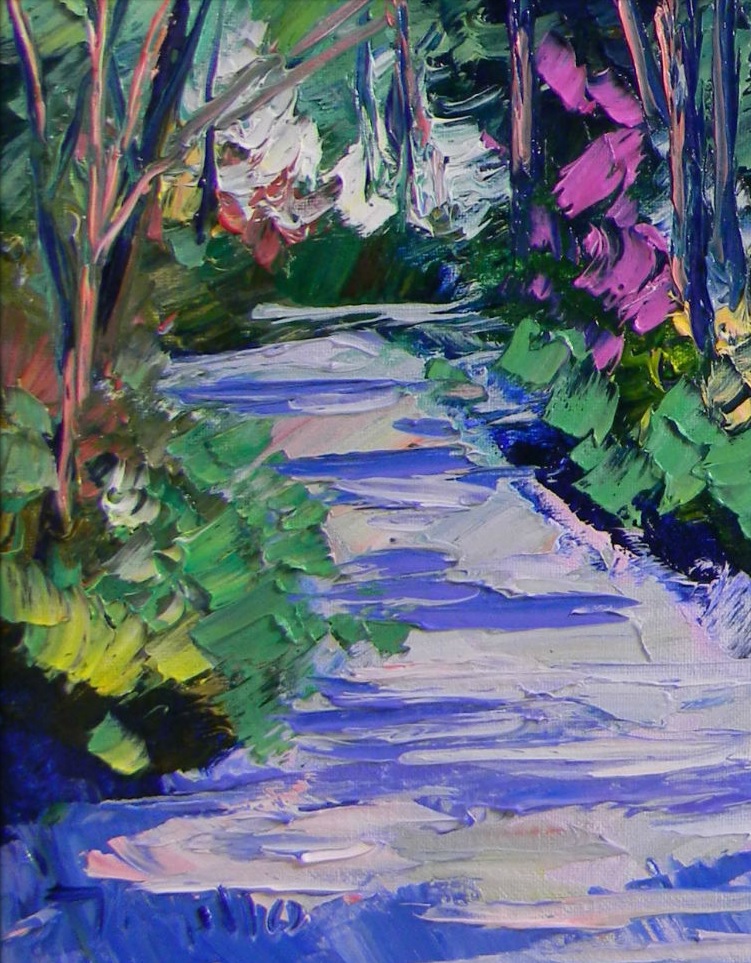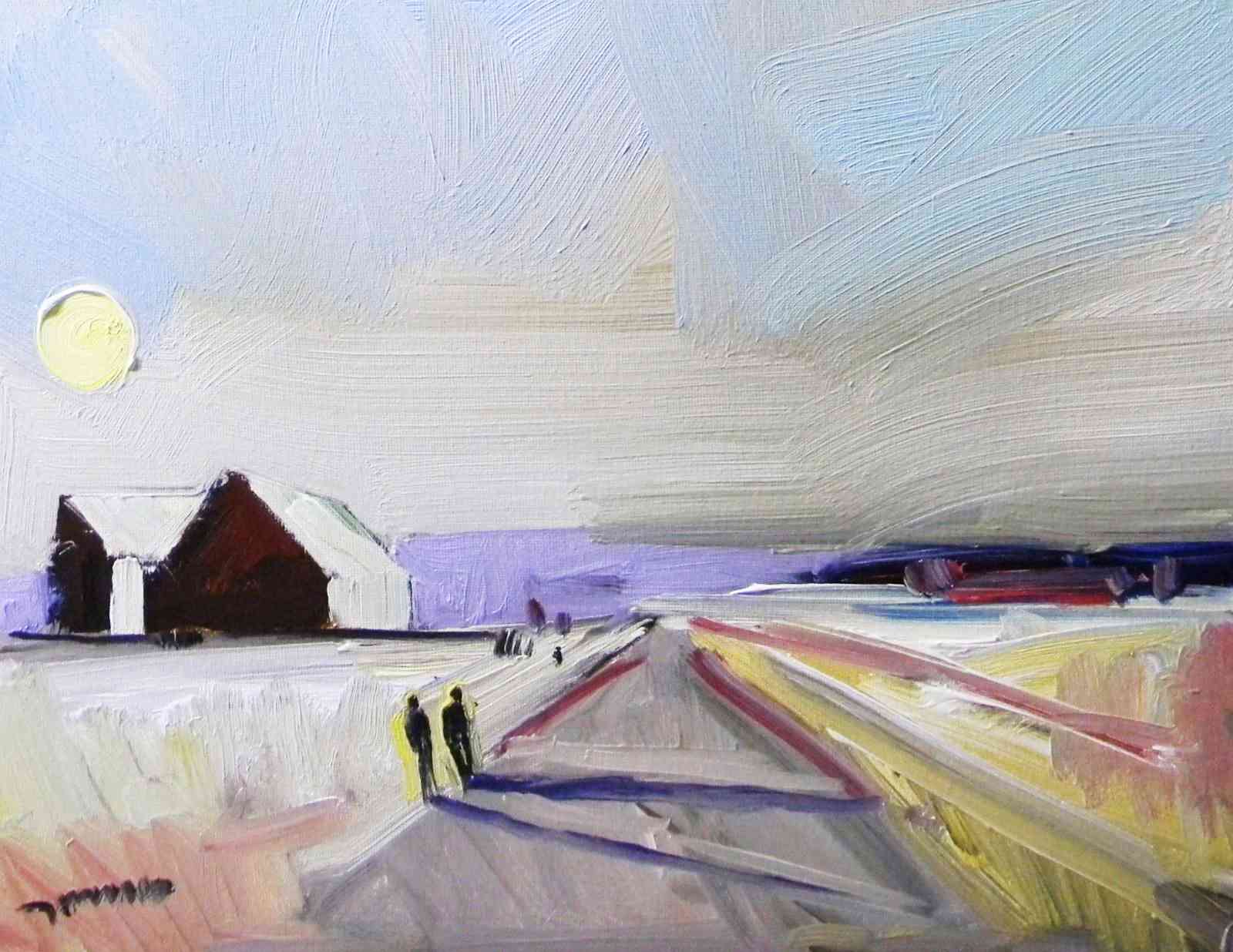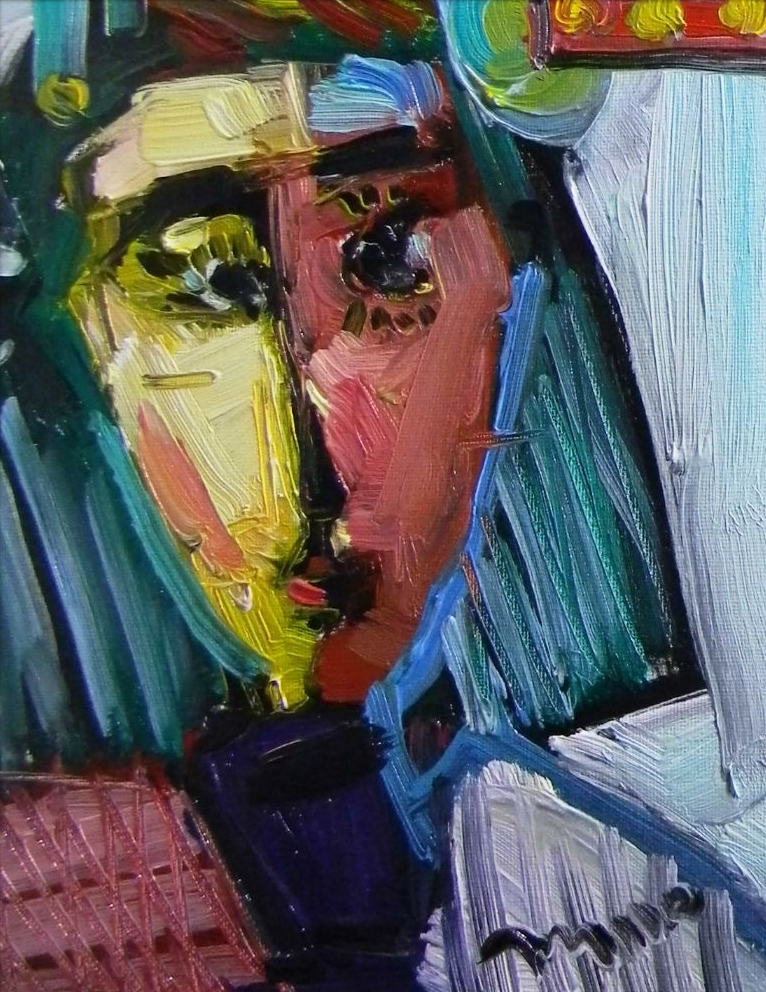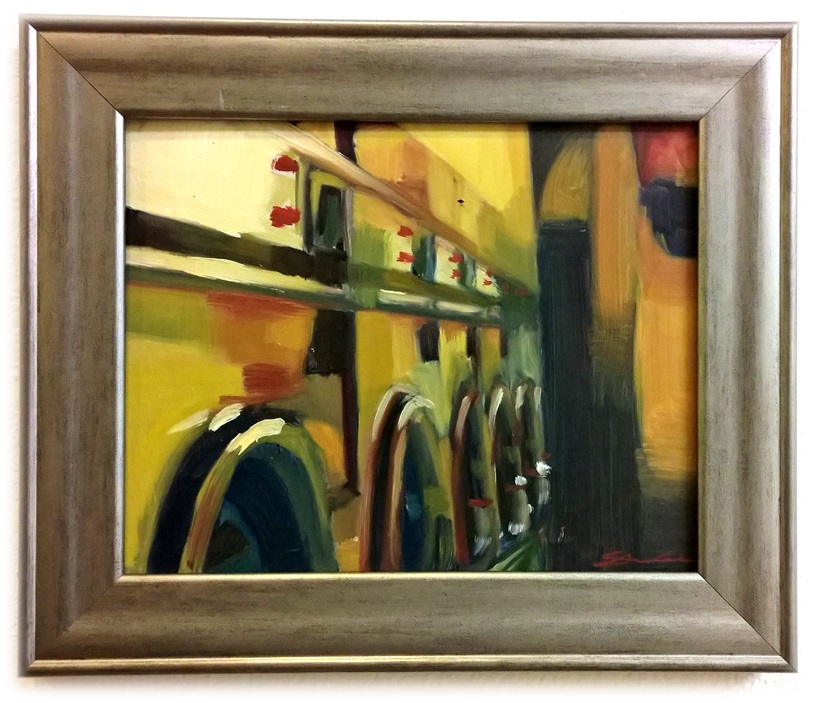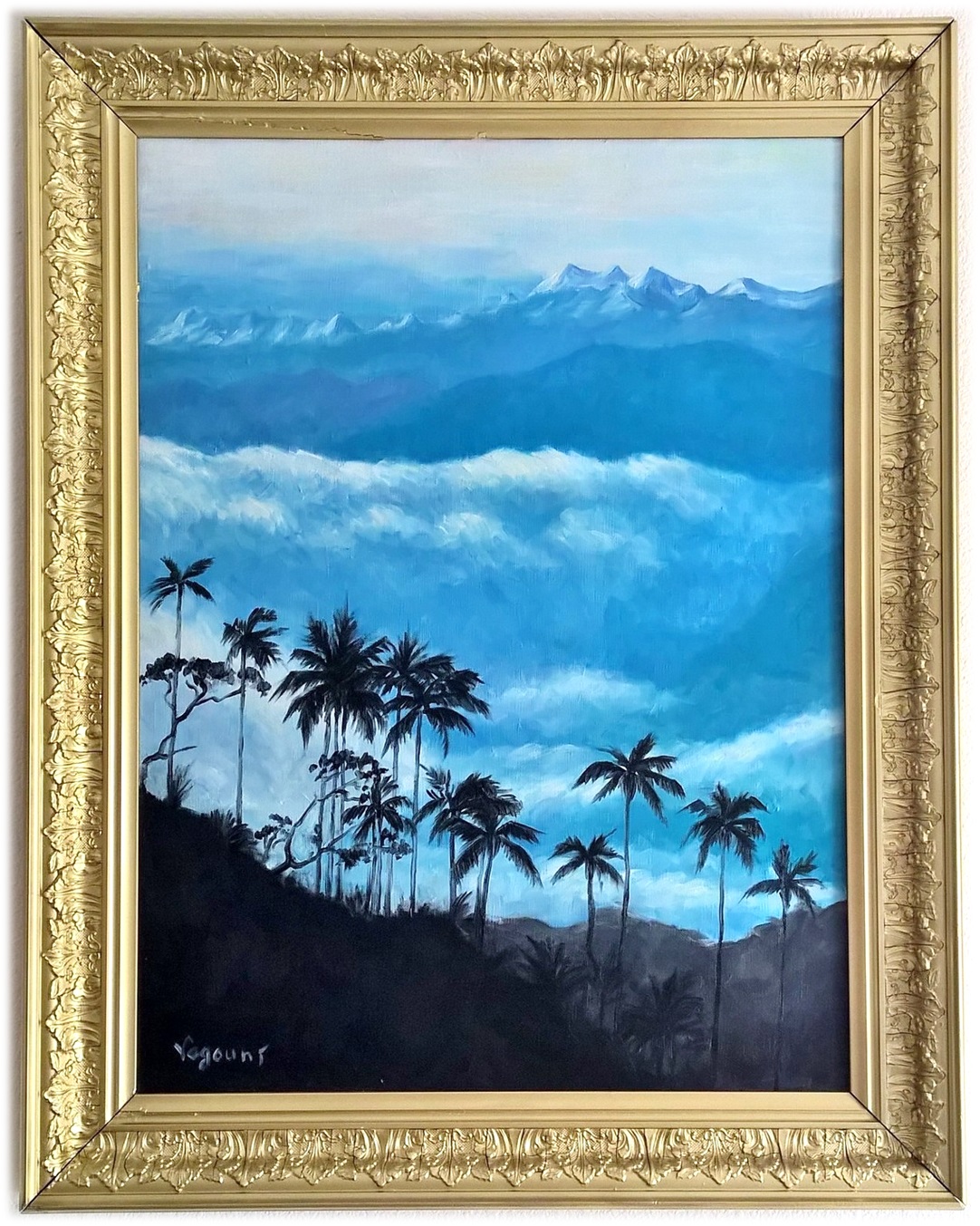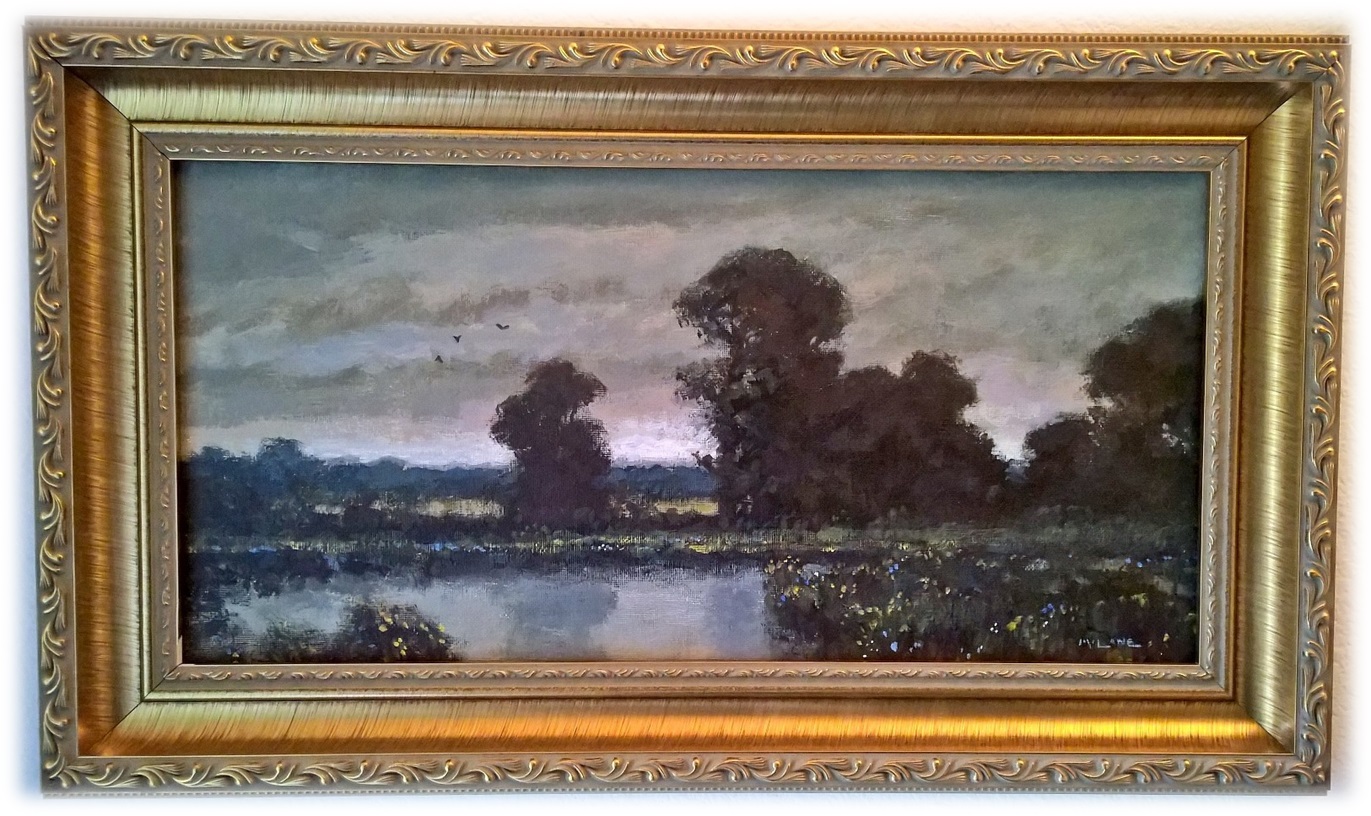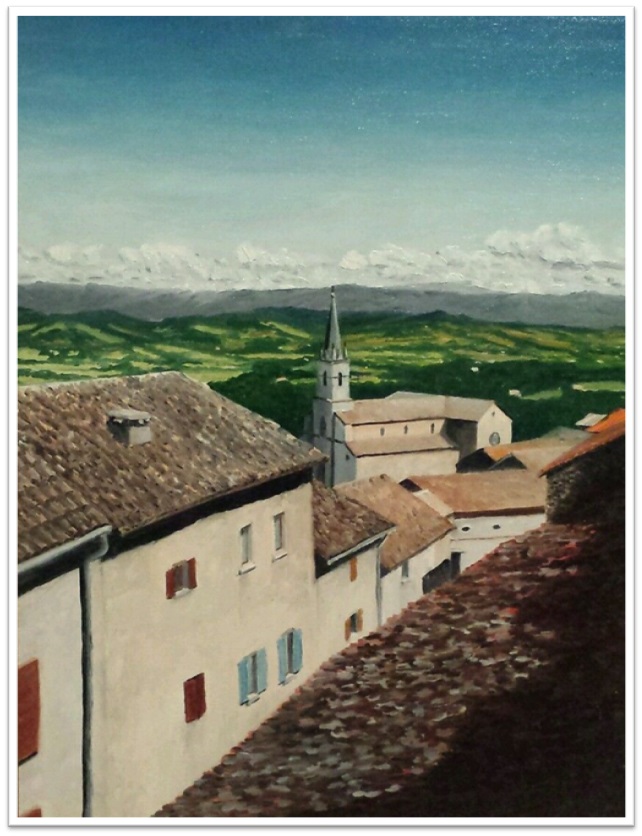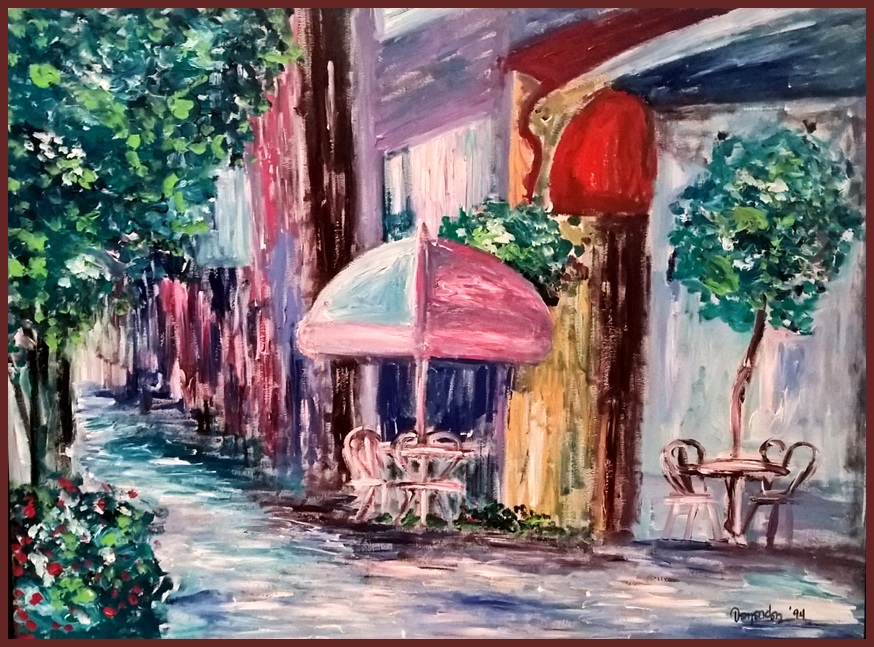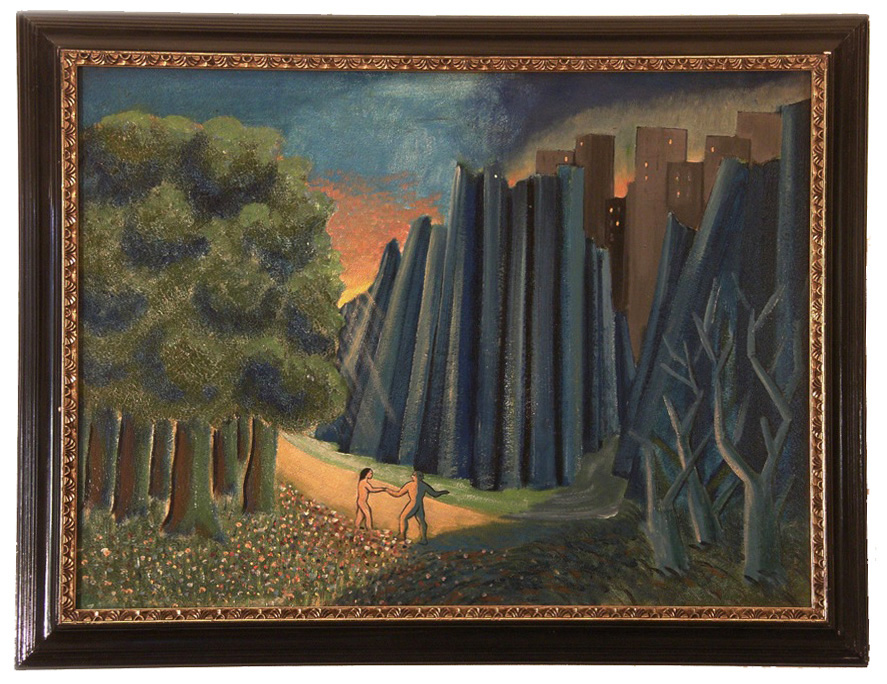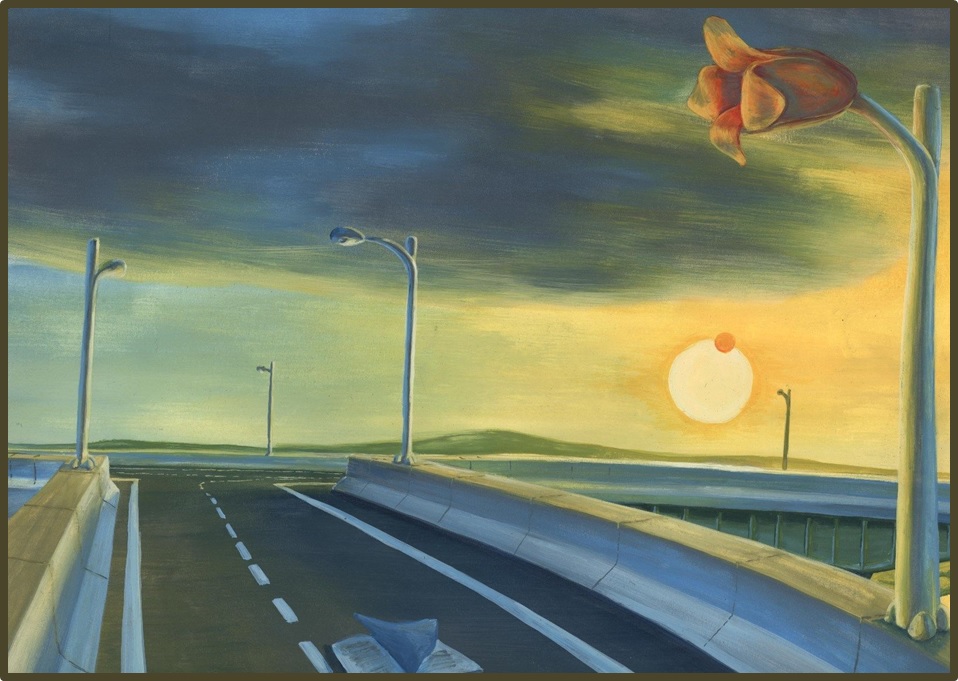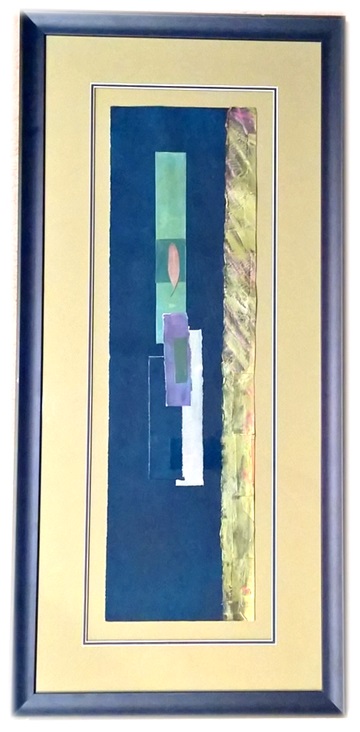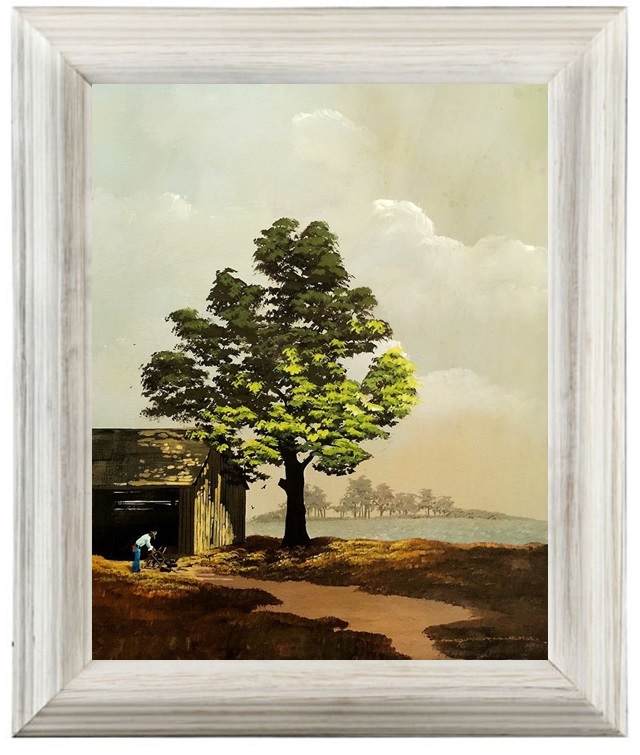 Max Fleischer
German, 1861-1930
'Autumn Colors', ca. 1928
Oil on Board 20 x 24in
TGC# 066-001
Expressionism was a modernist movement, initially in poetry and painting, originating in Germany at the beginning of the 20th century. The world is solely seen from a subjective perspective, distorting it radically for emotional effect in order to evoke moods or ideas. Expressionist artists sought to express meaning or emotional experience rather than physical reality.

Seen here is an extremely dramatic torqued image of a twisted wind-blown tree (located likely in Northern France). The trunk of the tree is painted with thick impasto. Most other areas are thinly washed with stained technique, overlaid with dark linear dabs of pigment. There is an intense backlit effect with blue, gold and violet shadow – creating a gorgeous warm glow to the entire work. Max Fleischer was born in Silesia and lived all over the world incl. Germany, Switzerland, the island of Java and France where he lived and painted until his death in 1930.
Grigorij Oscheroff
German, 1893-1947
'No Title', 1941
Watercolor on Paper 13 x 18in
TGC# 066-002
Grigorij Oscheroff was born in Wovenok, Russia in 1893. His family moved to Berlin in the wake of the October revolution of 1917 and he started teaching there in the 1920's. He became an early promoter of Expressionism and became a friend of Czech-born artist Friedrich Feigl - who was part of the circle around Max Liebermann at the same time. Like so many scholars, he and Feigl were displaced as Jews from Nazi Germany and settled in New York in the late 1930's - after having witnessed Liebermann's fall from grace in Germany and his death in 1935.

Oscheroff was actually drafted into the US Army in 1942 - at the age of 49 - during the "Old Man's Draft" yet he was never assigned a unit or went to combat.

His portrait of a girl in 1941 was painted in the style of Fauvism, a version of Expressionism that impressed with wild brush work and strident colors - while the subject matter had a high degree of simplification and abstraction. Oscheroff is influenced by Henri Matisse, the undisputed leader of Fauvism movement in the first decade of the 20th century.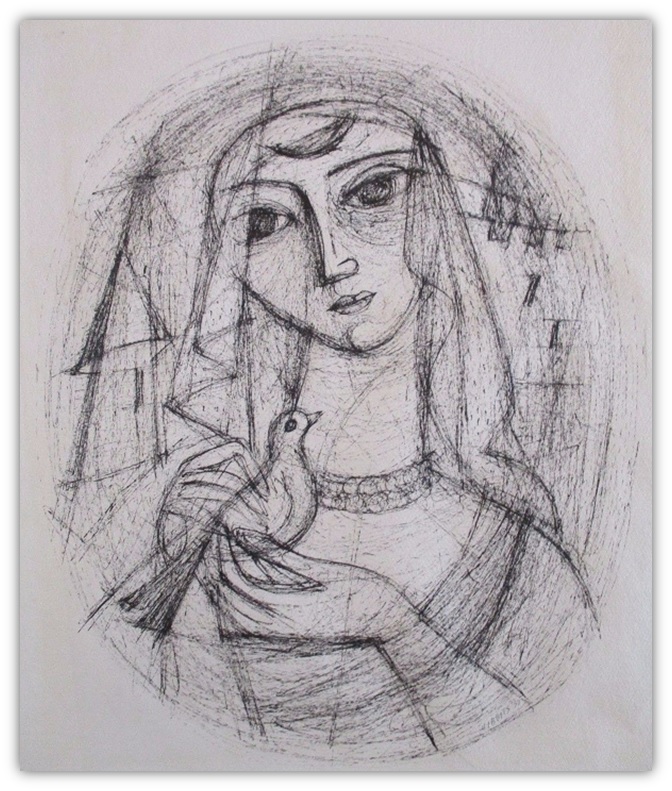 André Vignoles
French, 1920-2017
'Fauvist Landscape', 1952
Oil on Board 11 x 14in
TGC# 066-003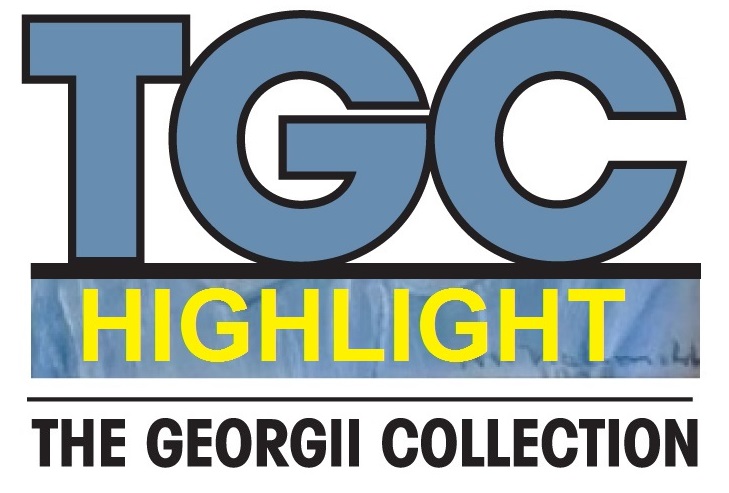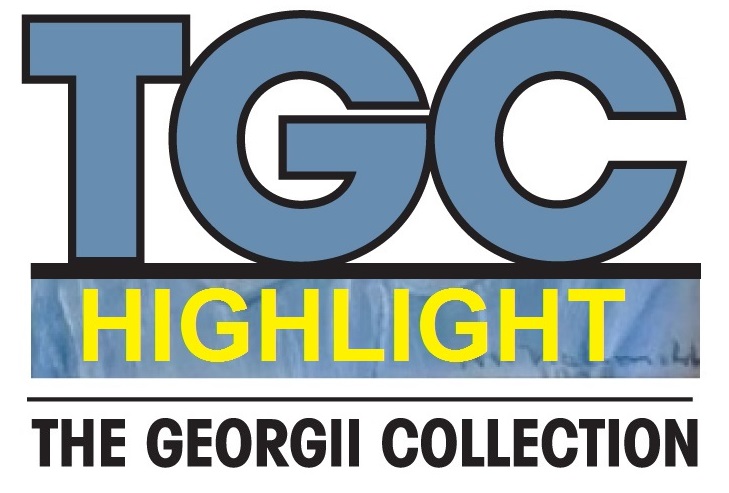 André Vignoles was born in Clairac, France on August 5, 1920. According to numerous sources he started drawing at an early age and began to paint with students of Fauvism (fauves = 'wild beasts') who studied in the atelier of Gustave Moreau. Vignoles was attracted by the art of Cezanne, Van Gogh and the Primitives of the 15th century. After World War 2, Vignoles married and moved to Nice but shortly went to live at Vallauris, where he worked in ceramics to earn his living, though his spare time was devoted completely to painting. It was in 1945 that Vignoles first met the avant-garde artist Pierre Bonnard (1867-1947). Bonnard gave the young artist both advice and encouragement, and in particular urged him to go to Paris. Vignoles moved to Paris in 1946. Two years after he moved to Paris, he began to exhibit at the Salon d'Automne. In 1951 he exhibited in the Salon des Jeunes Peintres, of whose committee he was later elected a member. The French State and the City of Paris purchased several of his paintings. In March 2013 at the age of 93 Vignoles became honorary president at the Salon d'Automne for his lifetime achievement and 65-year membership with the Salon. Vignoles passed away in July 2017 and a tribute will be returned to him during the 2018 Salon d'Automne.


One of TGC's highlights is a collection of works of Forrest Hibbits that were acquired in 2014. Hibbits was born in Lompoc, California, 1905 and became a highly accomplished fine artist and also a successful commercial artist in the San Francisco Bay Area from the 1920s onward. He sold his illustrations to the Southern Pacific Railroad, Dole Food Company, Del Monte, Levi Strauss, Stanford University, Standard Oil, and Dollar Steamship Lines. Hibbits was married to fellow artist, Marie Jaans Hibbits. During World War II he was an illustrator for the U.S. Air Force. He participated in exhibitions in most western art museums including the San Francsico Museum of Modern Art (SFMOMA), The de Young Museum, The Oakland Museum of Art, and The Legion of Honor (San Francisco).
Forrest Hibbits
American, 1905-1996
'Aggregate', 1953
Oil on Board 18 x 24in

TGC# 066-004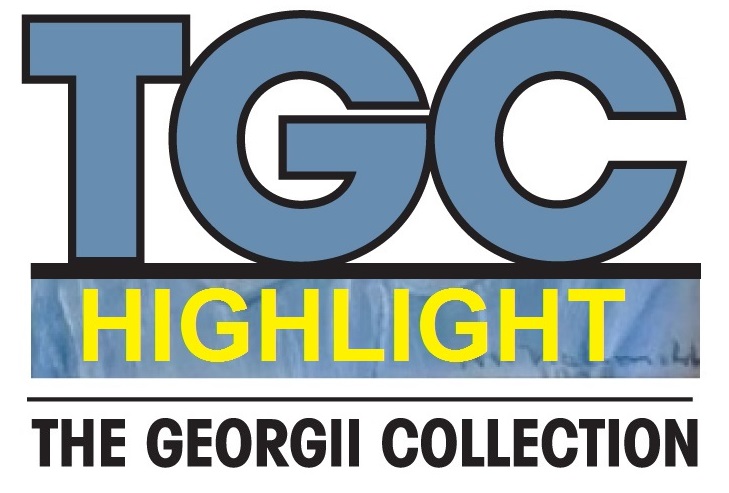 Forrest Hibbits
American, 1905-1996
'Semi-abstract Nude with Flowers', 1960
Watercolor on Paper 5 x 7in
TGC# 066-005
Forrest Hibbits
(American, 1905-1996)
'Semi-abstract Still Life', 1975
Oil on Canvas 12 x 16in
TGC# 066-006
Forrest Hibbits
(American, 1905-1996)
'Abstract Woman with Bird', 1957
Paper Litho 18 x 22in
TGC# 066-007
Forrest Hibbits
(American, 1905-1996)
'Blue Cat', 1953
Oil on Board 16 x 20in
TGC# 066-008
Hibbits painted his cat in blue color - likely to mourn the loss of his pet in the early 1950s. The Blue Period is a term used to define the works produced by Spanish painter Pablo Picasso between 1901 and 1904 when he painted essentially monochromatic paintings in shades of blue and blue-green, only occasionally warmed by other colors. At the time, Picasso had fallen into a severe depression following his friend's suicide.


J. Garson
American, 20th century
'Abstract Cityscape', 1953

Oil on Board 12 x 16in
TGC# 066-043
J. Garson's work 'Abstract Cityscape' is an hommage to Wassily Wassilyevich Kandinsky (1866-1944), a Russian painter and art theorist. Kandinsky is credited with painting one of the first recognized purely abstract works. Garson picks up Kandinsky's idea of 'Squares with Concentric Circles (1913)' and seemingly tells an abstract story by 'slicing' the painting into different segments as it would be common in comic books.

Dan McFadden
American, 20th century
'Abstract Beach Scene', 1952
Oil on Board 16 x 20in
TGC# 066-044
Another example of abstract works from the 1950s in this beach scene from Dan McFadden, a California artist.


Jose Trujillo
American, born 1982
'Modernist Paintings', 2015-2017
Oil on Board, various sizes
TGC# 066-011 - 066-025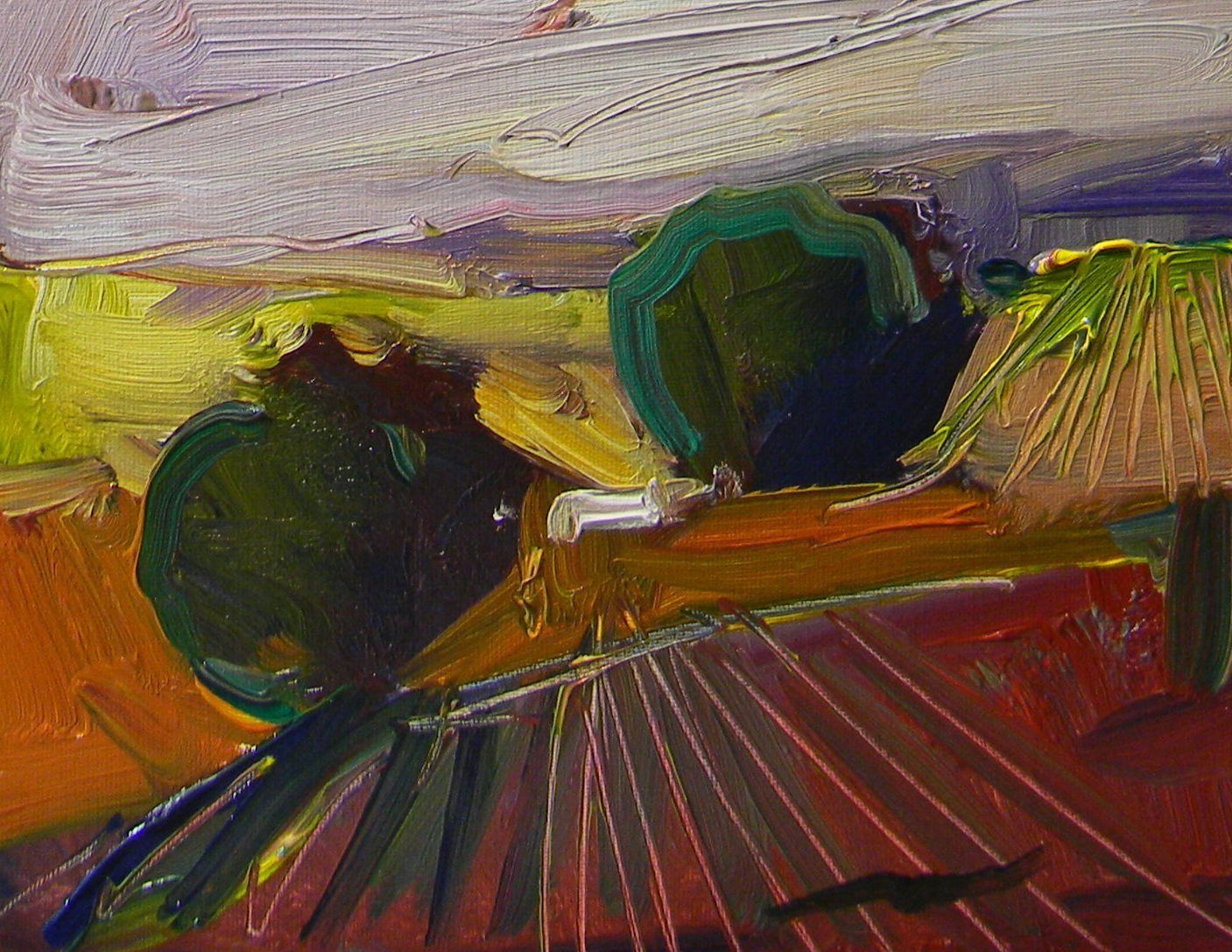 "Jose Trujillo is an impressionist painter of rare talent, a prolific painter whose landscapes, seascapes and still lifes are a dreamy, fantasy of colors. His brushwork is impeccable and we think he is to be collected now before his prices skyrocket and galleries, collectors and museums take notice, which they are sure to do. Trujillo has been called a modern Monet. His exquisite, smaller studies are created en plein aire, larger ones in his studio so they can be carefully reworked as needed. Born in Guadalajara, Mexico in 1982, his first inspirations were the elaborate architectural designs of Spanish Baroque cathedrals he saw as a young boy. At the age of nine, the Trujillo family immigrated to the United States and landed in Tucson. Jose sketched casually as a young man without any formal training. When a large print of Monet's Water Lilies at Giverny ignited his passion to seriously paint, Trujillo began actively studying art. His days were spent observing nature and visiting museums. Today he works full time from his Tucson studio. The result is an extensive body of work from a talented original artist of quality whose vibrant colors and bold brush strokes are magical gems.
His paintings are a new form of Impressionism; a breed between abstraction and realism which seeks to go deeper into the experience of painting; where the artist–rather than merely focusing on the aesthetics to represent the landscape–tries to capture and convey the feeling he receives from it.
This approach results in a more profound experience where the landscape is captured in its core essence–with all senses and thru a multitude of emotions, and portrayed on the canvas thru means of vibrant colors expressed in a spontaneous, dramatic, and exciting manner. This is what makes a Jose Trujillo original a truly unique work of art." - Bill Tomicki


Jose Trujillo
American, born 1982
'Modernist Paintings', 2015-2017
Oil on Board
TGC# 066-011 - 066-025
William McLane
American, 1951-
'California Wetlands', 2009
Oil on Board 8 x 16in

TGC# 066-035
Bill McLane is a native New Englander, born in Fall River, MA in 1951, and growing up in Swansea. McLane is a plein air artist in every sense of the word. Refusing to work from photographs or other replicated images, he draws and paints exclusively outdoors.

Shawna Chan
American, contemporary
'Laundromat', 2006
Oil on Board 8 x 10in

TGC# 066-033
Shawna Chan is a Visual Development Artist and teaches at San Francisco's Academy of Art University. She loves traveling the world and is known for her talented photography using her beloved Leica M3. More recently she participated in projects ranging from the SF Beehive Society's 'Legendary Lands' to working in a Nickelodeon animated TV series production team.
"My illustrations and mixed media art are inspired by my love for nature, botanicals, everyday life, mild blood and gore, as well as decorative art and childhood nostalgia."

(From the Artist Statement)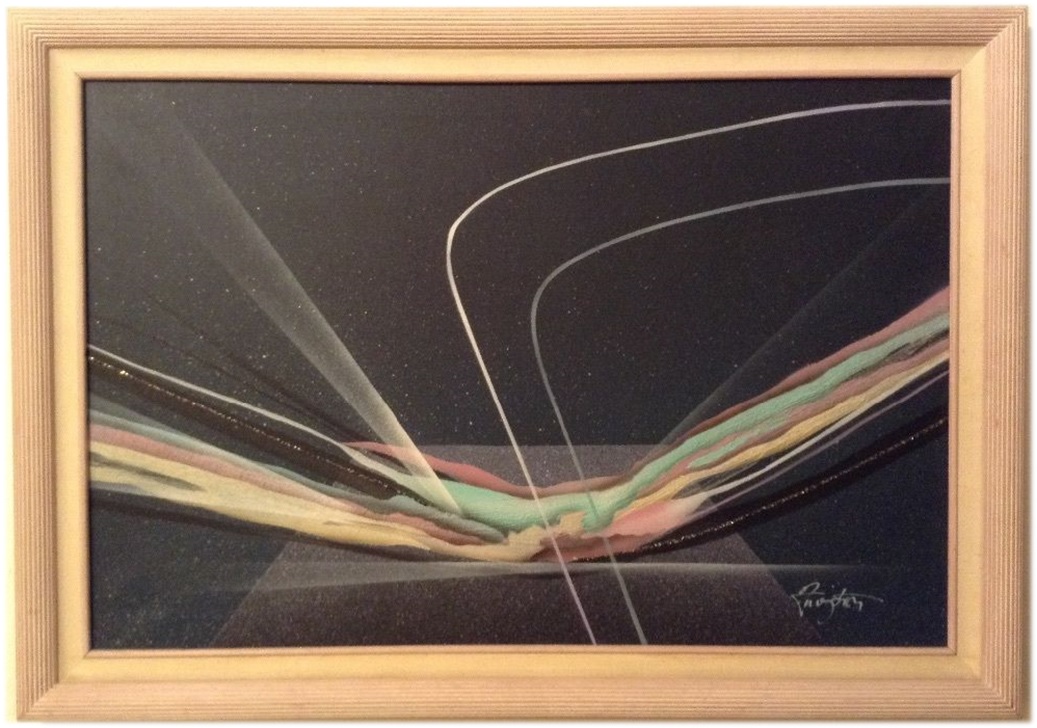 Diana Vehuni
American, contemporary
'Palms and Peaks', 2004
Oil on Canvas 22 x 28in
TGC# 066-034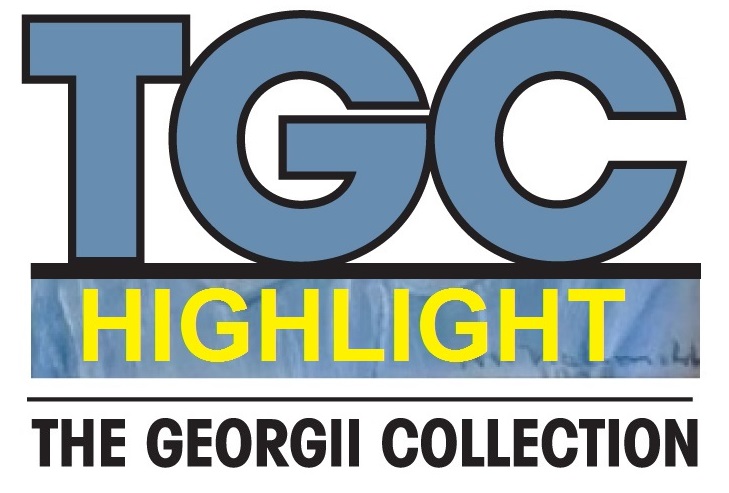 L.A. based Diana Vehuni's work includes contemporary realism and impressionism found in original oil and pastel paintings. She is especially known for her portraits, figuratives, landscapes and still lifes. TGC is privileged to present one of her early masterpieces, 'Palms and Peaks'. Diana is active on Twitter and she shows her new work regularly. Amongst other works she created a series of Disney inspired art in 2017.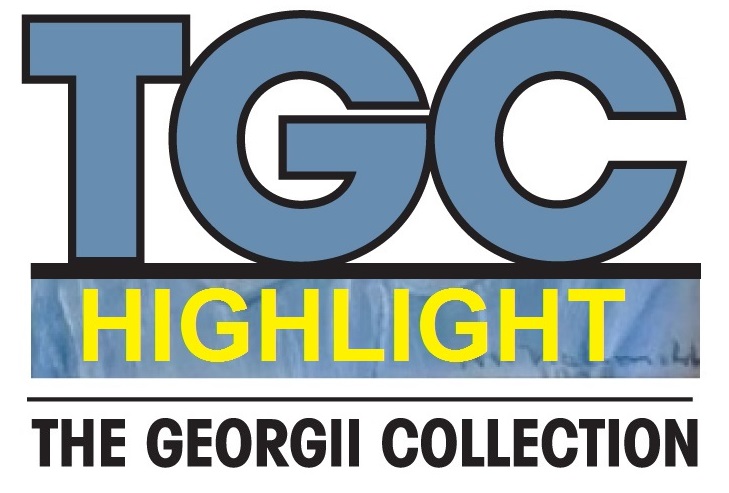 Ojars Lasmanis
American, 1941-2019
'Church at Bonnieux, Provence', 2001
Oil on Canvas 14 x 18in
TGC# 066-036
Ojars Lasmanis was born on 6 April, 1941, in Riga, Latvia. His father was an artist and as a young man, painted and sold his works throughout Riga. Near the end of World War II, Ojars and family retreated south to the central part of Europe during the German retreat from Russia. At the end of WW II, Ojars and his family were placed in housing by the Americans in the town of Esslingen, Germany. On April 6, 1950, Ojars Lasmanis and his family arrived in New York to start a new life. During his adolescent life, he demonstrated his ability to excel in art, science, and mathematics. His oil paintings reflect realism and modern interpretation of personal experiences. After graduation from High School, he utilized his artistic talents by working as a draftsman to produce complex 3D images of architectural concepts. In his later years he completed his Bachelors of Science and a Master of Art degrees. Ojars has pursued his love for the arts with passion. He studies every aspect, technique, style, color, etc. of some of his favorite masters: Degas, Cezanne, Monet, Renoir, G. Harvey and even Rubens. He had a passion to observe and immerse himself in all aspects of people, nature, form, color, etc. in order to capture the moment and provide his interpretation on canvas.
Sadly, Ojars Lasmanis passed away on his birthday in Floral Park, New York on April 6, 2019.
(Source: Biography written by Brandy Lasmanis)
Selected Exhibitions by Ojars Lasmanis:
1999 - "Moments In Time" September 26 thru October 5, 1999, Adelphi University, Garden City, NY 11530
1999 - "New Paintings" November 6 & 7, 1999, Council of Cultural Affairs, Floral Park, NY 11001
2000 - "Juried Show" December 17 thru January 3, 2000, Hicksville Library, Hicksville, NY 11801
2000 - "The Floral Park Spring Show" May 6 & 7, 2000, Memorial Park, Floral Park, NY 11001
2000 - "Spring: The Beautiful Flower" March 25 thru April 25, 2000, Gallery ONE Main, High Bridge, NJ 08829
2000 - "Sayville's Summer Festival" August 14, 2000, Mains Street, Sayville, New York, NY 11782
2000 - "New Paintings" Ward-Nasse Gallery, SOHO, March 23 thru December, 2000, 178 Prince St., New York, NY 10012
2000 - "New Paintings" Beacon Fine Arts, Inc., 68 White Street, Red Bank, NJ 07701
2001 - "Chelsea Center Muttontown Lane" October 25 thru January 19, 2001, East Norwich, NY 11732
2001 - "New Paintings" Ward-Nasse Gallery, SOHO January thru December, 2001, 178 Prince St., New York, NY 10012

Frederico Domondon
American, 1964-
'Paris Cafe', 1994
Oil on Canvas 30 x 40in

TGC# 066-037
"All of my life I have always been fascinated by the impressionist and by the post-impressionists. My paintings are highly influenced by Matisse, Van Gogh and Monet [and I use] bold colors in painting cafes and other cityscapes. Expressionism and Fauvism are the terms for my use of bold colors and spontaneous brushstrokes. With the help of pop music while painting, I am able to create pieces with explosions of color and thick paint and brushstrokes. Creating this is non-stop and I really get into it."
- from the artist's statement

Frederico Domondon is a California based painter and photographer. His work focuses mostly on travel photography and impressionist paintings.

Unknown Artist
American, 20th century
'Paradise Lost', ca. 1975
Oil on Board 24" x 20"
TGC# 066-038
Surrealism is a cultural movement that began in the early 1920s, and is best known for its visual artworks and writings. The aim was to "resolve the previously contradictory conditions of dream and reality." Artists painted unnerving, illogical scenes with photographic precision, created strange creatures from everyday objects and developed painting techniques that allowed the unconscious to express itself.
Surrealist works feature the element of surprise, unexpected juxtapositions and non sequitur; however, many Surrealist artists and writers regard their work as an expression of the philosophical movement first and foremost, with the works being an artifact. Leader André Breton was explicit in his assertion that Surrealism was, above all, a revolutionary movement.
Source: Wikipedia

Theodore Arthur
American, 20th century
'Surreal Highway', 1980
Acrylic on Board 18" x 15"
TGC# 066-039
Surrealism developed largely out of the Dada activities during World War I and the most important center of the movement was Paris. From the 1920s onward, the movement spread around the globe, eventually affecting the visual arts, literature, film, and music of many countries and languages, as well as political thought and practice, philosophy, and social theory.
Theodore Arthur was a storyboard artist working in the New York area in the late 1970's to mid 1980's. In addition to his work as a storyboard artist and original artwork, he produced works of fan art from various science fiction movies, from Star Wars, Silent Running and 2001: A Space Odyssey.
Bergstrom
American, 20th century
'Sputnik', 1959
Mixed Media on Canvas 24 x 36in

TCG# 066-041
The Atomic Age in design refers to the period roughly corresponding to 1940–1960, when concerns about nuclear war dominated Western society during the Cold War. Architecture, industrial design, commercial design (including advertising), interior design, and fine arts were all influenced by the themes of atomic science, as well as the Space Age, which coincided with that period. Atomic Age design became popular and instantly recognizable, with a use of atomic motifs and space age symbols.


Jane Kell
American, contemporary
'Abstract Cityscape', 2005
Mixed Media 16" x 32"
TGC# 066-042
Abstraction indicates a departure from reality in depiction of imagery in art. This departure from accurate representation can be slight, partial, or complete. Abstraction exists along a continuum. Even art that aims for verisimilitude of the highest degree can be said to be abstract, at least theoretically, since perfect representation is likely to be exceedingly elusive. Artwork which takes liberties, altering for instance color and form in ways that are conspicuous, can be said to be partially abstract. Total abstraction bears no trace of any reference to anything recognizable. In geometric abstraction, for instance, one is unlikely to find references to naturalistic entities. Figurative art and total abstraction are almost mutually exclusive. But figurative and representational (or realistic) art often contains partial abstraction.
Californian artist Jane Kell follows the idea of Henri Matisse and his "French Window at Collioure", painted in 1914, which is in the permanent collection at the Centre Georges Pompidou, Paris. An example of walls without windows is Camille Figueroa's 'No Way In, No Way Out', a 1995 foreboding vision of the new borders in today's world.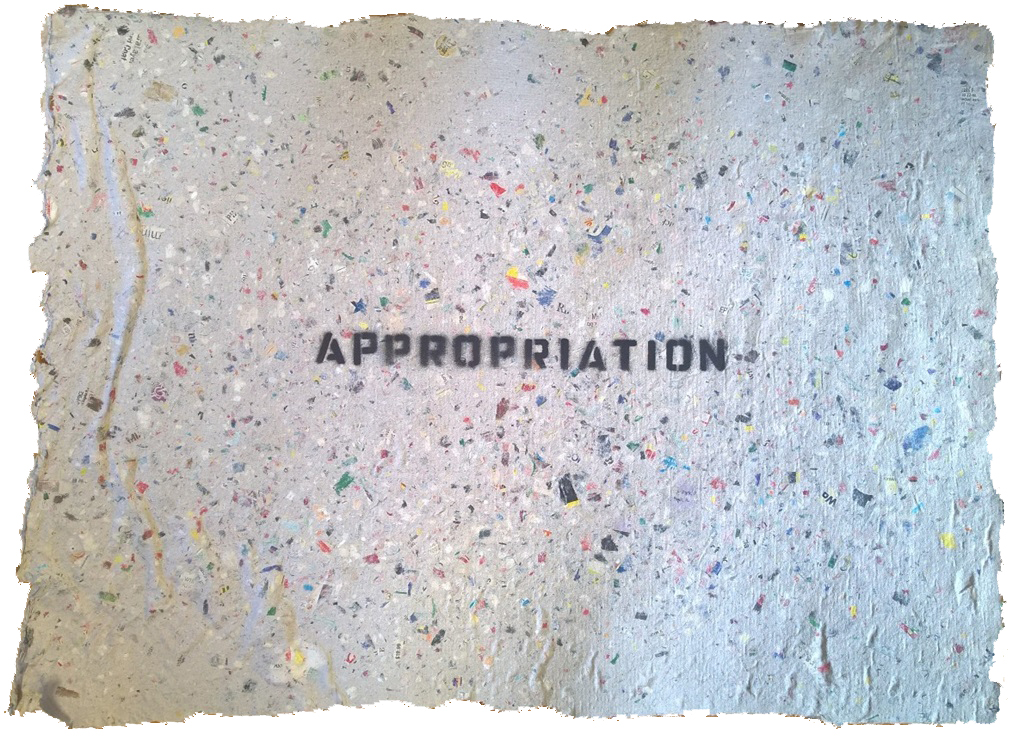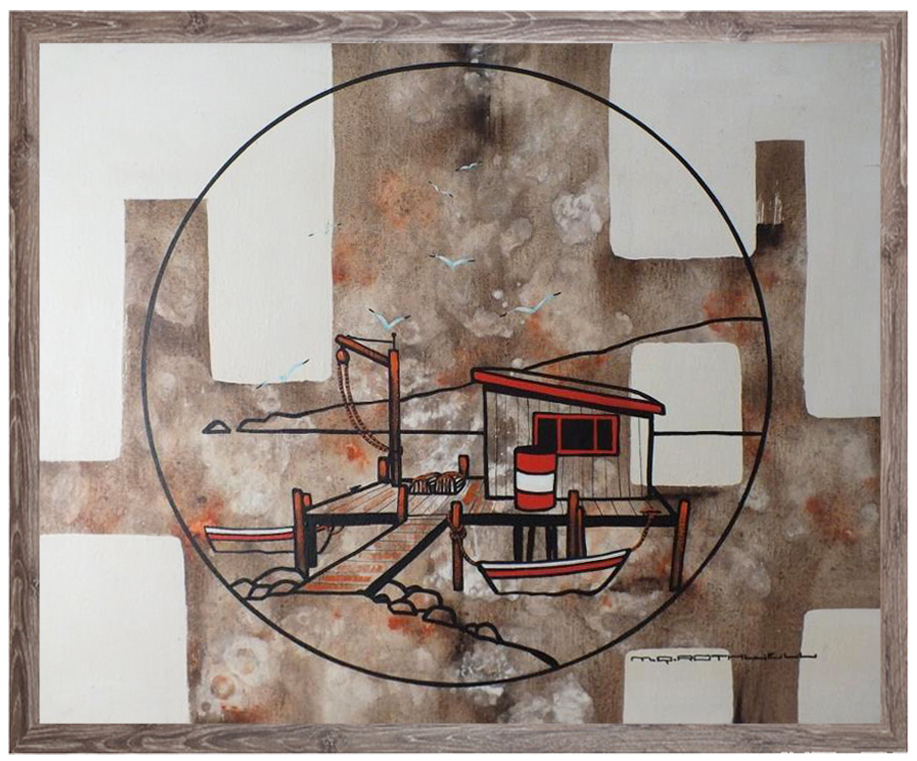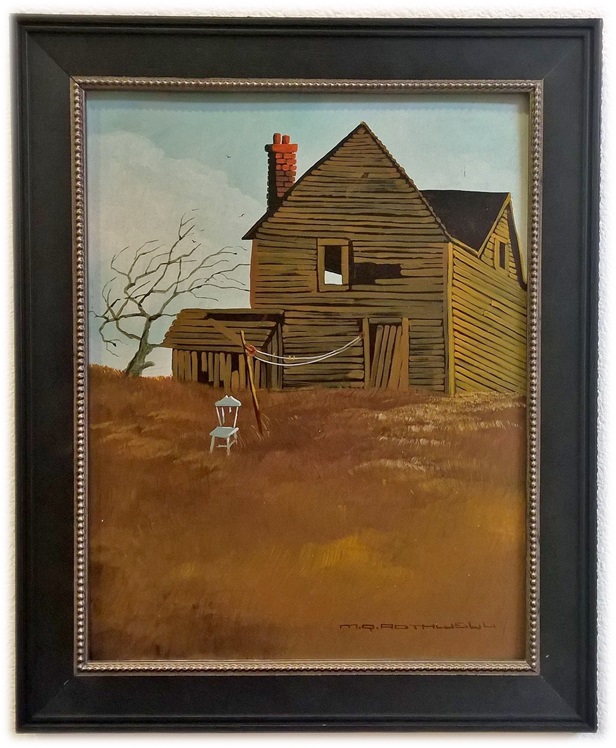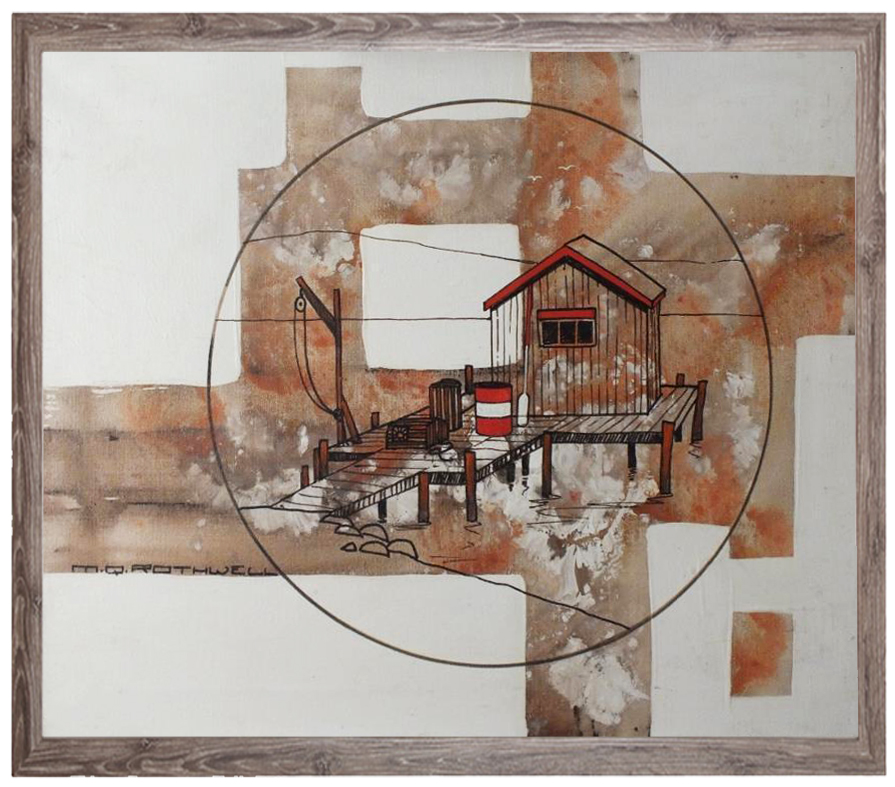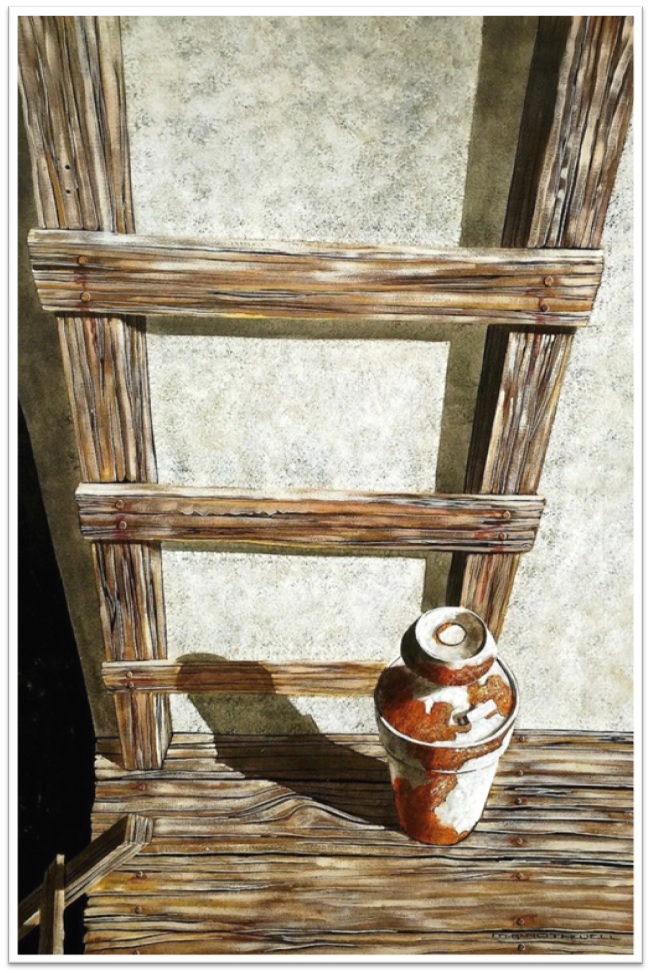 Michael Quincy Rothwell
American, 1945-
'Modernist Landscape', 1978
Oil on Canvas 24 x 30in
TGC# 066-047
Michael Quincy ("MQ") Rothwell was a very talented modernist artist who produced some of his best work in the 1970s. He was active in New England and is described as a 'post Woodstock' type and a friendly family man who would travel extensively to sell his art at outdoor shows such as the Washington Square Outdoor Art show or the Glastonbury art fair.

He was raised in Connecticut and went to school at Rockville High where he graduated in 1963. He then attended Paier School of Art in New Haven where he graduated in 1967. Amongst his masterpieces are several abstract works in oil and a cityscape of Philadelphia. He also won awards for various landscapes, a series of trompe-l-oeils and nudes. According to a bio found on one of his paintings his work went on display in many galleries on the East Coast.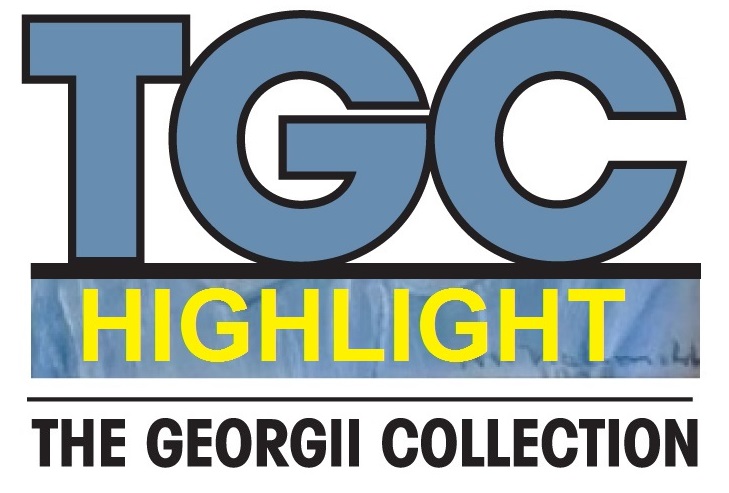 TGC rediscovered Michael Rothwell and entered both his 'Modernist Landscape' and 'Abandoned House' into its collection in May 2016. The acquisition of 'Milk Can and Barn Ladder' followed in July, finally 'Wheelbarrow', 'Boat on Shore', 'Jetty #1' and 'Jetty #2' completed the collection in November. Rothwell shows great skill with an eye for light effects and sharp contrast. Objects are embedded in a cartoon-ish and often rural-themed realism or folk art - his style is therefore immediately recognizable. Though he left a footprint in New England, his portfolio is still widely unknown and certainly underappreciated in the art world. His minimalist portraits and still lifes of rural settings on the East Coast in decline deserve recognition.
Michael Quincy Rothwell
American, 1945-
'Wheelbarrow', ca. 1978
Oil on Canvas 24 x 36in
TGC# 066-049
Michael Quincy Rothwell
American, 1945-
'Boat on Shore', ca. 1978
Oil on Canvas 18 x 24in
TGC# 066-051
Michael Quincy Rothwell
American, 1945-
'Jetty #1 and #2', ca. 1978
Oil on Canvas, various sizes
TGC# 066-052 &-053

Michael Quincy Rothwell
American, 1945-
'Milk Can and Barn Ladder', ca. 1978
Oil on Canvas 18 x 24in
TGC# 066-048
Michael Quincy Rothwell
American, 1945-
'Abandoned House', ca. 1978
Oil on Canvas 11 x 14in
TGC# 066-050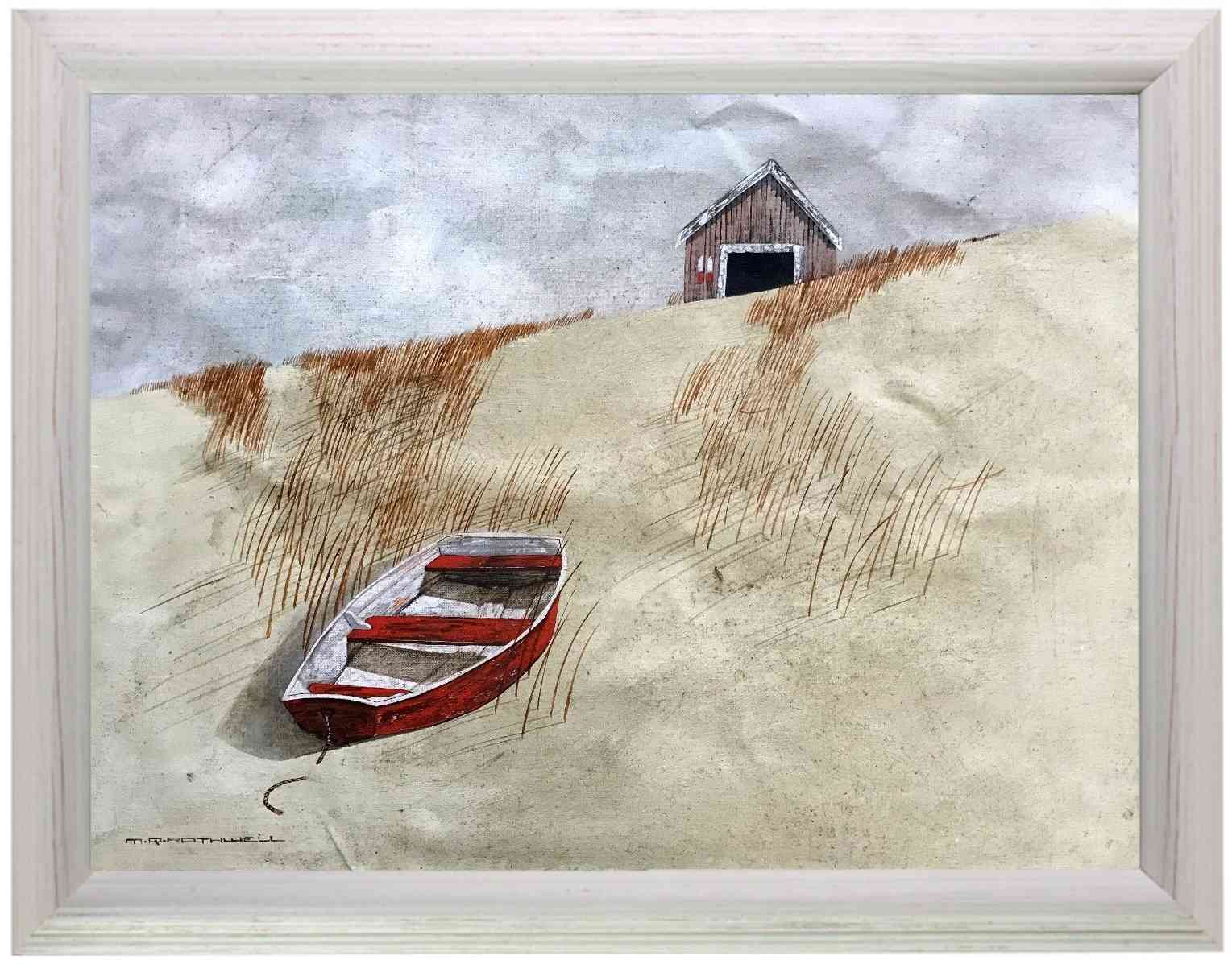 Chris Roberts
American, contemporary
'Appropriation', 2007
Enamel on Paper - Stack 13 x 19in
TGC# 066-040
"The larger extent to how I present my artwork is based on existential ideas and the encompassing process associated to art. I ultimately aim to engage an audience in a status above that of mere viewer and create an experience in which, at times, they can be a participant in the outcome of the artwork, or at the very least, influenced in some way or another. As an artist, I create images that are my responsibility to both document and imitate from my experience, and transform the ideas of art from pure thought to actual visual, and as a result, the final product varies, as does the medium. My process of creating art starts with the obvious, the idea, and is usually not drawn out in sketches, yet conceived in text and language only, which leads to text art pieces done from stencils, on canvas or paper. I have also used these text pieces in my performance art pieces, as a means to immediately connect with an audience."
from the Artist Statement

Chris Roberts was born in 1975 and grew up in West Allis, Wisconsin. During his late teens and early 20's he played the drums and sang in several bands (Igloo, Terrible Two's). Roberts moved to Chicago in 1997 and attended Columbia College Chicago in the Fine Arts Department. In 2004 he joined the live-in crew of the Ante:room art collective where he hosted several gallery exhibits and organized events. He later associated with the Manual Labor art collective and in 2006 had his first solo art exhibition at artLedge, an alternative art space located in Bucktown, Chicago, that included "installation, video, performance, text, photography, and homemade chili".
Later that year he also showed his art in Greektown and around The Coyote Arts Festival juried by Tricia Van Eck. In 2007 he created his remarkable "Appropriation" series.
Roberts now lives in the San Francisco Bay Area.



Anton Michalski
French-American, 1927-2011
'Surreal Landscape', 1972
Oil on Canvas 11 x 14in
TGC# 066-063
French-American artist Anton Michalski was known for several surrealist paintings - such as this example of a landscape that was likely created around the same time as his masterpiece work 'Les Apôtres' - where the influence of Salvador Dali is more pronounced.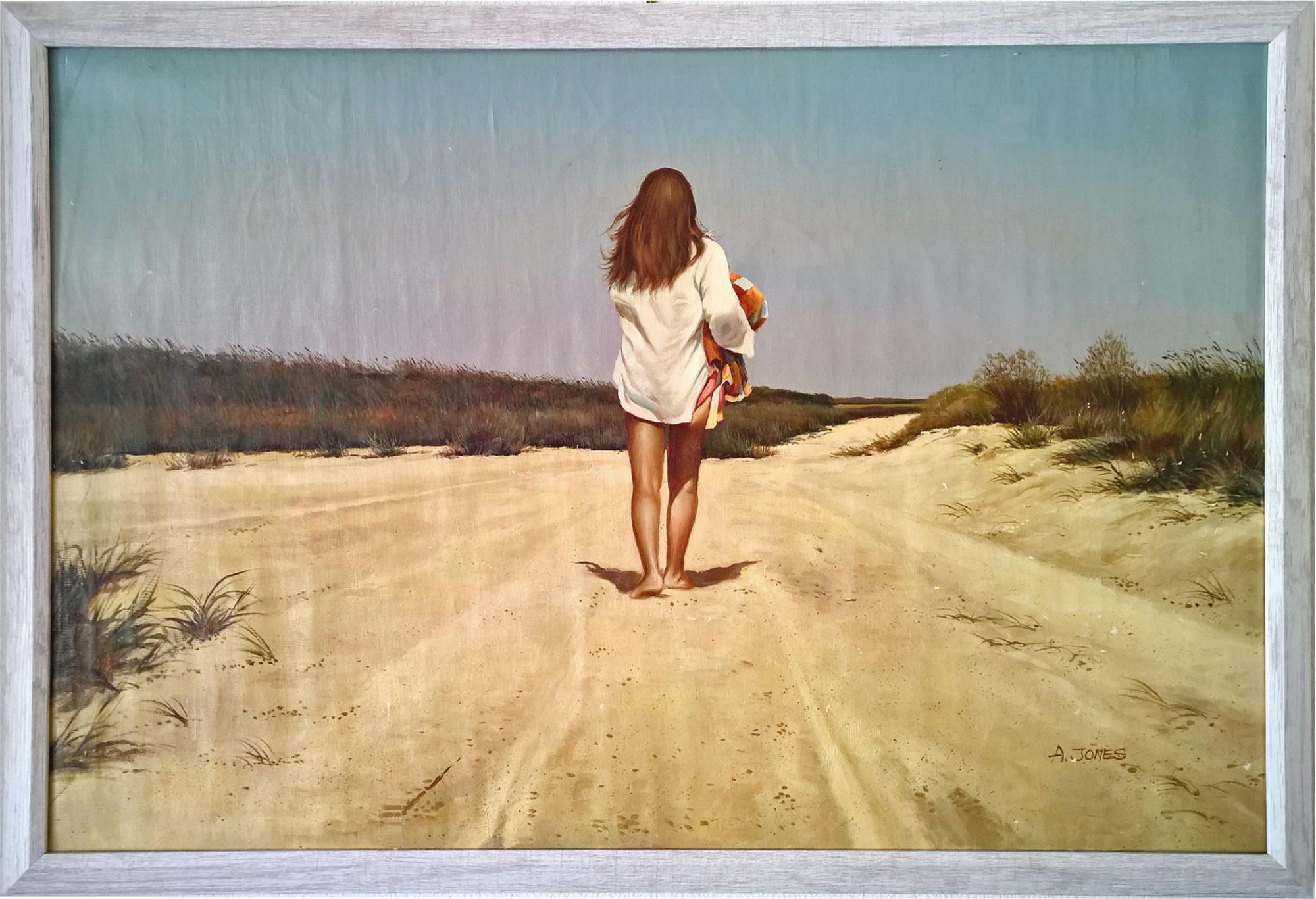 A. Jones
American, 20th century
'Beach Walk', ca 1974
Oil on Canvas 24 x 36in

TGC# 066-91
This photorealistic oil painting of a girl walking on the beach was acquired by TGC in late October 2016. It was religned and underwent extensive restoration as it was damaged due to improper storage. While created around the same time as the above shown Michael Rothwell modernist landscape paintings, it is certainly also similar in style. 'Photorealism' is a genre of art in which the artist studies a photograph and then attempts to reproduce the image as realistically as possible in another medium.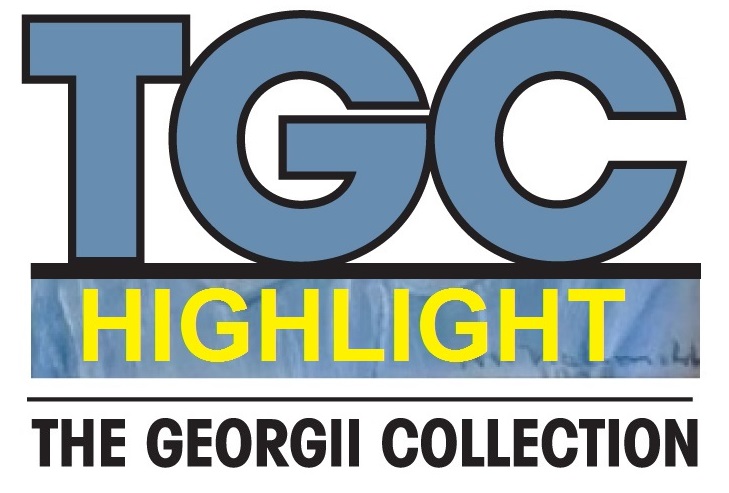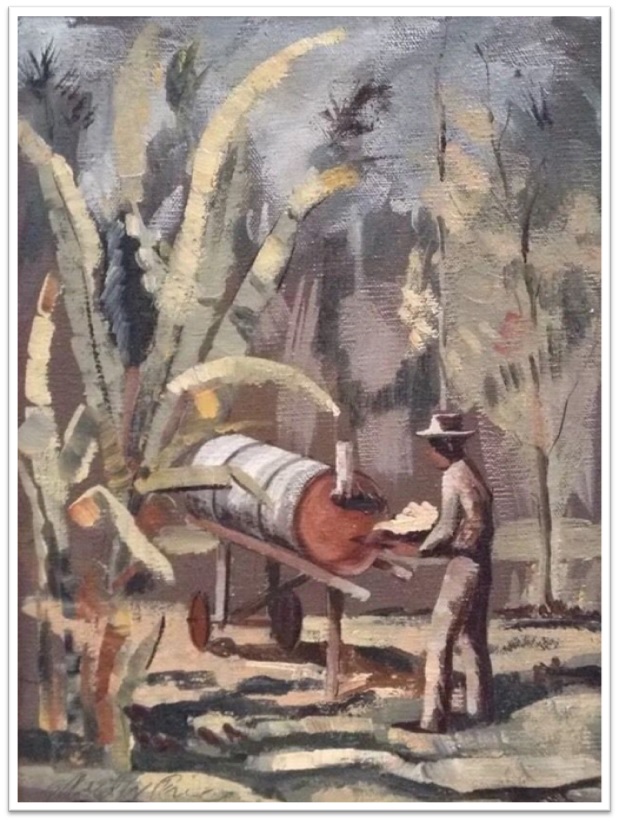 Elbert Price
American, 1926-2006
'Plantation in Louisiana', 1966
Oil on Canvas 9 x 12in
TGC# 066-030
Elbert Price - born in 1926 in Memphis, TN, was a lifelong, painter and sculptor. His formal art education began at Harding College in Searcy, Arkansas, while a high school student and continued at the Art Institute of Pittsburgh after his Navy service. Prior to arriving in Santa Barbara, California in 1981, he had a gallery adjacent to Jackson Square in New Orleans, Louisiana for two years.

"I am a lifelong painter and sculptor. My earliest memories are of my mother dragging me backwards from preschool, toward the waiting, still running, Model T Ford sedan. I was 4 years old and yelling "NO! They will get my clay." They did. In later years, my father, an attorney and politician, tried to discourage me from drawing, saying that it caused poverty. But, I have done art most of my life with very few pauses. It was what I wanted to do and I got to do it. I am happy about that." - E. Price

P Richard Eichman
American, 1940-2001
'Landscape in Carroll County', ca.1969
Oil on Board 5 x 7in

TGC# 066-095
Poet, musician and painter Richard Eichman was a graduate of Elmer A. Wolfe High School in Carroll County, MD. He earned his bachelor's degree in piano and music education from the Peabody Conservatory in 1962. He taught music in Baltimore County public schools for 18 years until retiring in 1980. He then worked as a portrait painter and gave lessons at his house - occasionally painting plein air landscapes such as the present charming miniature.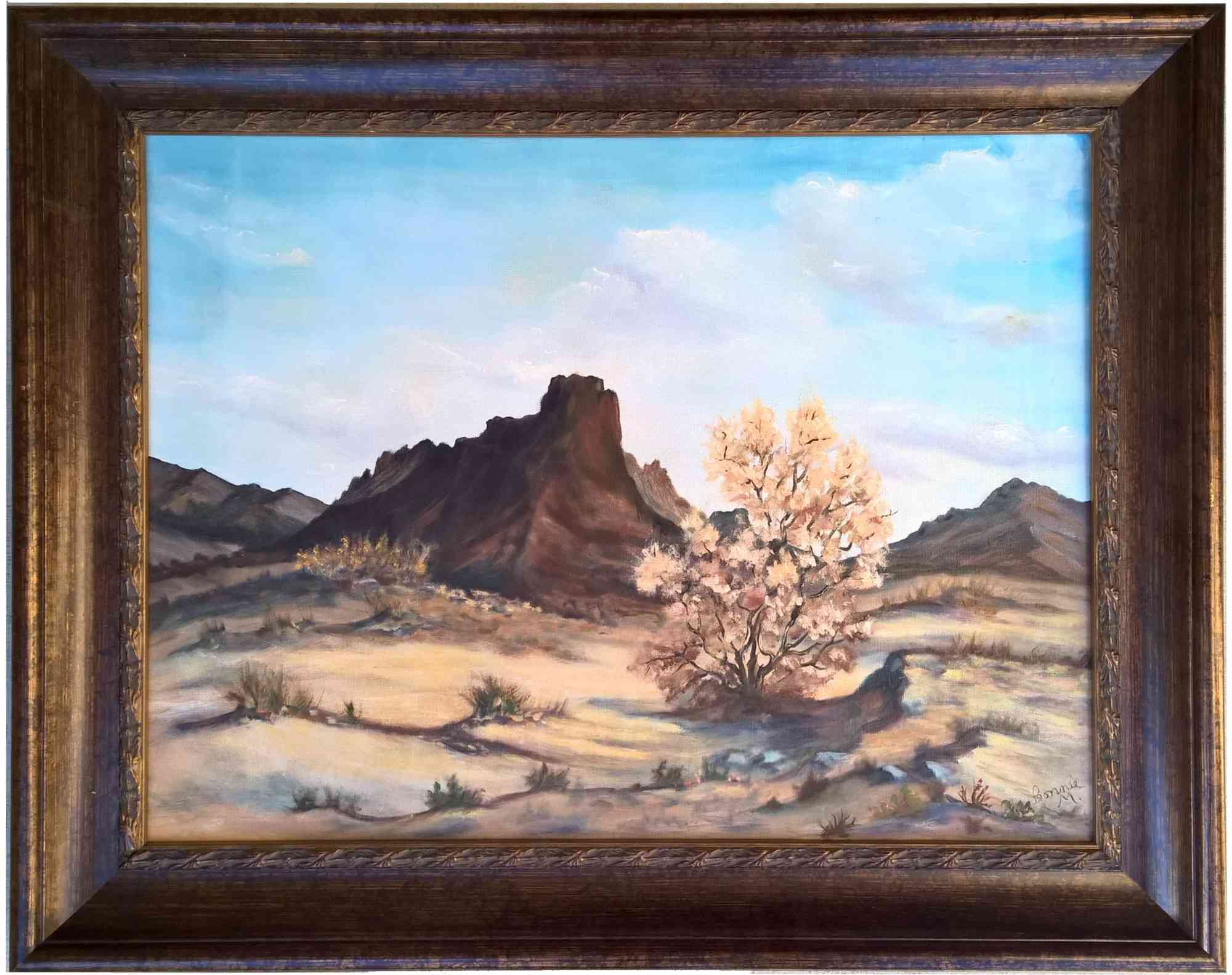 Bonnie M.
American, 20th century
'California Desert Landscape', ca 1980
Oil on Canvas 18 x 24in

TGC# 066-094
Bismillah
American, contemporary
'Sunol', 2007
Oil on Board 12 x 18in
TGC# 066-093

Rich Buchwald received his B.A.E. degree from the School of the Art Institute of Chicago and his M.A. from Northwestern University. For more than 30 years he worked as a teacher in the Chicago Public School system and became a United Scenic Artist for CBS and NBC-TV. His artwork has been exhibited widely both nationally and internationally and has won many awards. He was on the Board of Directors of the San Diego Museum of Art Artists Guild and was a member of the Society of Marine Artists and the Watercolor West Society. His work has been published in "The Best of Watercolor Series, Light and Shade" by Rockford Publishers in 1997 and the "Foss Maritime Calendar". Buchwald passed away in February 2009.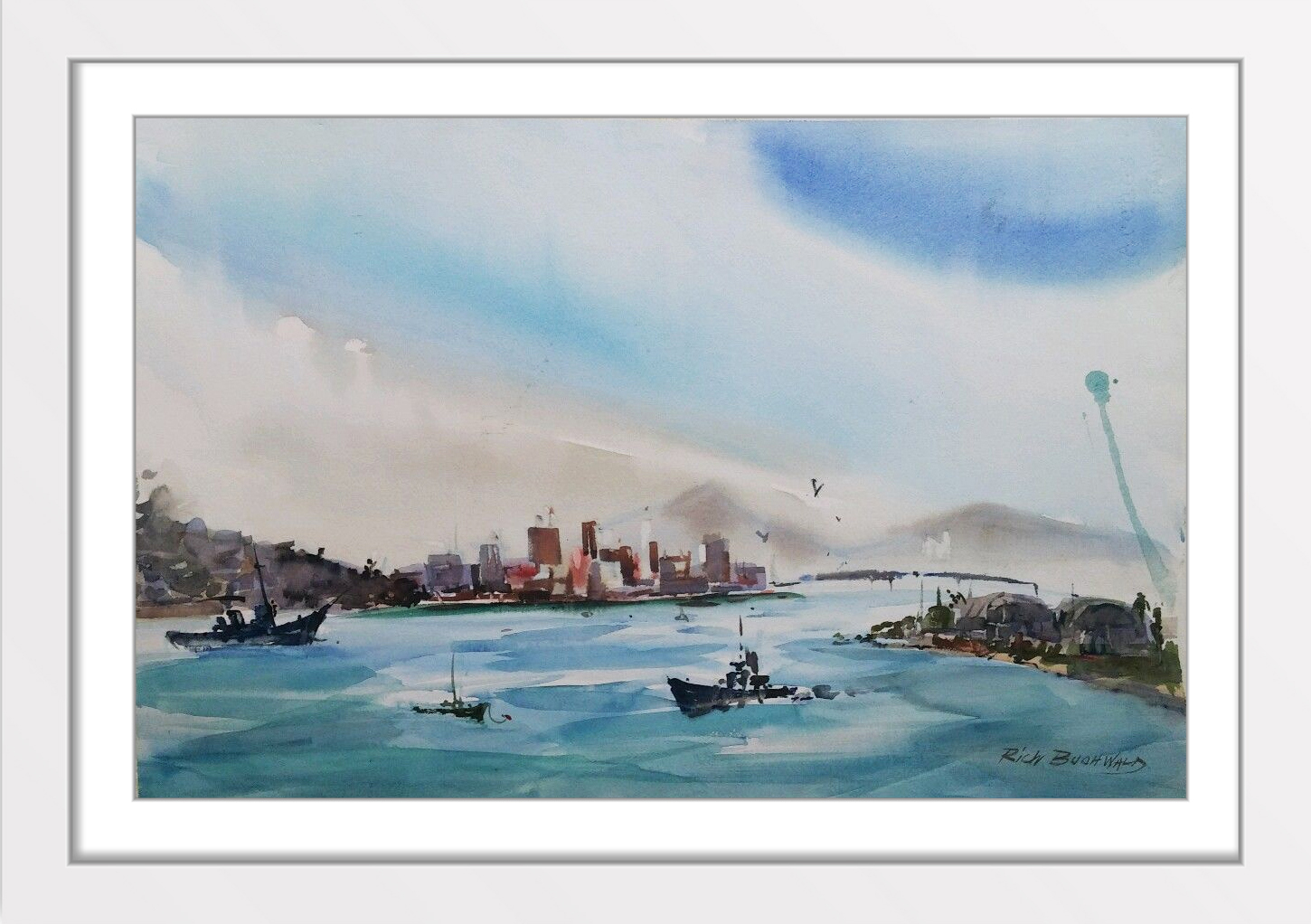 Rich Buchwald
American, 1925-2009
'San Francisco Bay', 1987
Watercolor on Paper 15 x 22in

TGC# 066-092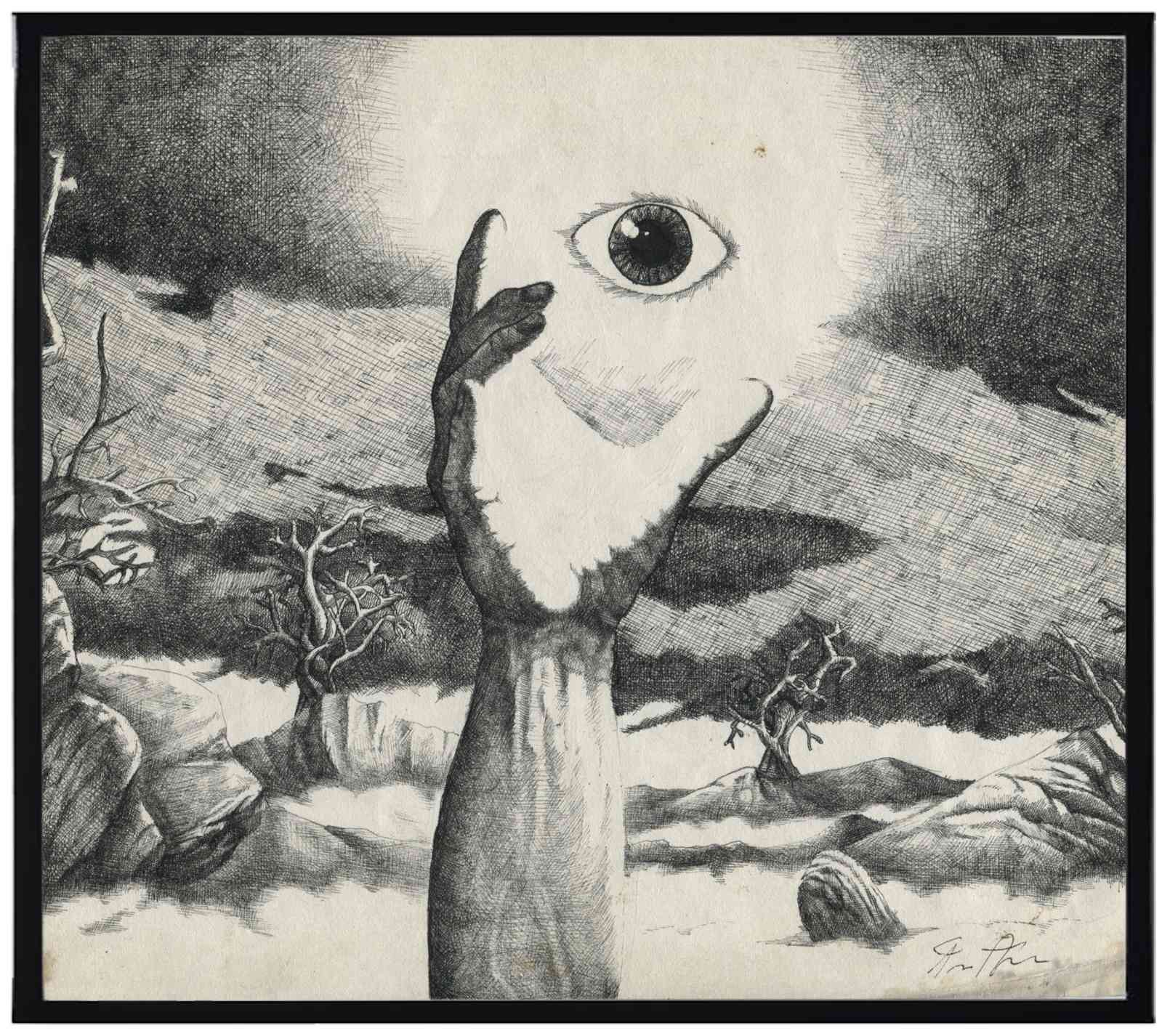 Theodore Arthur
American, 20th century
'Reaching for my Vision', 1980
Ink Drawing on Paper 9 x 10in

TGC# 066-096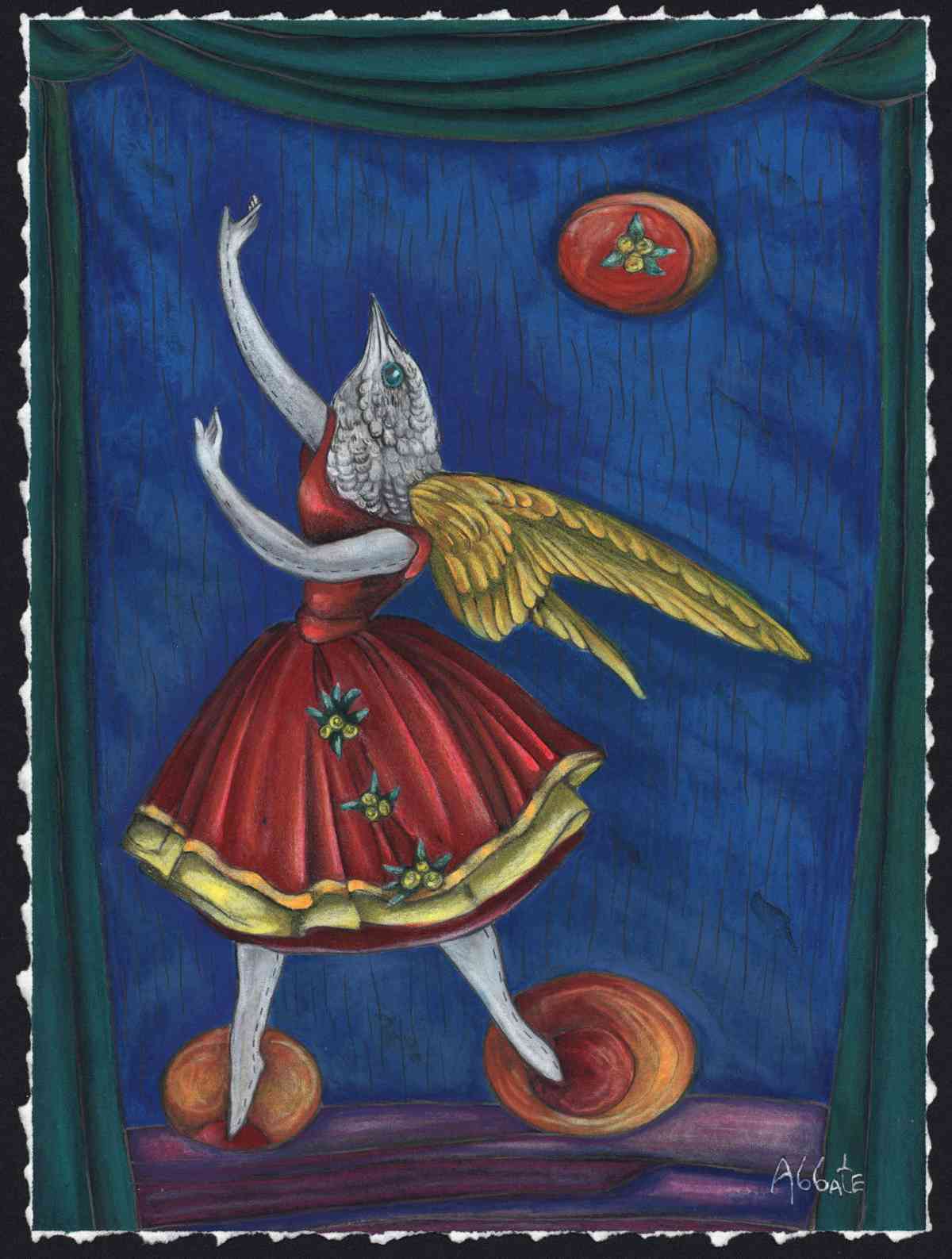 Donna Abbate
American, 1955-2019
'Aviary Dance - Madame Tatiana', 2005
Gouache on Paper 9 x 12in

TGC# 066-097
"I play the mad scientist with art. A surrealist at heart, I juxtapose forms based on nature-known and unknown, microscopic and macroscopic. My artwork is an orchestration of chaos: colors, shapes, plants, landscapes, animals, figures, collected and layered into a two dimensional spirit. Like a spirit, each piece has a sense of self. Whether a stately portrait, a dreamlike landscape or a study of flora, the images are infused with a vital force that challenges the veil of reality. These illustrations become, for me, a way to celebrate the mysterious and fantastic elements of our planet, asking the viewer to look again at their surroundings and contemplate the way things could be if there were no limits on our natural world."
Source: Artist's website

Donna Abbate was a native of New York and in Brooklyn graduated from Pratt Institute with a degree in Fine Arts. Since worked as a multimedia artist in various cities including Boston,Santa Fe and Los Angeles. She won numerous awards, such as the 2011 Bonese Collins Turner Donor Award from the Art Center in Glendale, CA and the 2011 Editor's Choice Award, "Artist Portfolio Magazine" for Cover Art. Donna Abbate passed away in New York on Sep 23, 2019.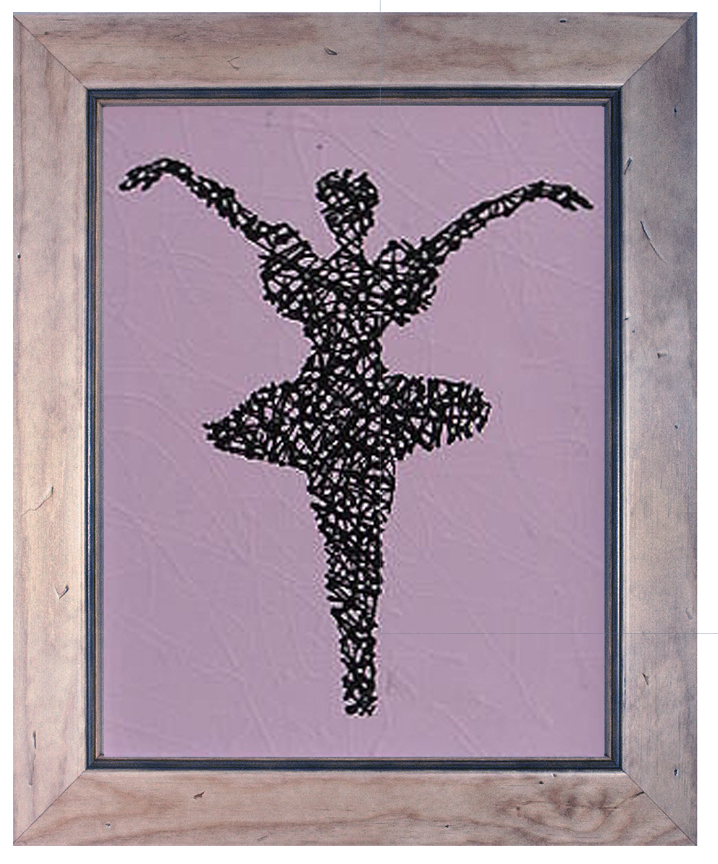 Diana Vehuni
American, contemporary
'Matrix Ballerina', 2013
Oil on Canvas 12 x 16in
TGC# 066-098
"Our visual perception, being the most powerful for the majority, can be used in many ways to enhance our well-being. Any stimulus that reaches our brain through our eyes creates changes on many levels. I use color, design, subliminal messages and energy transmission in my canvases for optimal effect. The shapes also have an impact as they create associations in our minds. The best way to choose a design is to follow your intuition, if it feels good to you, go with it. Some of the paintings have subliminal messages which usually are not readily visible but can be seen if searched for. These are positive affirmations, words of wisdom or helpful reminders hidden in the whimsical design. All of my paintings come with energy of high vibration encoded in them."
Source: Artist's bio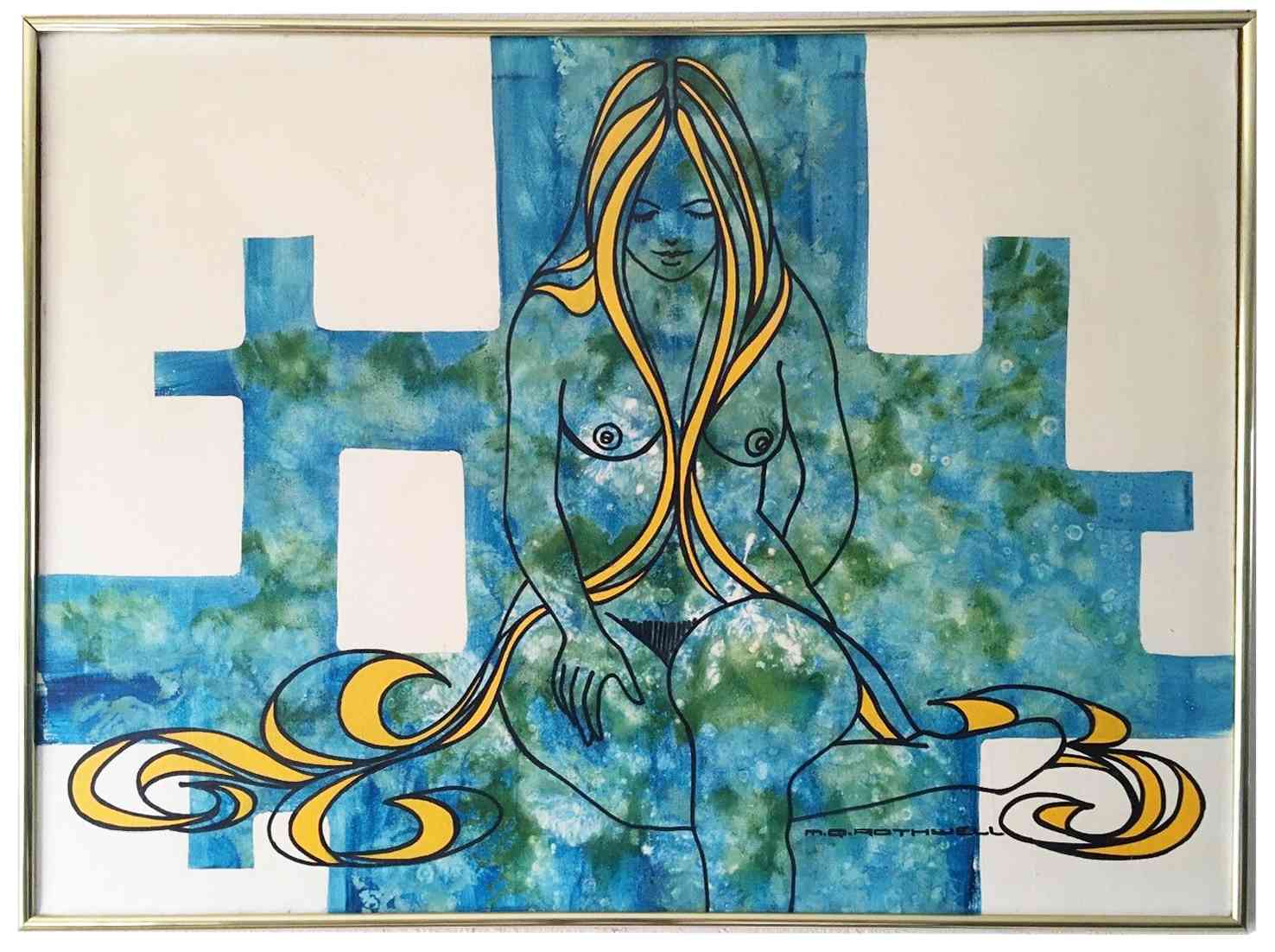 Michael Quincy Rothwell
American, 1945-
'Nude', ca. 1978
Acrylic on Canvas 30 x 40in
TGC# 066-099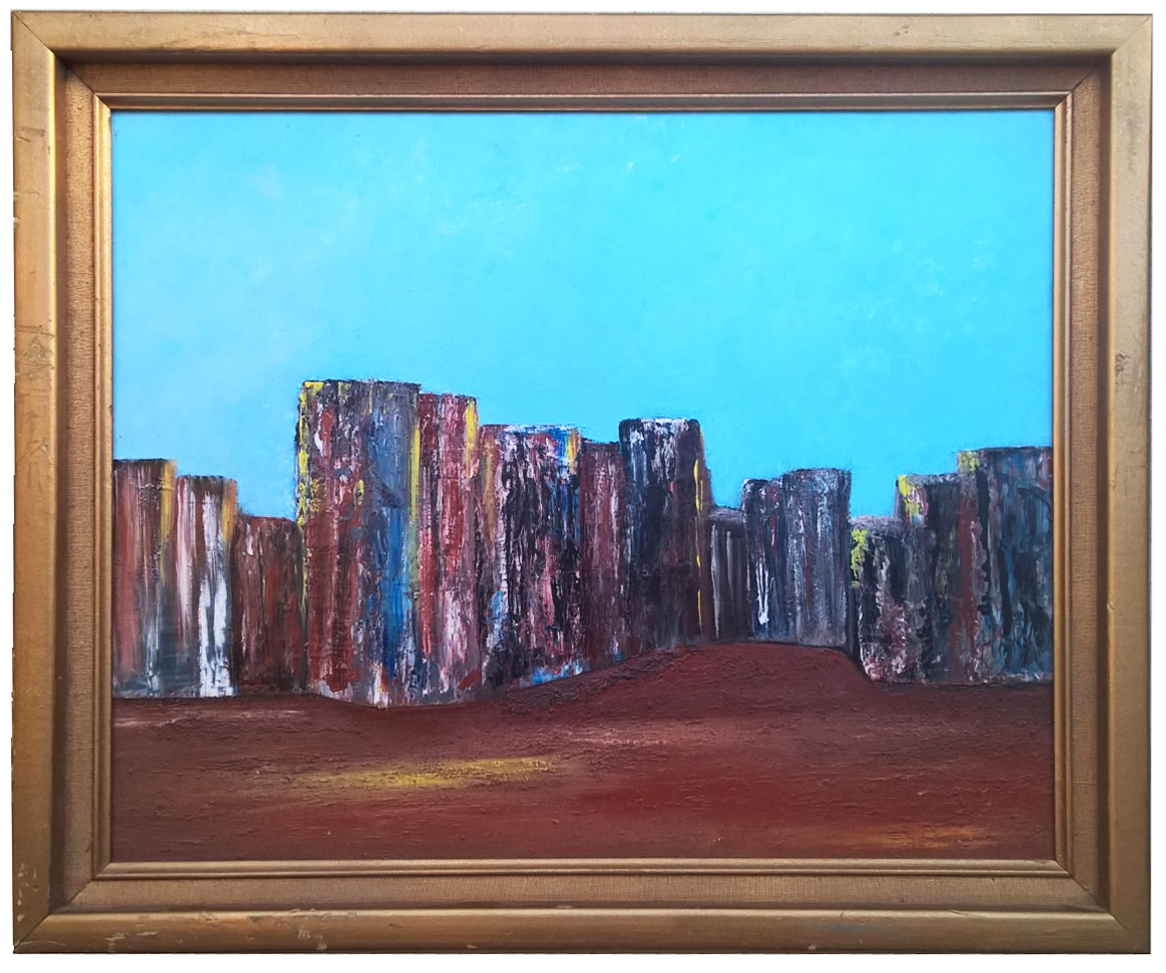 Camille Figueroa

American, contemporary
'No Way In, No Way Out', 1995
Oil on Board 16" x 20"
TGC# 066-105

Michael Quincy Rothwell
American, 1945-
'Lighthouse', ca. 1978
Oil on Canvas 24 x 30in
TGC# 066-100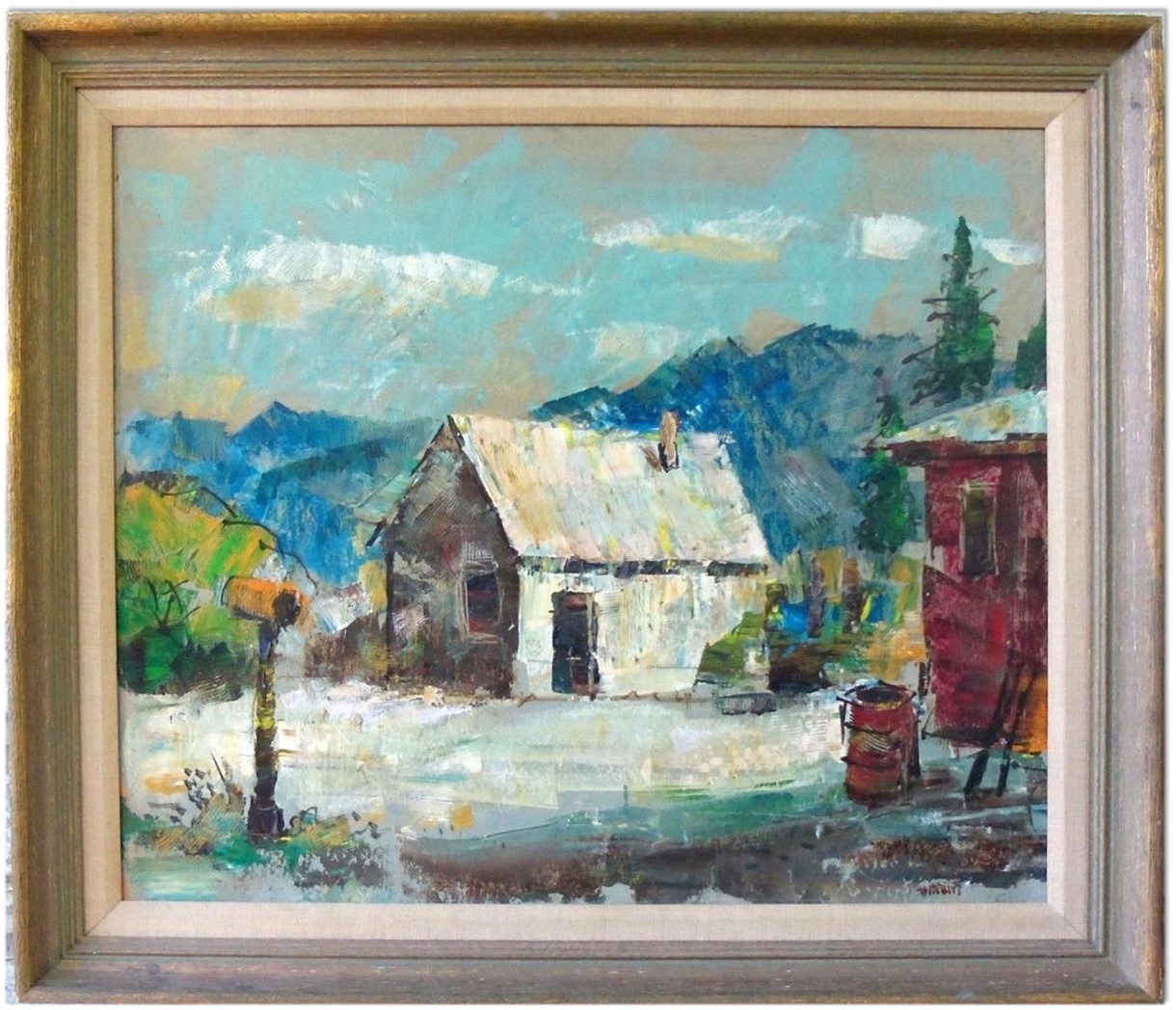 Forrest Hibbits
(American, 1905-1996)
'Santa Rosa Road 2', 1955
Oil on Board 20 x 24in
TGC# 066-106
Forrest Hibbits
(American, 1905-1996)
'Santa Rosa Road', 1955
Oil on Board 20 x 24in
TGC# 066-107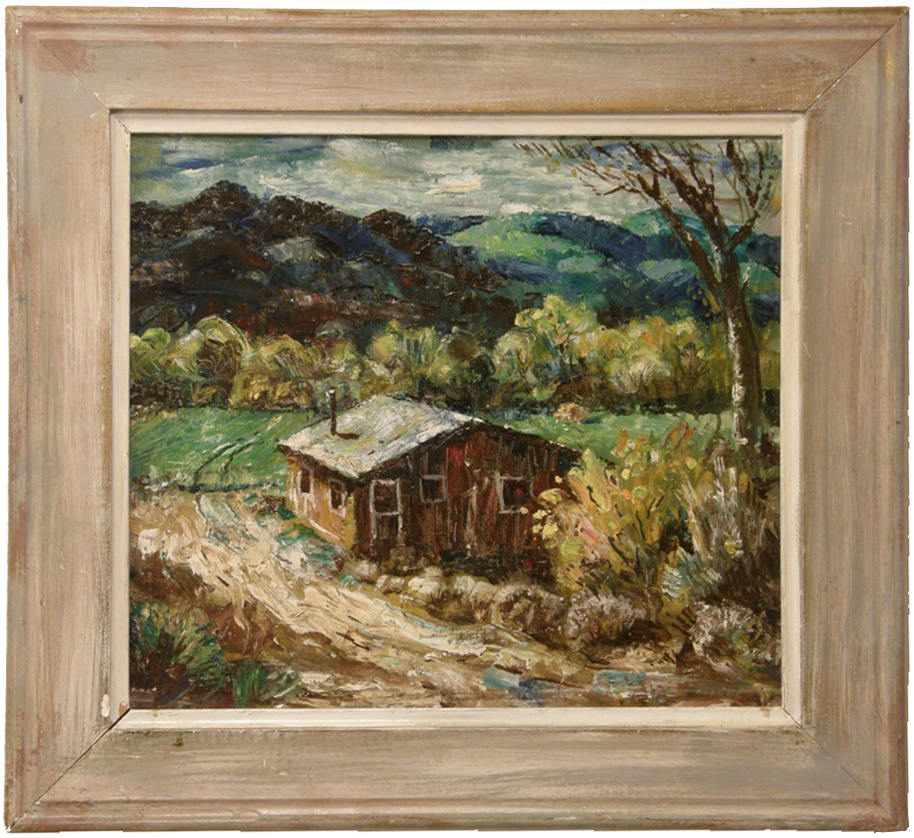 In this set of two paintings Forrest Hibbits illustrates 1860's carriage buildings located at today's Mosby Winery on Santa Rosa Road near Buellton, California.
Santa Rosa Road is a road to nowhere. It isn't even marked on some state maps. Exiting Highway 101 just south of the Santa Ynez River bridge, it's one of those 'farm to market' roads sprinkled around California. Santa Rosa Road winds along the south side of the Santa Ynez River from just south of Buellton to just south of Lompoc. It parallels Highway 246, its far busier counterpart across the river, and it was once the pathway of padres between the Santa Ines and La Purisima missions. Originally, Santa Rosa Road was probably used by farmers and ranchers, said Phyllis Lotz, longtime Buellton historian. There's not a crossroad in its entire 17-mile length. Yet, the road has its charms 7 including three wineries and a little-known county park.
Source: "Santa Rosa Road: A charming road to nowhere" by Sally Cappon in: "Lompoc Record" (Feb 14, 2006)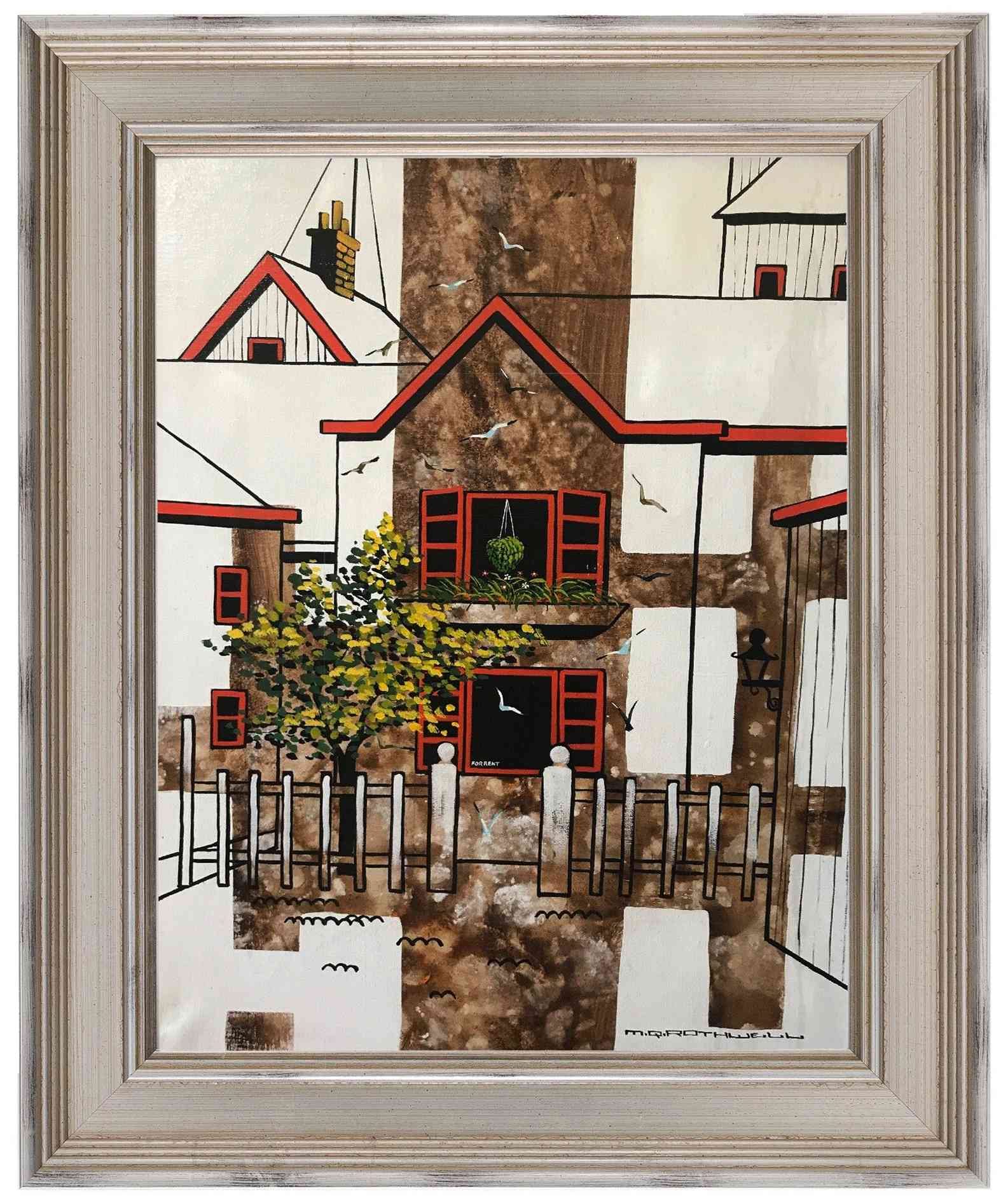 Michael Quincy Rothwell
American, 1945-
'Apartment House', ca. 1978
Oil on Canvas 18 x 24in
TGC# 066-101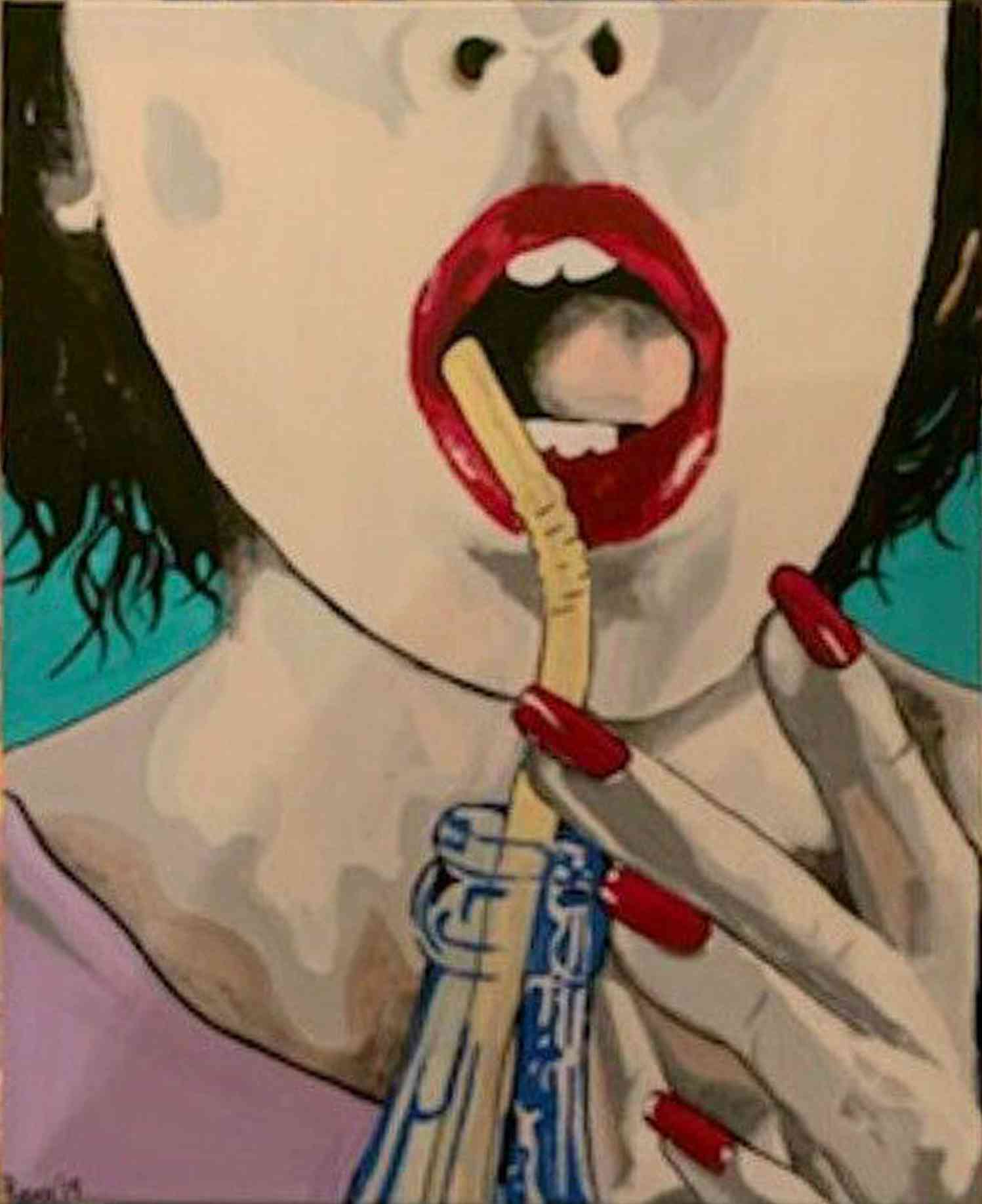 Jamie Roxx
American, contemporary
'It Goes Without Saying', 2019
Oil on Canvas 16 x 20in

TGC# 066-108
Pop art is an art movement that emerged in the United Kingdom and the United States during the mid- to late-1950s. The movement presented a challenge to traditions of fine art by including imagery from popular and mass culture, such as advertising, comic books and mundane mass-produced cultural objects.
In this tradition Florida-based Jamie Roxx painted 'It Goes Without Saying' in 2019 in his Deerfield Beach studio. Roxx has created multiple CD covers for various rock bands and DJs. He has also had his work featured in a Target Stores' Christmas television commercials and has had a painting appear on the television show 'Will and Grace' and various Bravo and E Channel television shows. In 2011 Jamie Roxx relocated to Southern Florida were he now lives and works. In addition to being a full time, working artist, in 2013 Jamie started his own digital radio talk show. Where he interviews bands, musicians, filmmakers & celebrities from all over the world several times a week.