Paul Schlünsen
German, 1890-1967
'Swans in Flight over Swell', ca. 1950
Oil on Canvas
20 x 28in
TGC# 073-001
The tradition of marine painting really began in Holland in the sixteenth century, perhaps because of the significance of seafaring in establishing and maintaining the Dutch Republic. Marine painting began in keeping with medieval Christian art tradition, and so the original paintings portrayed the sea only from a bird's eye view, and everything, even the waves, were organized and symmetrical. The viewpoint, symmetry, and overall order of these early paintings were to keep in mind the organization of the heavenly cosmos from which the earth was viewed. Later many artists developed new methods for painting, often from a horizontal point of view, with a lower horizon and more focus on realism than symmetry.
Paul Schlünsen
German, 1890-1967
'Beach Birds', ca. 1955
Oil on Canvas
20 x 28in
TGC# 073-002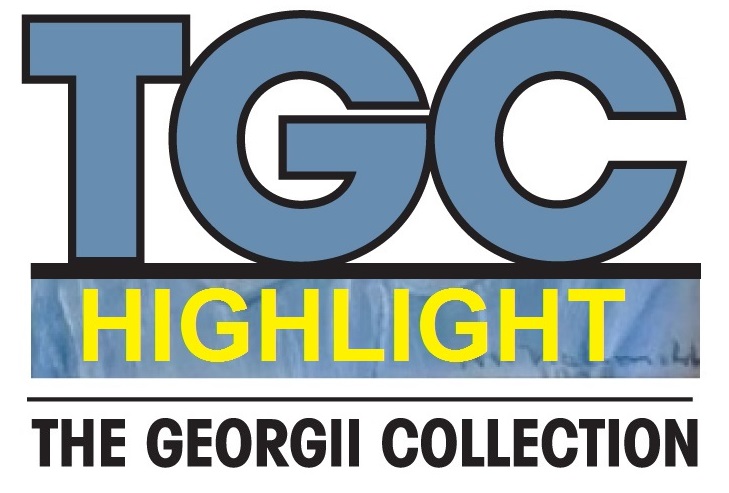 Paul Schlünsen, born 1890 in Leipzig was a well known German Impressionist and lived for many decades in the art colony on the island of Hiddensee where he mastered the art of seascapes.
Gerhard Zank was born in 1937 in Pomerania. He developed his love for wildlife and nature in general from early childhood on. In 1946 he managed to settle in Essen, West Germany. From 1959 to 1961 Zank studied there at the Art Academy. Many exhibits followed in Germany (Essen, Düsseldorf and Munich) as well as throughout the U.S. He traveled all of Europe in order to further develop his skills.
Gerhard Zank now lives in Marsberg (North-Rhine Westphalia)
Gerhard Zank
German, 1937-
'Seascape', 1971
Oil on Canvas
24 x 36in
TGC# 073-003
Edgar Freyberg
German, 1927-2017
'Seascape', 1968
Oil on Canvas
24 x 36in
TGC# 073-004
Edgar Freyberg
German, 1927-2017
'Rocky Shores', 1968
Oil on Canvas
24 x 36in
TGC# 073-018

Edgar Freyberg
German, 1927-2017
'Waves pounding on Rock Beach', 1975
Oil on Canvas
24 x 36in
TGC# 073-023
Edgar Freyberg was one of the most important 20th century marine painters. The neo-impressionist was born in Berlin on August 12, 1927. He was a student of Hein König and is widely known for his seascapes and paintings of ships, coastlines and coastal cities.
His work is displayed in many museums incl. the International Maritime Museum in Hamburg, Tallinn's Rios Gallery and the Otto-Pankok Museum.
Freyberg lived in Germany's northern-most state of Schleswig-Holstein.
TGC recently learned with great sadness through a friend of the family that the amazing artist had passed away in February 2017 at the age of 89.
Helio Wernegreen was born in Denmark in 1907 and emigrated to the U.S. in 1956. He settled in Chicago where he opened up his own gallery - successfully selling his own art and imported work of his friends all over Europe. 'Helio's Art Gallery' burned down in 1968 when a neighboring building caused an electrical fire. He suffered a heart attack and - after his recovery - opened up a new gallery in Arlington Heights near Chicago.
"Realism is a matter of beauty, a fine piece of work. It is art most people can understand. Realistic art can change your mood or make your day. It can calm an inner storm or create mirth to replace sadness. It is a gift from artist to viewer like a sharing of common experiences." Helio always spoke of painting as being like music. Colors and design combine in harmony, etchings he saw as poetry. "The fine lines tell a story," he said. Helio compared American and European artists and found Americans somewhat lacking in the romance of art life and as being "too commercial".
(Source: 'Arts returns to Realism" in The Daily Herald', Chicago, IL, July 11, 1969)

"The Danish-born artist was a prototype of Victor Borge without the piano. His first name was Helio, "the sun" in Greek. He certainly was the bright one, for he chatted with us as we browsed around the shop, nosing through canvasses by Helio and his contemporaries. He told about life in Copenhagen, and how he was sketching one morning when a farmer who owned the property approached him. "Mister," he said, "I like your picture but I haven't the money to buy it. What would you say to a cow in trade?"
(Source: 'Helio's Art Gallery' review by "The Roselle Register, Chicago, IL, February 23, 1968)


Helio Wernegreen
Danish-American, 1907-1979
'Crashing Waves', 1967
Oil on Canvas
10 x 24in
TGC# 073-014




William Lowe
American, 1940-
'Thomas Reed off The California Coast', 2008
Oil on Canvas
16 x 24in
TGC# 073-015
William Lowe's sincere interest in all things maritime originates from his many years of living and boating along the coasts of Southern California. He took to his artistic talents as a young man, and used his natural ability with color to work in the paint manufacturing industry as a professional color matcher. A long-time participant with the American Society of Marine Artists, Lowe was recognized by his peers and made a signature artist member of the society in 2004. He has exhibited works at both the Mystic Seaport International Marine Art Show and the Coos Bay Maritime Art Exhibit. He has won many awards including a first place award at the Ventura County Maritime Museum A.S.M.A. art competitions, also a Best of Show award at the American Society Of Marine Artists, Region five show at the San Diego Maritime Museum.
William Lowe
American, 1940-
'Laguna Surf with distant sailboats', 2008
Oil on Canvas
16 x 24in
TGC# 073-016
William Lowe
American, 1940-
'Full Sail', 1977
Oil on Canvas
24 x 30in
TGC# 073-007
Recent exhibitions of William Lowe's art:
2016 ASMA North Regional Exhibition Minnesota Marine Art Museum.
2015 California Art Club "The Spirit of Adventure" - "Juror's Award Winner"
2015: Chemers Gallery 8th Annual Juried Art Exhibit
2015: Pasadena Art Swow
2014 35th International Marine Art Exhibition in Mystic Seaport CT.
2014 16th National, American Society of Marine Artists- Inaugural Internet Exhibition.
2013 Channel Islands Maritime Museum Aqueous V Exhibit- ASMA West
2013 34th International Marine Art Exhibition in Mystic Seaport, CT
The works of William Lowe have been shown in many museums and is part of the following permanent collections:
* Newport Harbor Nautical Museum
* Mobil Oil Corp.
* Stain Glass Studio of Design
* Tony Guanci maritime art collection
Genevieve G. Rush
American, 1915-1994
'Ships at Sea', 1972
Oil on Canvas
24 x 30in
TGC# 073-006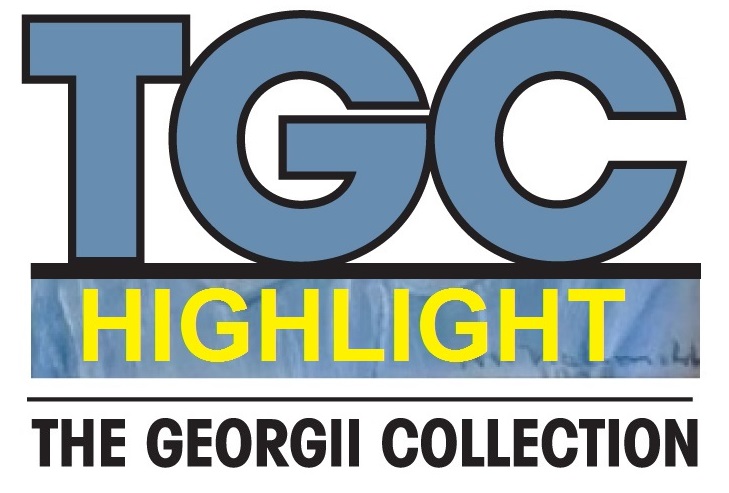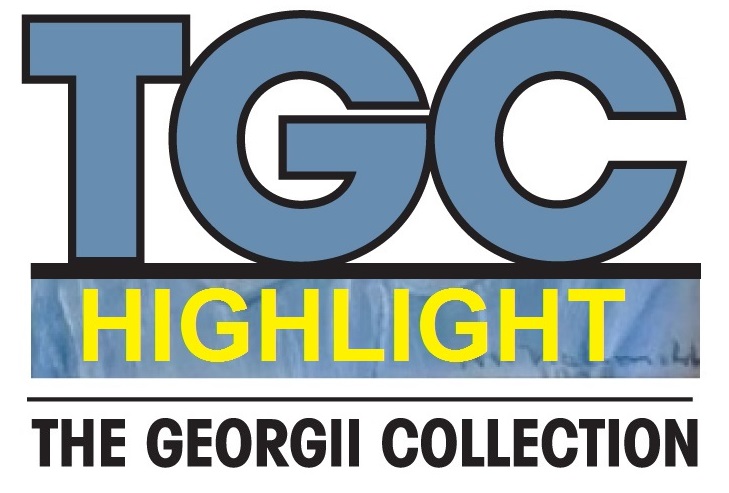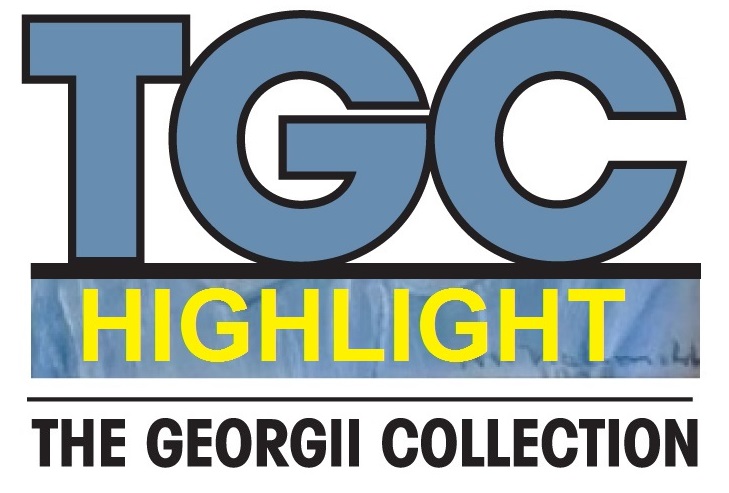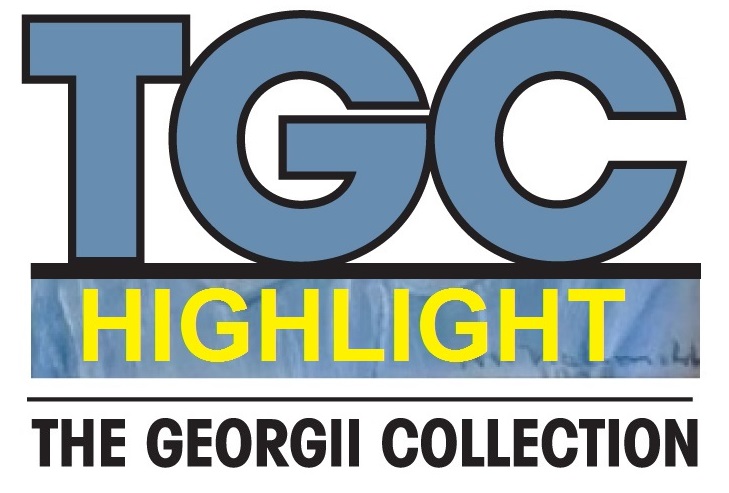 Ben E. Liesner
American, 1914-2003
'San Francisco Marina', 1966
Oil on Canvas 20 x 28in
TGC# 073-009
The oldest recreational marina operating in San Francisco, and perhaps the Greater Bay Area, the harbor has had vessels berthed in its original basin, now known as the West Harbor, since before the 1906 earthquake. The original marina was expanded in the mid-1960s and is now approximately 35 acres.

Wisconsin born Ben Liesner depicts the popular West Harbor with St. Francis Yacht Club and allows the viewer a glimpse of Golden Gate Bridge in the background.
J Boxall
Canadian, 20th century
'Toronto Island Marina', 1951
Oil on Board
15 x 20in
TGC# 073-008
Canadian artist J. Boxall's harbor scene was displayed in the Amateur's Art Gallery of Simpson's Homemaker's Show in Toronto in January 1952.

Bobbi Baldwin
American, 1957-
'California Sea Lions', 1989
Oil on Canvas
16 x 20in
TGC# 073-010

California artist Bobbi Baldwin is known for her "high level of accuracy in realism, equally in body structure and capturing the character. Her paintings add that the feeling of the presence of the subject is a very strong dynamic; "it feels like they are alive". Bobbi Baldwin studied at the Studio Incamminati in Philadelphia and at the LAAFA (Los Angeles Academy of Figure Art) with David Simmons, where she took her knowledge of portraying living creatures to another level through sculpting. "I don't see myself as a sculptor but as an artist who wants to understand everything in its fullest degree. I see my subjects three-dimensionally, in my head, and doing this just furthers my knowledge of painting."


Cornelius Schipper
Danish, 1915-ca. 2000
'Seascape', ca. 1955
Oil on Canvas
16 x 20in
TGC# 073-005
Evelyn Bennett
American, 1926-2013
'Seagull', ca. 1980
Oil on Canvas
18 x 24in
TGC# 073-011
Albert Richter
German, 20th century
'Hamburger Fischerboote', ca 1955
Charcoal on Paper
14 x 20in
TGC# 073-012
Albert Richter
German, 20th century
'Fischerboote am Abend', ca. 1955
Charcoal on Paper
14 x 20in
TGC# 073-013
Edith 'Evelyn' Bennett was born November 4, 1926 in Mangum Creek, Oklahoma and graduated from Blackwell High School in 1944. She moved with her parents and sister to Salem, Oregon and settled in the Lake Labish area in 1947. She opened her own painting studio where she went on to teach her art (mainly china painting) for over 30 years. She was a member of the Willamette Valley Porcelain Artists, the World Organization of China Painters, and International Porcelain Art Teachers. She won numerous awards for her painting throughout her art career.
Albert Richter was a mid 20th century artist and engineer from Frankfurt/Main in Germany. His trademark skill was the masterful execution of charcoal drawings depicting German landscapes as well as scenes of his hometown. The present set is unusual as it is drawn on larger paper format - likely to emphasize the size of the harbor and the cloudy sky above Germany's northern port city Hamburg.

Artists' charcoal is a form of dry art medium made of finely grounded organic materials that are held together by a gum or wax binder. It is often used by artists for their versatile properties such as the rough texture that leaves marks less permanent than other art mediums. Producing lines that are very light or intensely black while being easily removable and vulnerable to leave stains on paper. The dry medium can be applied to almost any surface from smooth to a very coarse.Fixatives are often used with charcoal drawings to solidify the positions to prevent erasing or rubbing off of charcoal dusts.
Source: Wikipedia

Donald B. Pope
American, 1912-1982
'Steamer Leaving Port', 1955
Watercolor on Paper
12 x 18in
TGC# 073-019
TGC Notes: Albert Richter's drawings are often misattributed to Hermann Richter, a German émigré who was first active in Hamburg and later in San Diego, California. Albert Richter was also not related to the Cologne-born sprint cyclist champion of the same name. Furthermore, TGC research shows Albert Richter was not related to the illustrator of the same name and who lived in Dresden one century earlier.

Little is known about the artist Cornelius Schipper who was born in Denmark in 1915. He studied painting under an artist named Nilson in Copenhagen. Cornelius later moved to Utrecht Holland. Schipper's seascapes are described as 'translucent, gray-green waves rolling in towards a rocky coastline, with the first light of the day showing golden through dark clouds overhead.'
Several works by the artist have been sold at auction, including 'Moonlit seascape' sold at Woolley & Wallis, Black Rock Galleries, eBay, Cobalt's in Canada and many other auction houses.


Sean Wu
American, contemporary
'Sailing Ship', 2019
Oil on Board

8 x 10in
TGC# 073-020
Sean Wu currently lives in Potomac, Maryland. Since his childhood, painting has always been a lifelong passion. His painting portfolio includes portraits, landscapes, animals, and still-life. Originally starting as a painter focused around realism, he is now delving into the impressionistic styles. His painting manifests his passion of life, nature and inspiration.
Source: Artist's website


John Landry
American, 1912-1986
'U.S.S. John F. Kennedy', 1980
Oil on Canvas

24 x 36in
TGC# 073-021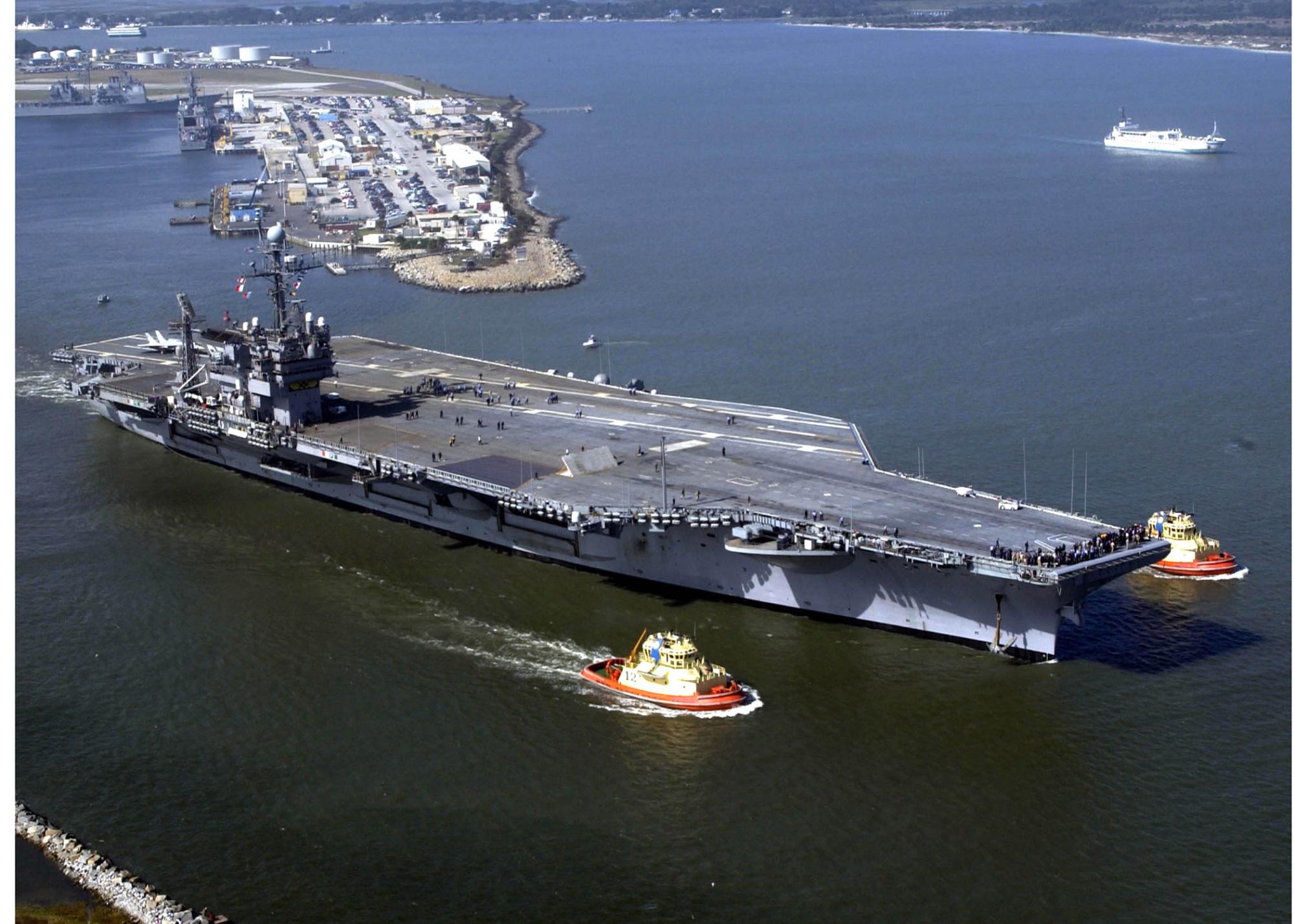 USS John F. Kennedy (CV-67) is the only ship of her class (a variant of the Kitty Hawk class of aircraft carrier) and the last conventionally powered carrier built for the United States Navy. The ship was named after the 35th President of the United States, John F. Kennedy, and was nicknamed "Big John". After nearly 40 years of service in the United States Navy (participating in both Operation Desert Storm and Operation Enduring Freedom), Kennedy was officially decommissioned on 1 August 2007. She is berthed at the NAVSEA Inactive Ships facility in Philadelphia.
Displacement: 60,728 tons light, 82,655 tons full load, 21,927 tons deadweight
Length: 1,052 ft (321 m) overall, 990 ft (300 m) waterline
Beam: 252 ft (77 m) extreme, 130 ft (40 m) waterline
Height: 192 ft (59 m) from top of the mast to the waterline
Draft: 36 ft (11 m) maximum, 37 ft (11 m) limit
Installed power: 8 × Babcock & Wilcox boilers, 1,200 PSI 280,000 shp (210 MW)
Propulsion: 4 × steam turbines 4 shafts
Speed: 34 knots (63 km/h; 39 mph)
Capacity: 5,000+
Complement: 3,297 officers and men (without jet commands & crews)
Aircraft carried: 80+
Source: Wikipedia

John Landry (1912 – 1986) was a talented artist from Louisiana and member of the Navy Publications and Printing Services, an organization that the artist was part and provided services for more than 10 years.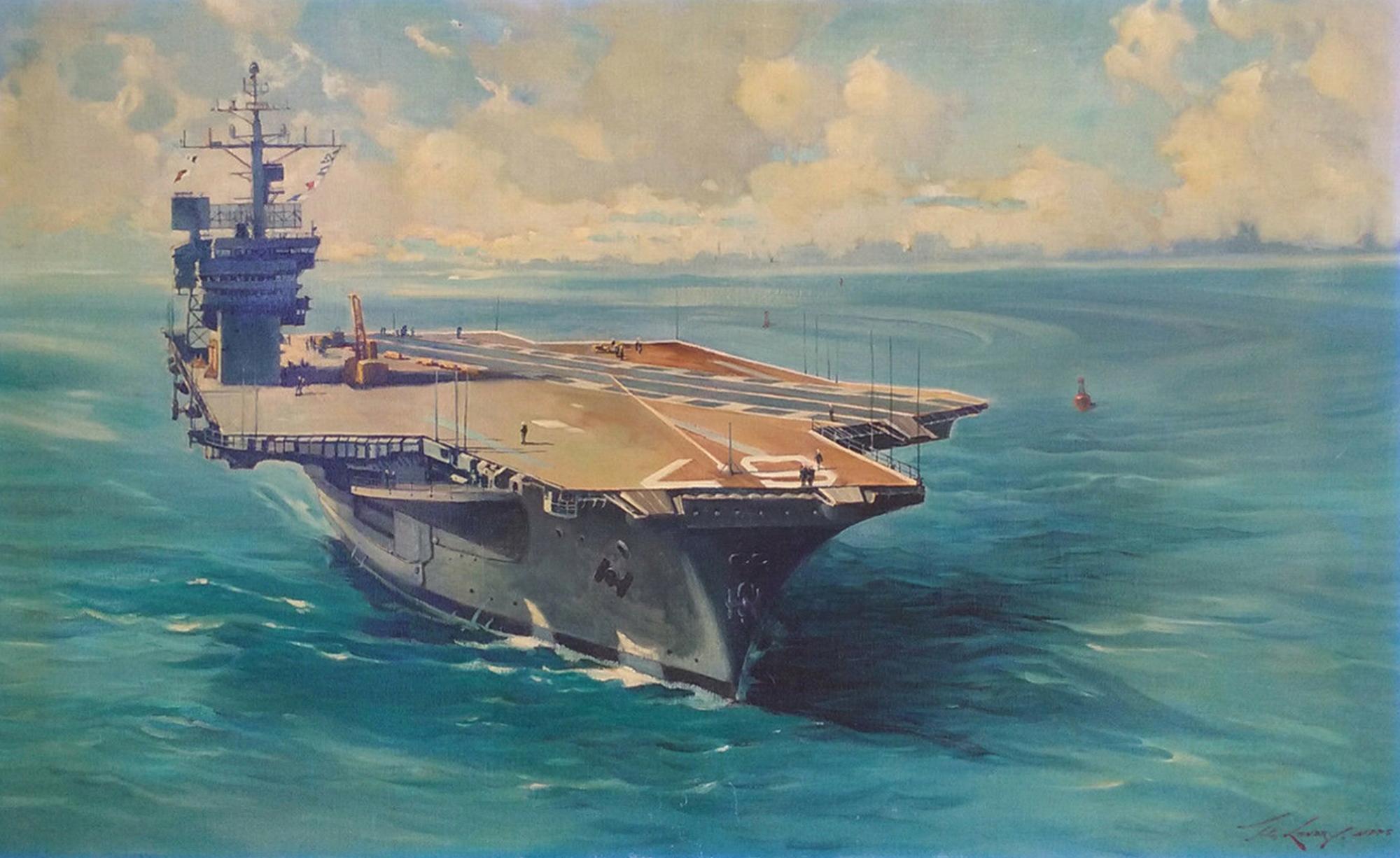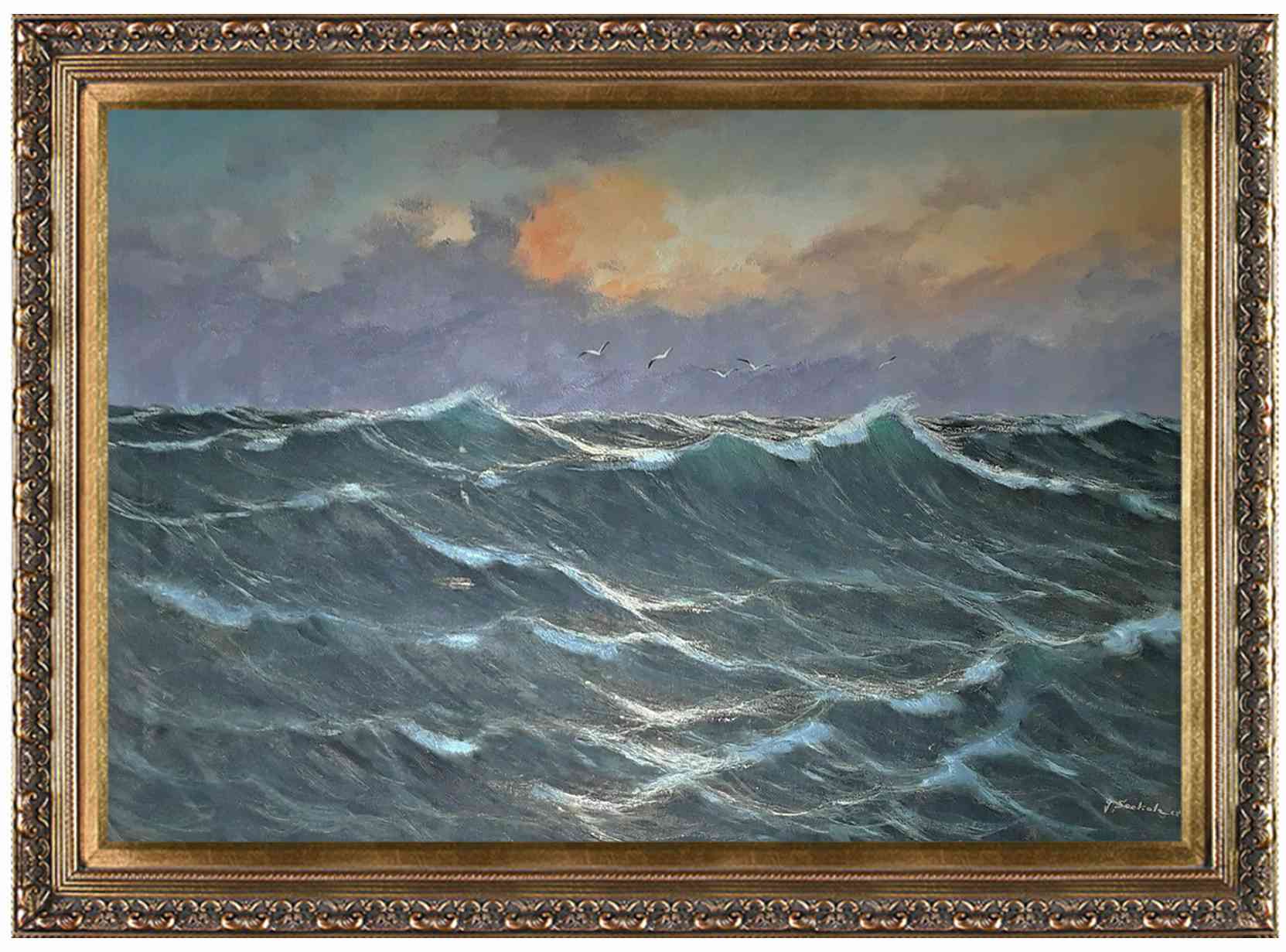 Günter Seekatz
German, born 1928
'Baltic Sea', 1968
Oil on Canvas

24 x 36in
TGC# 073-022

Günter Seekatz was born in Langenberg, Germany in 1928. He started his remarkable professional career as an artist in 1950. During the housing boom in Germany he provided works of art that were in high demand at the time. His favorite subject were seascapes of the Baltic Sea as well as romantic landscapes or German castles. By 1965 he sold many paintings to collectors in the United States and distibutors would purchase any painting unseen and that he managed to finish. He made a fortune selling his work until demand for German art dried up and Chinese paintings would conquer the market in the $10-$12 price range by the mid 1980s. Seekatz continued painting mostly seascapes and retired in 2014. In 2017 he donated a beautiful painting with four different views of his hometown of Velbert in Germany where it is displayed at City Hall. According to his own account he has produced approx. 4,000-5,000 paintings over the past 70 years.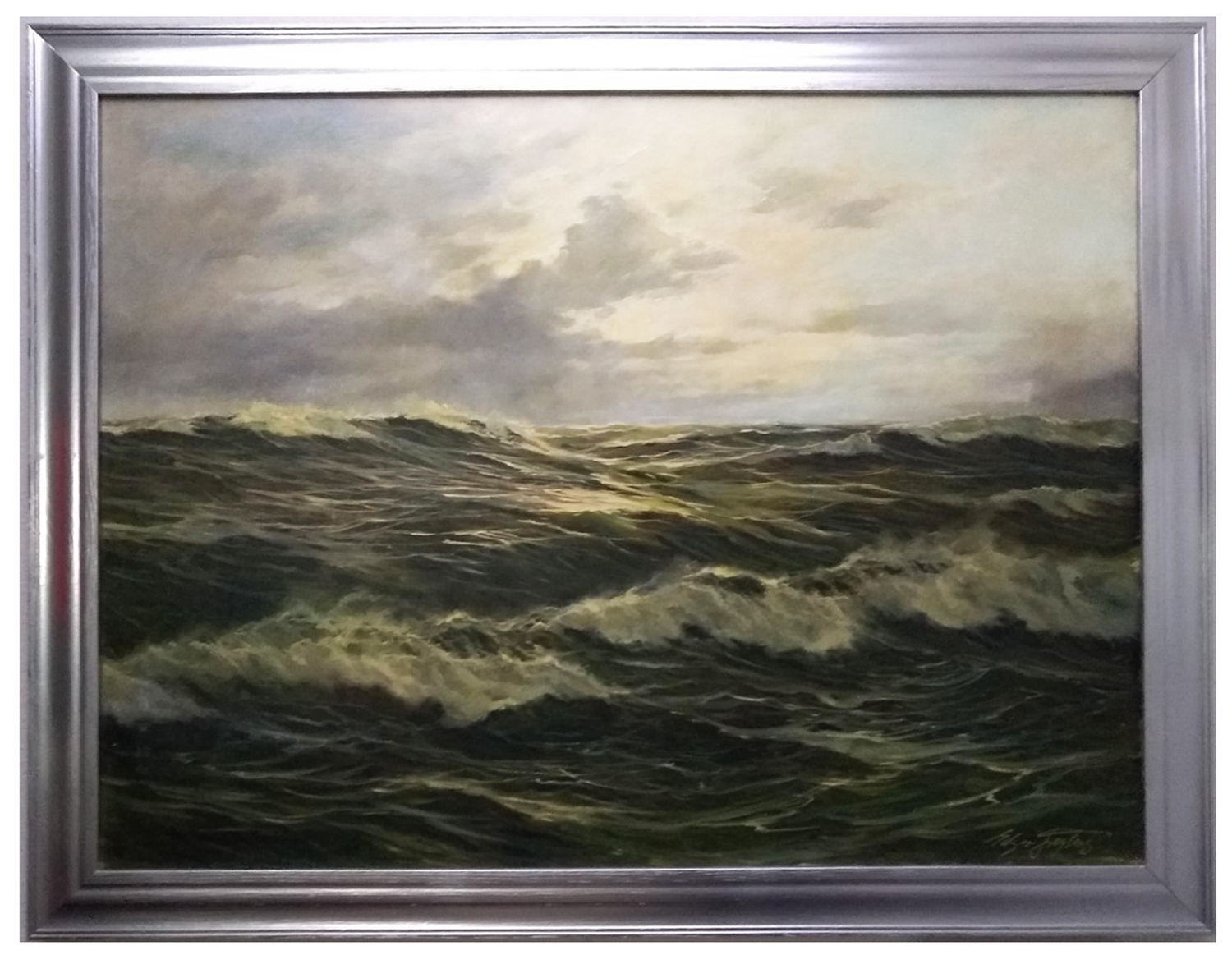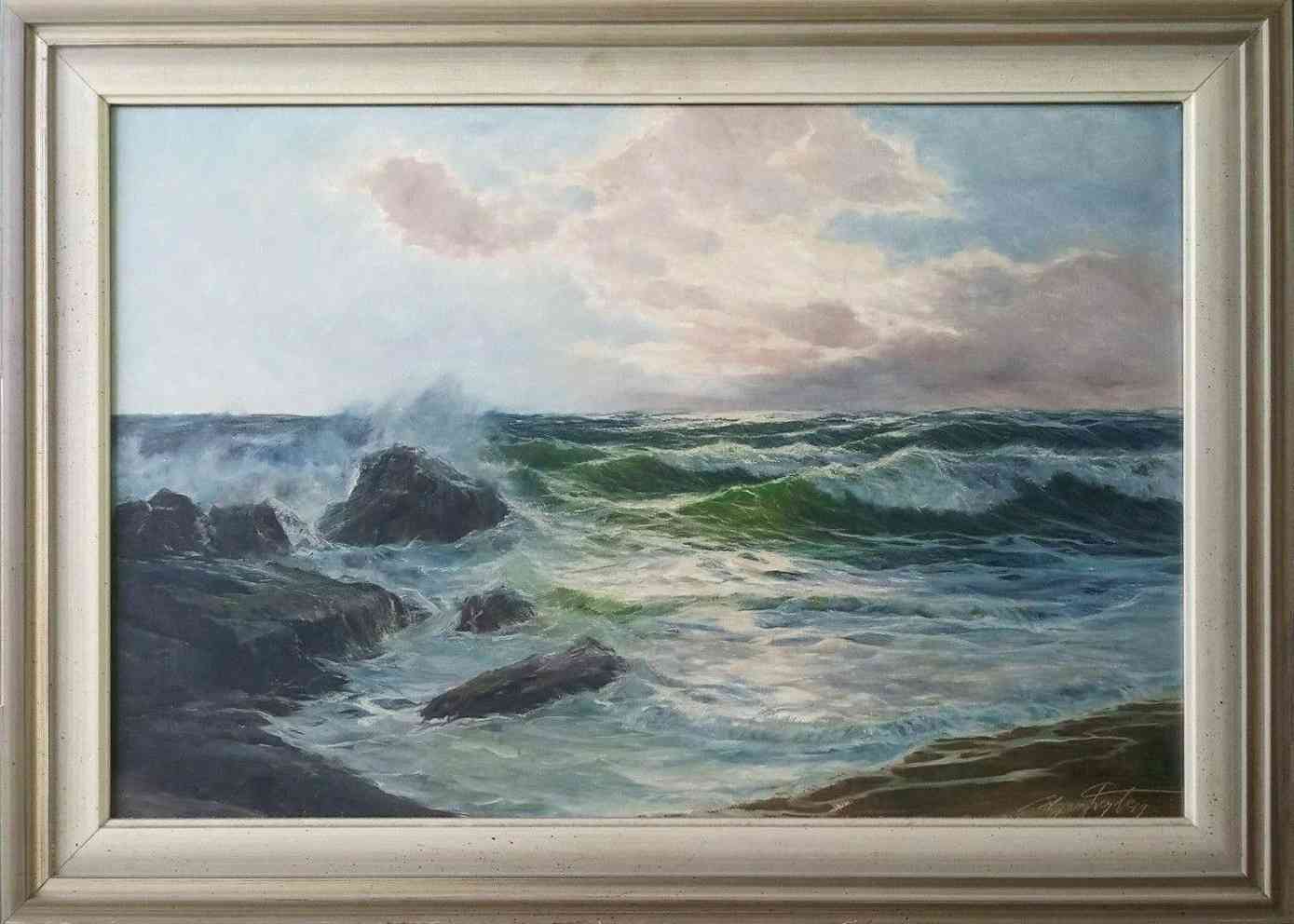 Edgar Freyberg
German, 1927-2017
'The North Sea', 1970
Oil on Canvas
24 x 32in
TGC# 073-017